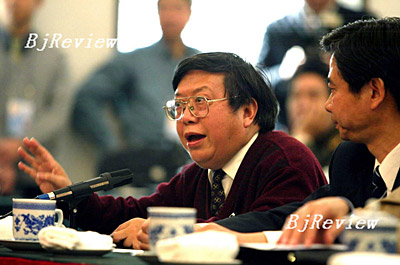 As one of the most innovative of contemporary Chinese dramatists, Wei Minglun's knowledge and grip of the Chinese operatic stage are legendary. In Pan Jinlian, a drama written in 1985, Wei brought people of different times and cultures together and provided them with a common forum for discourse. The play was so successful that it was rewritten into dozens of different folk dramas and played by over 200 drama troupes. He triggered a debate on bias against women in China's ancient society that has been echoed in Hong Kong, Taiwan and even abroad.
Wei's adaptation of Puccini's famous work Chinese Princess Turandot to Peking opera was taken on a performance tour to Italy, Puccini's hometown, in 1993. In 1995, Wei's makeover of Turandot, performed by the Zigong Chuanju Opera Troupe, which featured dazzling stunts and the distinctive local flavor of southwest China's Sichuan Province, won a staggering 11 awards at the national drama festival.
As a stage performance form imported from Western countries, plays in China have abided by the script-core tradition. The playwright remains the soul of a play.
A good tradition of Chinese plays is putting a focus on real life. However, many Chinese plays are far from real life and reality. It is important for plays to reflect on social reality, especially the demands of disadvantaged groups. Yet the majority of Chinese plays have failed this mission.