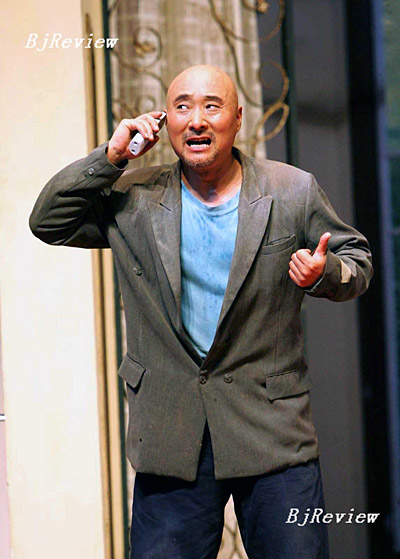 As one of China's best-known comedians, Chen Peisi has played roles in TV soap operas, movies and plays. Having succeeded in all three areas, Chen is most proud of his current identity as a performance agent.
"My business specialty is on plays," he proudly announced. In the last five years, play performances that he has participated in have sold over 400,000 tickets and achieved a total box office income of 60 million yuan.
Somebody has questioned my act of shifting to play performances since I was originally a movie person. Although compared with shooting soap operas and movies, stage performance is more demanding on the ability of an actor, especially a comedian, the limitations on stage acting are much less. I felt that I couldn't bear the limitations any longer, just like a fish of 1 meter in length thrown into a pot of less than half a meter wide.
Before starting my career on the stage I suspended my work for three years. During this period, the experiences I accumulated through playing in comedy movies kept coming back to me. I decided to move into play staging although most play troupes were losing money.
I got to know that many play troupes, while receiving subsidy from the pockets of taxpayers, have staged plays that were so far away from real life. In some troupes, this kind of practice has been carried out for generations. I think it is a kind of deception and irresponsibility toward the audience. I intended to destroy this old tradition by creating works closer to ordinary people's life. I knew that my act would edge a small number of stage professionals out of the labor market, but this is what we have to do to achieve a more buoyant performance market.
Most of my plays are about small potatoes in life, most of which are critical and reveal the dark side of society. However, I think the criticism in my plays is positive as it exposes the ailments of society.
In pricing strategies, I have adhered to two principles of no high-price tickets and no complimentary tickets. The first principle is in line with my goal of providing people with good entertainment while the second goal has guaranteed the economic soundness of my comedy troupe when most play troupes are losing money.
I believe comedy is all about catering to audience response. Our staff observe audience reactions to every laughable detail we design. If people don't laugh at our debut performance we change it before the next staging.
Now the stage is short of excellent comedies and excellent stage comedians. We hope we can create more plays and cultivate a generation of comedy talent.