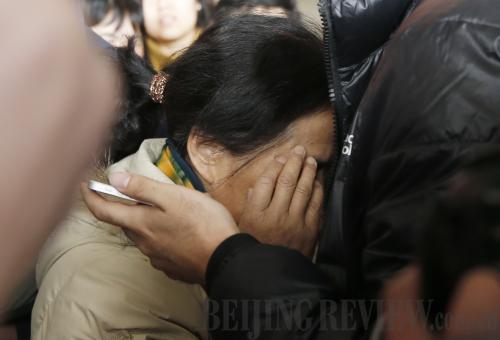 PAINFUL MOMENT: A family member cries at the Beijing Capital International Airport after learning that the Malaysia Airlines flight MH370 carrying 239 people on board went missing on March 8 (LIU GUANGUAN)
"Honey, I'm boarding now!" Li Jie, 27, told her newlywed husband Zhang Zhiliang on the phone while at the Kuala Lumpur International Airport late on March 7. Li had just wrapped up a three-day business trip in Malaysia.
The couple was supposed to reunite at Beijing Capital International Airport the next day. Unfortunately, Zhang never heard from his wife ever since.
The flight that Li boarded was Malaysian Airlines (MAS) MH370. After departure at 12:41 a.m. on March 8, it lost contact with air traffic controllers en-route to Beijing.
The news that Flight MH370 had gone missing stirred on Saturday morning and soon hit headlines worldwide. Consequently, the flight status shown on the notice board of Beijing Capital International Airport changed from "Delayed" to "Cancelled." Distraught family members worried by a lack of information were later transferred to a nearby hotel for briefings from MAS.
According to the manifest released by MAS, 227 passengers and 12 crew members were on board.
There were respected painters and calligraphers; a senior citizen hiking group, white-collar workers and students onboard among the 154 Chinese nationals, including two infants. One third of them were born after the 1980s.
Other passengers came from Malaysia, Indonesia, India, the United States, Australia, Canada, Russia, Ukraine, France, the Netherlands, and New Zealand, according to MAS.
However, concerns over security rose as two Iranian passengers were later identified as having used stolen passports, according to Malaysian police. The passports' real owners – an Italian and an Austrian who were listed on the manifest – were found to be safe and sound.
Emergency response
Soon after learning of the incident, both Chinese President Xi Jinping and Premier Li Keqiang ordered the related departments to cooperate with other countries in the search-and-rescue efforts. They also urged all-out efforts to provide any emergency treatment necessary in the aftermath of the incident.
"The news is very disturbing. We hope everyone on the plane is safe," Chinese Foreign Minister Wang Yi said at a press conference on the sidelines of the country's annual parliamentary session on the morning of March 8. "The foreign ministry and other related departments have activated an emergency response mechanism."
At noon the same day, Wang chaired a joint inter-ministerial meeting on protection of Chinese citizens and institutions abroad, following the instructions by President Xi and Premier Li. Chief officials from related ministries spanning from foreign affairs, public security, civil affairs to transport, civil aviation and the oceanic administration were among the attendees.
China sent vessels and planes to assist the search-and-rescue operation in the suspected area and asked passing vessels to provide help, according to the meeting. It also called for confirmation as soon as possible regarding information on the passengers on board as well as that the family members and relatives of the passengers be taken care of while also informing the public of any updates.
The flight-related microblog posts on Sina Weibo, a Twitter-like social media platform and the biggest of its kind in China, hit 1 million within 24 hours. Besides questioning the whereabouts, netizens also offer prayers for all 239 people on board.
"I can't believe it! My neighbor and her four family members were on board the flight. Her son is less than 2 years old. She is so adorable, and everybody in the neighborhood likes her." The microblog post by Chen Hao on his verified Sina Weibo account at 14:24 p.m. on March 8 was retweeted 701 times within hours.
Chen, a Beijing-based computer programmer using the screen name Left-Ear Mouse, found his neighbor's name on the manifest. "All the neighbors are concerned about their whereabouts. We pray for them. We do believe they are still alive somewhere, waiting for the rescue," Chen posted an hour later.
"I checked the news online almost every hour. I am really worried about it," Lisa Tong, a former Malaysian Airlines stewardess, told Beijing Review.
"I would like to become a volunteer. But I am only one month away from my due date," she continued. "I know many of my former Chinese colleagues are willing to lend a helping hand to the passengers. My blessings go to all those who were on board."