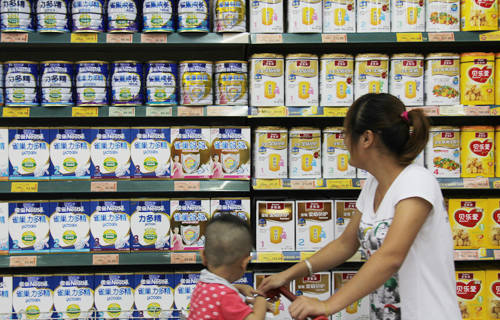 FOREIGN FORAYS: A consumer chooses among foreign baby formula products in Linyi, Shandong Province (ZHANG CHUNLEI)
China's dairy industry is once again being scrutinized as suspicions abound that major dairy enterprises played a hand in manipulating and lowering quality standards to save costs.
The new standards released in March 2010 set the maximum safety limit for bacteria in raw milk at 2 million cells per milliliter, four times greater than the amount allowed under previous regulations. In addition, the minimum standard for protein content was reduced from 2.95 grams to 2.8g per 100g.
Since then, critics have lambasted the decreased standards as further tainting an industry that has been mired in controversy since the melamine scandal in 2008.
"China is lagging far behind Western countries in dairy safety, and the gap may continue widening because of the low standards," said Lu Jiaping, Director of the Institute of Agro-food Science and Technology under the Chinese Academy of Agricultural Sciences, in an interview with the 21st Century Business Herald.
In Europe and the United States, the maximum safety limit for bacteria in raw milk is 100,000 cells per ml.
"They are the lowest in the world and it marks a disgraceful retreat to 25 years ago," Wang Dingmian, President of the Guangdong Provincial Dairy Association, told Xinhua News Agency. "I believe the reason lies in huge pressures from dairy producers seeking to reap windfall profits by cutting costs," he said.
The melamine scandal in 2008, which was blamed for the deaths of at least six children, dealt a heavy blow to affected brands and cast an ominous shadow over the entire dairy industry.
In a bid to tighten market regulation and lift the industry out of this quagmire, the Ministry of Health (MOH) in December 2008 joined hands with 10 ministries to start drafting new dairy product standards. The standards, however, have sparked heated debates since their release.
Wei Ronglu, Executive Vice President of the Dairy Association of Western China, who participated in the conferences for the standards-setting, told the People's Daily that he was confused about the new standards.
"Experts and industry insiders at the discussions agreed to set the bacteria standard in raw milk at 500,000 cells per ml," he said. "I have no idea why and how it was changed at the last minute."
Nadamude, Secretary General of the Dairy Association of Inner Mongolia Autonomous Region, told Xinhua that the revisions were appropriate, since stricter standards would put most milk farmers out of business.
In China, 70 percent of raw milk providers are small dairy farmers operating small-scale businesses, and often with substandard equipment, he said.
"They are less able to afford the costs of improving quality," he said. "Setting overly demanding sanitary requirements would put a dent in their businesses and result in nationwide milk shortages."
But Lu disagreed. "A strict bacteria limit is actually not far from reach for most dairy farmers," said Lu.
"The government is supposed to encourage quality improvements with higher purchase prices, instead of protecting unqualified raw milk suppliers," he said.
"Protecting incapable dairy farmers at the expense of quality is ridiculous," Wang said. "The lowered standards are a shame on the entire industry."
Reports have proliferated China's media outlets that the country's largest dairy companies had a heavy hand in revising the standards to their own advantage.
The standards for pasteurized milk were drafted by Mengniu. Yili and Bright were responsible for the standards of raw and fresh milk and yogurt, Zeng Shouying, Deputy Director of the Dairy Industry Committee of the Dairy Association of China, told the People's Daily.