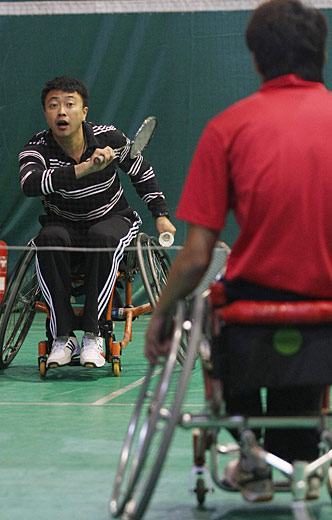 PERSONAL EXPERIENCE: In order to better train his athletes, Dong Jiong sits in a wheelchair to demonstrate serving techniques, on October 21, 2010 (RAO QIANG)
For more pictures please click here
"Notice the range of your movement. Hit harder! Pay attention to the angle!" Dong Jiong admonished his athletes at recent training session.
Dong, a Chinese athlete who used to be ranked among the world's top badminton players, coaches his team at a training center located in Beijing's Chaoyang District Sports School. Dong has won many major badminton events in the past, including a silver medal at the 1996 Olympic Games in Atlanta and men's singles titles at the Badminton World Cup.
Ten badminton players from seven provinces and municipalities came to Beijing to begin their intense training on October 18. They will represent China at the 10th Asian Para Games, which will open in Guangzhou on December 12.
The Guangzhou 2010 Asian Para Games essentially act as a replacement for the FESPIC Games, a sports event that was designed specifically for disabled athletes from the Pacific and East Asian regions. The last FESPIC Games were held in November 2006.
Dong and his team have worked hard to efficiently utilize their six-week training period. Their main goal is to represent China honorably at the games.
Tryouts began in April. Dong carefully selected the athletes that would go on to the training camp at that time. Chosen athletes included experienced players Chen Kunxiong and Tian Shiwei, as well as up-and-coming stars Ma Huihui and Su Kunrong. The team is essentially a gathering of the biggest and best players of Chinese badminton.
It was freezing outside on the first day of training, but inside, the athletes were burning up the court. Basic exercises such as stretching and jumping are fairly easy for most athletes. But for the disabled, they become intense workouts.
After their basic exercises were completed, the athletes began running drills and practice games. The pounding of shoes and the thwack of the rackets filled the court.
On one side of the court, Dong gave guidance to Mai Jianpeng, one of the team's younger players. To better aid the rookie, Dong used a wheelchair himself to demonstrate serving techniques.
"Our training is for national honor," Dong told his players. As a famous athlete, Dong has received numerous accolades and awards. But for many disabled athletes, recognition ends after they have finished their last round. They don't receive the same kind of praise that other athletes do, and remain in relative obscurity.
In 2009, Dong raised 1 million yuan (about $120,772) to construct a cafeteria and dormitory next to his team's training center. He made sure that the facility was equipped to best serve the needs of the disabled. Moreover, he visited different provinces around China and met with disabled children that wished to learn how to play badminton; these children now study at his training center as well.
Dong aims to promote the development of disabled welfare services in China and find, train and mentor talented athletes for future athletic teams. After going back to Beijing, Dong helps his students find schools and arranges for their training sessions. He also holds family dinners to make them feel more comfortable in their new surroundings.
Dong and his team are still training hard for the upcoming games, but they also hold high aspirations for the period following the games. They hope to see badminton included in the 2012 London Paralympic Games, and hope to find themselves competing there on behalf of China.