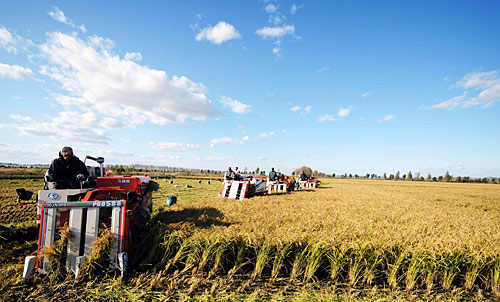 PLENTY TO HARVEST: Farmers reap rice in northeast Heilongjiang Province. The country has maintained a steady growth rate in grain output in the past six years (WANG JIANWEI)
Despite sweeping natural disasters, China is on track to achieve a bountiful harvest for this autumn's grain yield, which usually accounts for three fourths of the annual output, said Minister of Agriculture Han Changfu.
With the autumn harvest secured, winter planting is already underway across the country, said Han.
China's grain output, including rice, wheat and corn, amounted to 530.8 million tons in 2009, the sixth consecutive year of growth. The output for this year, according to Han, will be no less than last year and is likely to hit a new record.
The Ministry of Agriculture (MOA) anticipated that the acreage planted for autumn grain would increase by around 870,000 hectares to 76.6 million hectares this year.
But vigorous efforts are still needed to strengthen grain supply and quality, said Han.
The news dismissed worries about food shortages given heavy summer rainstorms across the country and the severe drought in the southwest that disrupted agricultural production.
In a recent report, the MOA said grain output harvested this summer fell for the first time in seven years to reach 123.1 million tons, down 0.3 percent, or 390,000 tons, from a year ago. In addition, the per-hectare yield dropped 0.4 percent year on year to around 4.49 tons, and the situation was even worse in disaster-stricken southwest Yunnan and Guizhou provinces.
However, winter wheat, which usually makes up around 80 percent of the total annual wheat output, stood at 108.8 million tons this year, about 1 million tons more than last year, said MOA spokesman Chen Mengshan.
In another move, the China National Grain and Oils Information Center in September predicted the country would yield 169 million tons of corn in 2010, representing a year-on-year growth of 3.1 percent thanks to increased planting.
The only cause for concern was rice, which accounts for half of the country's grain output, said Jiang Heping, a senior researcher at the Chinese Academy of Agricultural Sciences, in an interview with Capital Week magazine.
At least 92 percent of the increased 76.6 million hectares was planted with corn, leaving little space for rice, he said.
In addition, the spring sowing of rice was delayed by seven to 10 days in many provinces because of the winter freeze earlier this year, he said.
That means the crops will face more risks of an early frost, said Jiang.
Recouping the losses
Before the relentless rains had stopped pouring water over many regions of China this summer, worries were proliferating about the country's grain security.
Torrential rains washed away homes and triggered overwhelming mudslides that claimed hundreds of lives. The disaster also cast an ominous shadow over the agriculture sector as the storms devoured vast areas of farmland. The State Flood Control and Drought Relief Headquarters said more than 9,700 hectares of crops had been devastated by August 10, with direct economic losses totaling 209.6 billion yuan ($31 billion).
Before this, a prolonged drought ravaged southwest China, drying up farmland and leaving people in desperate need of drinking water.
On top of the natural disasters came the international grain crisis. On August 5, Russia, the world's third largest wheat producer, ordered a ban on grain exports after a severe drought destroyed crops and as wildfires spread across the country. This ignited panic in the commodities markets, sending wheat prices to record highs.
Many fret the price surge may filter into China through trade links. From January to June, the country's wheat imports more than doubled to 845,000 tons year on year, while rice imports soared 44.3 percent.