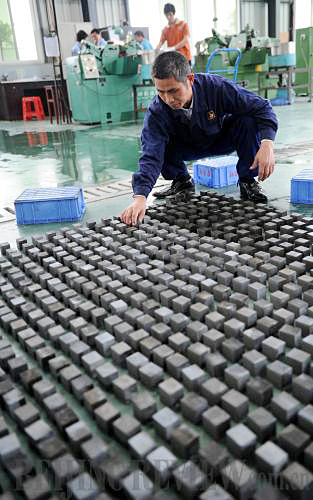 HIGH VALUE: A worker at the Leiyuan Permanent Magnetic Materials Co. Ltd. in Ganzhou, Jiangxi Province, sun-cures rare earth metals. Ganzhou in recent years has significantly improved its technologies and pushed forward a modern and cleaner rare earth industry (ZHOU KE)
Rare earth metals will soon become an even hotter commodity than they already are—the Ministry of Commerce (MOFCOM) announced on December 28, 2010, lower quota on rare earth exports in the first half of 2011. The quota is now set at 14,446 tons, down 11.4 percent from the same period last year. More than 30 enterprises, including 22 domestic companies and nine foreign ones, were accredited as qualified exporters for this year, said the ministry.
The government set the quota based on rare earth output, market demand and the need for sustainable development.
Rare earths, usually called "vitamins for industry" and "elements of the future," contain a class of 17 important chemical elements. They are widely used to manufacture sophisticated products, including flat-screen monitors, electric car batteries, wind turbines and aerospace alloys. However, mining the precious metals wreaks serious damage to the environment.
Meanwhile, reckless exploitation is depleting China's reserves. In 2009, China mined 97 percent of global rare earth minerals, but its reserves made up only around 36 percent of the world's total, against 43 percent in 1996.
This explains the Chinese Government's stepped-up regulation of the industry. Since 2006, China has ceased issuing new mining licenses and also encouraged mergers and acquisitions in the highly fragmented rare earth sector. In addition, the country has closed hundreds of smaller mines and imposed a 15-20 percent tariff on rare earth exports.
The country's export quota for last year totaled 30,258 tons, down nearly 40 percent from 2009.
These policies, however, sparked worries over global supplies. The United States even complained to the WTO that China was hoarding the commodity.
"China has no choice but to take such measures," said Chen Deming, Minister of Commerce. "It is a necessary step to protect the environment and restore the industrial sector's health."
China, in the coming years, will continue to supply rare earths to the world. Meanwhile, it will also adequately limit the exploitation, production and exports of rare earths to "maintain sustainable development, which is in line with WTO rules," said Yao Jian, a MOFCOM spokesman.
China is ready to strengthen international cooperation in rare earth exploration and ensure that the basic demands for the minerals are met, Yao said.
"China has to strictly manage exports and make dynamic adjustments, without hampering development of the world's hi-tech industries," said Chen Zhanheng, a senior researcher at the Chinese Society of Rare Earths. "That will also provide a catalyst for other rare earth-rich nations to develop their own resources."
Undervalued resource
As demands for rare earths surged in the 1990s, thousands of mines sprouted up across China, engaging in reckless exploration. Despite a dominant market position, the Chinese minerals were sold at amazingly low prices as numerous smaller miners vied for export deals.
Between 1998 and 2005, China's rare earth exports increased 10 times with the price dropping 36 percent.