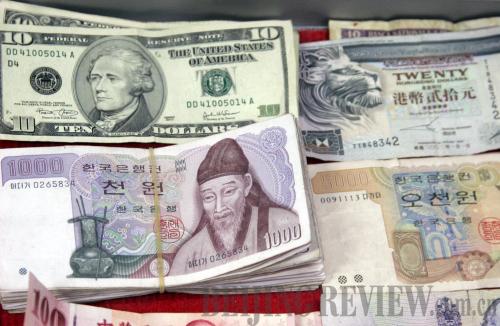 MORE TARGETS: China is diversifying the investment channels for its huge foreign exchange reserves and the U.S. dollar is no longer the sole focus (CNSPHOTO)
China is overcoming its past addiction to U.S. Treasury bonds and is working on a more diversified portfolio, investing in bonds from other nations or in overseas properties.
The People's Bank of China, the central bank, said in its 2010 financial data report, released on January 11 of this year, that by the end of 2010, the outstanding foreign exchange reserves had reached $2.8473 trillion, rising 18.7 percent year on year. A total of $448.1 billion was added to the reserve basket in 2010 alone.
Foreign currencies have been pouring into the country through trade surpluses and foreign investments. Since China started its foreign exchange management system reform in 1994, accumulating more U.S. dollars has been regarded as one of the major goals.
So far, nearly 70 percent of the foreign reserves are kept as dollar assets, and the slump in the value of the dollar, against the backdrop of the financial crisis, resulted in an enormous decrease in China's foreign reserves. Therefore, whether the dollar assets are a blessing or a curse has been fiercely debated by Chinese economists.
Challenged by rising inflationary pressure, excess liquidity, the weakening U.S. dollar and the constantly appreciating yuan, China is rethinking its strategy and has abandoned the tried-and-true dollar-first policy.
Not in one basket
Data from the South Korean Financial Supervisory Service issued in January showed China's net investment in South Korean bonds reached 4.697 trillion Korean won ($4.2 billion) in 2010. Each month in 2010, China's investment in South Korean bonds was net investment.
Analysts noted the Korean economy is making headway, despite the financial crisis, and its currency is expected to rise in value. An index codified by HSBC Holdings showed the yield rate of South Korean government bonds in 2010 was 8.5 percent—with a positive yield in every month but October.
In addition to the Korean won, China has also been accumulating Japanese government bonds. According to figures of Japan's Ministry of Finance, China accumulated the Japanese bonds for seven consecutive months staring January 2010, with the total value reaching 2.32 trillion Japanese yen ($28 billion). In August and September, China reduced its holdings of Japanese bonds by 2.79 trillion yen ($34 billion). But in October, China again increased the holding by 262.5 billion yen ($3.17 billion), most of which were short-term bonds.
Before his January visit to Spain, Chinese Vice Premier Li Keqiang said in an article in a Spanish national newspaper, El Pais, "China is a responsible long-term investor, both in the European financial market and in the Spanish financial market. China has confidence in Spain's financial market. It has purchased Spanish Treasury bonds and will buy still more."
During Li's visit to Spain, Yi Gang, Vice Governor of the People's Bank of China, the central bank, said the euro and the European financial market have been and will continue to be some of the most important investment fields for China's foreign reserves. Analysts said China's commitment to supporting the bonds of European countries shows China's strategic transference of its foreign reserves investment.
Chen Gong, Chairman of Anbound Group, a Beijing-based research-oriented company, told International Herald Leader that China's accumulation of euro assets is a win-win for the two sides. The debt-laden European countries need outside assistance, while China needs a new investment target for its huge foreign reserves. "This could help China to win more European countries to admit China's full market economy status, reduce their protectionist measures against Chinese products and might help Chinese companies to invest in the European market," Chen said.