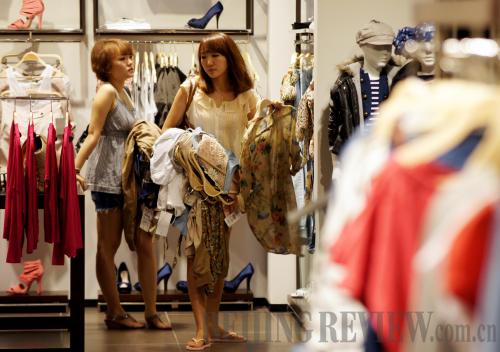 BUSY SHOPPING: Two customers pick out clothes in Zhengzhou, capital of Henan Province (CFP)
Not long after the Spring Festival comes the first holiday of the Year of the Rabbit—International Women's Day on March 8. Established about a century ago to honor working women, the holiday is now an important day for businessmen, who try to make money by capitalizing on women's new buying power.
In preparation for March 8, shopping malls, supermarkets and household electrical appliances stores all created promotions geared toward the women's market. Clothes, cosmetics and travel—in fact, any consumer products related to women—were heavily promoted.
Retailers even created a new spin on the traditional name of the holiday—using terms such as "Ladies' Festival" or "Her Holiday" to attract younger buyers. In all, most retailers were keen on tapping the women's market.
Shoppers
Women never seem to have enough clothes. The 2010 Clothing Consumption Investigation Report of Urban Women, which was released by the sixth Chinese Women's Consumption High-level Forum in December 2010, shows apparel and accessories account for the highest percentage of women's daily expenses. Women in Beijing spent about 6,300 yuan ($940) a year per person on clothes for themselves and their families, higher than the spending of women elsewhere in China.
The report also shows consumption of apparel and accessories has been in the first place for five consecutive years. The average consumption of these items by urban women aged 31-40 years was 5,082 yuan ($759) in 2010, ranking first among all age groups.
The most significant factors influencing women's clothing choices are style and price. Overall, casual clothes are most in demand by women. In addition, the demand for made-to-order garments has also increased during the past few years.
Clothes on sale won't necessarily attract women but cosmetics on sale surely will, especially when it comes to famous brands that don't often engage in promotion.
Cosmetics—women's "best friend"—are particularly popular for Women's Day since many women had already restocked their closets during the Spring Festival.
Travellers
In addition to spending money in shops, Chinese women have been more inclined to enjoy life than before. Travel, for example, is growing more and more popular with women.
Qin Ting, an office worker in a foreign company in Beijing, took a 10-day vacation to Thailand in March 2009, which cost her about 6,000 yuan ($896).
"Being in Thailand, I felt so good about myself. The essential purpose of the trip was to relax and have a good rest. I'm determined to travel at least once a year. Now I am preparing for a 10-day trip to Nepal this March. The budget for Nepal is also about 6,000 yuan," said Qin.