GOLD TO GREEN: People plant trees in the Hobq Desert during spring season (JIA LIJUN)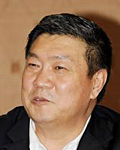 SAND FIGHTER: Wang Wenbiao, a CPPCC National Committee member, speaks at the annual session of the top political advisory body in Beijing on March 8 (WANG YE)
Like a long and narrow belt, Hobq Desert stretches hundreds of kilometers in north China. It is one of the largest deserts in China and also the closest to Beijing. Sandstorms born in Hobq can reach China's capital city within two hours.
Sandstorms are a big headache during Beijing's spring season. But, fewer and fewer sandstorms in Beijing can be blamed on the Hobq, said Wang Wenbiao, Board Chairman and President of the Elion Resources Group in Inner Mongolia Autonomous Region.
Wang made the remark while attending this year's session of the 11th National Committee of the Chinese People's Political Consultative Conference (CPPCC), which was held on March 3-13.
Wang and his team have spent more than two decades harnessing Hobq, and their efforts have paid off.
During the past 22 years, an oasis of about 4,000 square km has been created in the desert, said China Economic Weekly magazine.
The report said the ecological environment in the desert has been improved, annual precipitation in the area has increased from less than 100 mm to more than 300 mm at present and the local ecosystem's carbon sink capacity increased by nearly 10 million tons.
In addition to ecological profits, harnessing the desert also has produced social and economic benefits.
"Herds people participating in the ecological construction program of our company rake in direct returns exceeding 100 million yuan ($15 million) every year," Wang said.
An inadvertent start
At the heart of the Hobq Desert is a salt lake with abundant raw materials for chemical engineering such as trona, Glauber's salt and salt. Close to the lake lies the salt factory of Hanggin Banner, which is the predecessor of the Elion Resources Group.
In 1988, Wang was appointed head of the salt factory.
When Wang first arrived there, he found the factory was not doing well. There was no decent road and no steady supplies of electricity and water. The lake, which supplied raw materials to the factory, could also be buried by sand at any time.
Although the direct distance between the factory and the railway station was no more than 100 km, equipment and products had to travel about 330 km along an old road in the desert to get in or out.
Local herds people relied on camels for transportation. A round trip to the town, which was 50 km away, took them about three days. Every time residents went to town, they bought daily necessities that would last for six months.
Wang realized the road was instrumental to the development of the factory and local communities.
In 1997, the Elion Resources Group borrowed more than 70 million yuan ($10.6 million) to build a 65-km road through the desert in cooperation with the local government.
The road, completed three years later, saved the company more than 10 million yuan ($1.52 million) in transportation costs each year.
Thereafter, the company built four additional roads with a total length of 170 km across the desert.
In the desert, blasting winds often move sand dunes and churn up sandstorms. To guard the road against encroaching sand, the company launched a program to control desertification.
"Back then, we paved roads and controlled sand not to protect the environment and benefit people. We did that for our own survival and development," Wang said.
Wang and his workers adopted the strategy of "divide and rule." The desert was separated into several zones by road. They planted grass and other plants along the roads, and gradually extended the green area deeper into each zone.
Sustainable development
"Deserts cannot only be controlled, but also be developed for economic benefits," Wang said. According to him, visitors to Hobq could see "gold" everywhere.
Wang believes if sand control yields only ecological benefits but no economic benefits for local residents, then the control efforts, even if successful, would be difficult to sustain.
"We grow large areas of plants resistant to cold, salt and alkali such as sand willow and licorice, which supply raw materials for our bio-fuel and pharmaceutical businesses," Wang said.
Licorice is a plant whose roots can be extracted to produce a sweet flavor and medicine to relieve cough and ulcers.