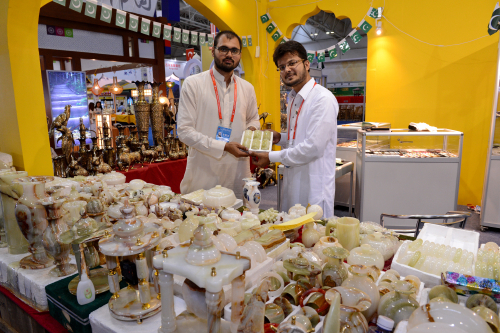 Pakistani merchants display stone sculptures at the First 21st-Century Maritime Silk Road Exposition opened in Fuzhou, capital of southeast China's Fujian Province, on May 18 (XINHUA)
On May 19, 7 tons of fruits from Taiwan worth $60,000 arrived in Pingtan port of Fujian Province, becoming the first shipment of Taiwan fruits to arrive at the China (Fujian) Pilot Free Trade Zone (FTZ). The whole inspection and quarantine process for the delivery took less than two hours.
Pingtan is the nearest port to Taiwan, and the passage between the two locations is considered a golden sea route for transporting fresh fruits from Taiwan to the mainland market. "If Taiwan farmers pick fruits in the morning, Shanghai customers can buy those in the market the next day," said Chen Mubin, a trader who purchased the batch of fruit.
Since the Fujian FTZ was officially launched on April 21, the Fujian FTZ administration has taken a series of measures to simplify customs procedures. The tedious work of registering at commerce, inspection and quarantine, and tax authorities has been replaced by the simplicity of filling out an electronic application form online.
Having benefited from the FTZ policies, the Pingtan port has introduced a series of measures, said Han Jiacai, an official from local inspection and quarantine authorities. Take fruits for an example. According to Han, they adopt a method combining source-of-origin management and on-the-spot checking. They will release the goods which pass the on-the-spot checks, while sampling checks will be applied to potentially problematic merchandise. The method can ensure the quality and safety of the fruits and raise the efficiency of customs clearance.
The conveniences brought by the FTZ in the southeast coastal province of Fujian have aroused the interest of its Southeast Asian neighbors along the 21st-Century Maritime Silk Road. At the first 21st-Century Maritime Silk Road Exposition and an Asian Cooperation Dialogue forum, held simultaneously in Fuzhou, capital of Fujian, from May 18 to 21, Southeast Asian participants displayed keen interest in the Belt and Road Initiative and the Fujian FTZ.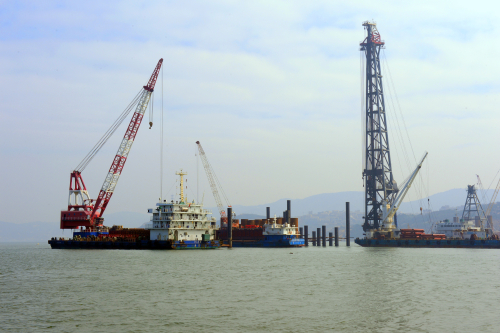 The Pingtan Strait highway-railway bridge in Fujian Province under construction. The bridge is expected to open to traffic in 2019 (XINHUA)
Building an economic belt along the Silk Road should not only focus on traditional forms of connectivity but also incorporate modern and forward-looking modes of connectivity, including air connectivity, financial connectivity and e-commerce connectivity, Loh Ka Leung, Ambassador of Singapore to China, said in his address at the Asian Cooperation Dialogue, an intergovernmental dialogue and cooperation mechanism that focuses on promoting Asian cooperation.
"We could complement and support each other in building an interconnected region. We should provide more opportunities to further discuss our common goals in connectivity and deepen our cooperation to create a situation that benefits everyone involved," said Sansanee Sahussarungsi, Deputy Director General of the Department of International Economic Affairs, Thailand's Ministry of Foreign Affairs, at the forum.
"The newly established FTZ in Fujian Province will offer us good opportunities and favorable conditions to expand our business in China," said Alex Ng, Director of Department for Small Medium Enterprises, Malaysian Chamber of Commerce and Industry in China, in an interview with Beijing Review at the forum.
Serving to promote commerce between Malaysian and Chinese enterprises, Ng often travels to Beijing and south China's Guangdong Province. Now, the establishment of Fujian's pilot FTZ provides him with a new option on the business trip schedule to seek opportunities in China.
"Our clients are mostly small and medium-sized enterprises in Malaysia. They hope to export their featured products to the Chinese market, but they are not experienced in the export business. The simplified procedures for trading in the Fujian FTZ will definitely reduce their costs with regard to exporting products to the Chinese market and boosting trade between Malaysia and China," Ng said.
Chen, the mainland fruit trader who has already got himself a sweet deal, may have some experience to share with Ng's clients. Chen plans to take Pingtan as the port to import goods from Taiwan. On May 29, the second shipment of Taiwan fruits will arrive there.
(Report from Fuzhou, Fujian Province)

China (Fujian) Pilot Free Trade Zone
According to the overall plan for the Fujian FTZ released by the State Council on April 20, the Fujian FTZ will build a demonstration area for deepening economic cooperation between the mainland and Taiwan and a core area for building the 21st-Century Maritime Silk Road.
Pingtan Area, which covers a total area of 43 square km, will focus on building a "common home" for people across the Taiwan Straits and developing an international tourism island and it will implement measures to further facilitate investment and trade and allow freer flow of capital and people.
Pingtan County belongs to Fuzhou, the provincial capital. Located off the east coast of the province, Pingtan is the largest island in Fujian and the fifth largest island in China as well as a famous fishery base. It is also the closest island county on the mainland to Taiwan.
Xiamen Area, which covers a total area of 43.78 square km, will build a cross-Straits demonstration zone for emerging industries and modern services, an international shipping center in southeast China and centers for cross-Straits trade and financial services.
Xiamen was one of the four earliest special economic zones in China and has taken the lead in the country's opening up. It has become a regional center for cross-Straits currency settlement and capital operation.
Fuzhou Area, which covers an area of 31.26 square km, will focus on advanced manufacturing and it also aims to become an important platform for cooperation among countries and regions along the 21st-Century Maritime Silk Road, as well as a demonstration zone of cross-Straits service trade and financial innovation cooperation.
Fuzhou is the capital city of the southeast coastal Fujian Province, which is the hometown of many overseas Chinese. The province is also a core area in building the 21st Century Maritime Silk Road. Fuzhou Area of the Fujian FTZ will give full play to these advantages and will also focus on financial cooperation, car imports, cross-Straits e-commerce and service outsourcing.
(Compiled by Beijing Review)
Copyedited by Eric Daly
Comments to baishi@bjreview.com