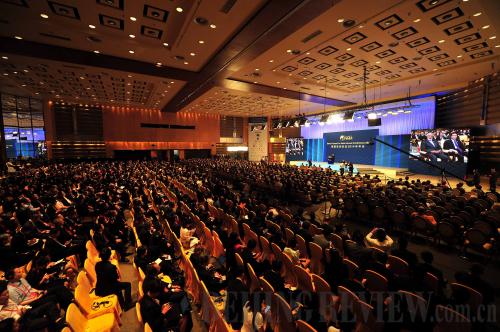 GATHERING OF MINDS: The opening ceremony of the 2014 annual conference of the Boao Forum for Asia is held in Boao, Hainan Province, on April 10 (GUO CHENG)
Every April, thousands of government leaders, business magnates and world-famous scholars gather at Boao, a small town that was once a fishing and agricultural village, to attend the Boao Forum for Asia Annual Conference (BFA), discussing pressing global and regional issues in white tent-style halls with a tropical pacific flavor.
With the theme of Asia's New Future: Identifying New Growth Drivers, the 2014 conference included 60 panel discussions, with an emphasis on reform, innovation and sustainable development.
The speedy growth of Asian countries and emerging countries over the past few years has largely been attributed to globalization and industrial relocation. Yet, most Asian economies, especially China, seem to have been losing steam in their economic growth.
Uncertainties and destabilizing factors in the world are increasing, and the spillovers of the international financial crisis are still affecting Asia, said Chinese Premier Li Keqiang at the opening ceremony of the BFA annual conference held on April 10.
Meanwhile, some Asian countries have been crippled by economic slowdown, rising inflation, capital withdrawal and currency depreciation. Pessimistic views about the prospects of emerging economies have resurfaced, Li said. To sustain its development momentum under the new conditions, Asia needs to find a fresh source of development drivers.
China will make efforts in deepening reform, adjusting economic structure and improving people's livelihood to seek new growth engines, said the premier.
Source of growth
As population dividend and cost advantage gradually fade away, and external demand from the West remains fragile, China's investment-and-export-led growth model has hit the rocks.
In 2013, China's gross domestic product (GDP) was a mere 7.7 percent, the lowest level since 1999, bidding a farewell to the explosive economic expansion to which the country has become accustomed. "It's predictable," said Martin Jacques, an economic commentator from the University of Cambridge, arguing that China invested much more in its economy than the United States in proportion to its GDP.
After years of rapid economic expansion, China is now focused more on ensuring steady economic development, adjusting the structure of the Chinese economy and advancing reform, rather than blindly pursuing high-speed GDP growth.
"We will pay more attention to sound development in the medium and long run," said Premier Li, claiming that China would not resort to short-term stimulus policies just because of temporary economic fluctuations.
"Entrepreneurs rather than government can create real demand, and then sustain healthy economic expansion," said Zhang Weiying, professor of economics at Peking University.
In the past few years, China has been focusing on the role of government in keeping the economy running via large-scale investment. To shield its economy from the torrents of the global financial crisis, a 4-trillion-yuan ($644.4 billion) stimulus package was launched to finance programs covering almost all sectors.
But the package only yielded short-run effects, and has even incubated an array of potential problems down the road, like macroeconomic imbalance, government debt and shadow banking.
"If we hadn't slowed down steps this year, the economy would most definitely have suffered a calamitous collapse within one or two years from now," said Zhang, who insisted that immediate stimulus plans would only undermine the long-term economic stability and contribute little to real benefits, for the massive stimulus plan failed to make a dent in the unemployment rate.
Thus, it's time to make a change. China's policymakers are realizing more and more that the investment-led model doesn't fit China's current situation anymore, and what the country can now count on is domestic demand.
According to an analysis by the World Bank, China's household consumption only accounts for 35 percent of its GDP, 25 percentage points lower than the global average. If China can elevate this ratio to 50 percent by 2020, a total of $1.4 trillion needs to be spent, which is equivalent to the combined GDP of Mexico and Spain. In other words, there is huge potential to boost domestic consumption.
Mitch Barns, CEO of Nielsen, a leading global information and measurement company, believed the loosening of the one-child policy and the aging population would help create tremendous market demand. As Barns pointed out, 2 million-3 million babies would be born every year due to the policy change, and another 5 trillion yuan ($805.5 billion) would be consumed on education and baby products.