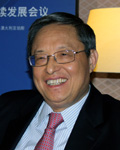 In the past few decades, Asia has been the region with the world's most dynamic and fastest growing economic development. Since the global financial crisis broke out in 2008, Asia has once again become an important engine driving global economic recovery and growth.
During this amazing period of growth, the contribution of the Chinese economy has been obvious. The rapid growth of the Chinese economy has benefited from the open and inclusive nature of economic globalization and the country's deep efforts in reforming its own economy.
Various changes taking place in China and other emerging economies in Asia will have far-reaching significance to the future of the Asian and world economy. Asian nations, including China, are now undergoing vital economic rebalancing and are faced with a dilemma of maintaining economic growth while embarking on structural adjustment. How Asian nations address these new challenges will indicate the directions of future reforms across the continent.
Accelerating integration
As the opening-up policy has gradually been adopted by most Asian nations, the investment and trade relations between them have become closer, and bilateral, regional, sub-regional and trans-regional cooperation has been initiated. Exchanges and cooperation in the areas of industry and commerce, finance, science and technology, as well as culture, are intensifying. Concrete progress has been made in the building of a cooperative relationship between the Association of Southeast Asian Nations (ASEAN) and China, Japan and South Korea, and sub-regional cooperation, such as economic integration of the ASEAN, Great Mekong economic cooperation and South Asia Association for Regional Cooperation, is also underway. On a larger scale, trans-regional cooperation is in progress as exemplified by Asia-Pacific Economic Cooperation (APEC), the Asia-Europe Meeting and the Forum for East Asia and Latin America Cooperation.
An analysis from the Asian Development Bank shows that by 2050, Asia's GDP may account for 51 percent of the world's total. The report states that regional cooperation and integration will be crucial for the future prosperity of Asia.
As distinct from the politically driven route to integration taken in Europe, Asia's integration process over the past three decades has mainly been spurred forward by the market. Since trade barriers impose a largely negative impact, Asian economies have a strong desire to eliminate them. A series of bilateral free trade agreements have also accelerated economic cooperation among Asian countries.
In 1993, there were only 14 free trade agreements between Asian countries, but at the end of 2013, that number totaled more than 100. Trade has played a key role in the most dynamic economic region in the world.
"Asia still does not have a common market, equivalent to the EU or NAFTA. As a result, the flow of capital and labor within the continent is not as smooth as it could be. Indeed, in many Asian countries, the domestic capital and labor markets suffer severe restrictions and the movement of capital and labor faces many policy barriers. A significant reduction in the cost of moving capital and labor across Asia can provide a strong source of growth and economic integration in the years to come," wrote Nobel Prize winner Ronald Coase.
Coase's analysis points out where Asia has fallen behind in building its own economic community, and it confirms the importance of multi-dimensional integration policies in Asia-Pacific economic development. Therefore although there is no common consensus on how to fully realize Asian economic integration, the policies of Asian nations and other related economies should all focus on reorganizing the process of economic alliance through free trade agreements.
Despite disagreements, there have been some common understandings: Any sensible free trade agreement should not only stress reducing tariffs, but also focus on more comprehensive trade norms on investment, services and intellectual property rights in order to ensure high-level international trade rules can be reached. The scope and comprehensiveness of a free trade agreement will decide whether or not it will bring benefits to Asian economies.
Wide participation in the process of integration, including making systematic arrangements on related cooperation, will be an important responsibility China may assume in future regional economic cooperation.
Enhancing connectivity
At present, infrastructure in the Asia-Pacific region, particularly in the transportation and energy networks, needs improvement. In this region, most countries spend less than 3 percent of their GDP in the construction of infrastructure. In the private sector, the investment in infrastructure makes up less than 1 percent of the GDP. Infrastructure remains the largest bottleneck for the economic integration of Asia.