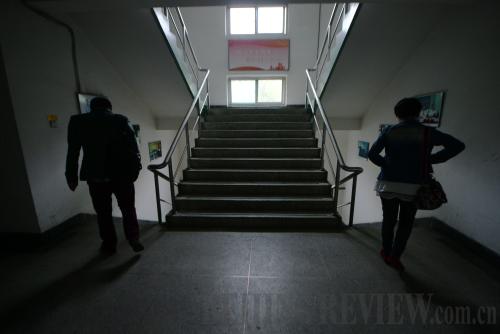 SEPARATE WAYS: A former couple leave the marriage registration office after filing for a divorce in Shijiazhuang, Hebei Province (CFP)
Wu Minqiang, 70, has devoted a significant part of his life to providing free marriage counseling for couples considering a divorce.
Before Wu retired from his position as an administrative assistant, it was part of his job responsibilities to mediate family disputes. Although most people used to be embarrassed or even ashamed to acknowledge marriage difficulties, it was not difficult for Wu to find those in need of his help.
Until the amended Marriage Law took effect in October 2003, couples seeking a divorce were required to obtain written permission from employers or neighborhood committees to untie the knot and there was a "buffer period" of one month from the acceptance of a divorce application by the government until the issuance of a divorce certificate.
"Back then, couples sought divorces mainly due to fights over money or disagreements over parenting. I used my personal experience to tell them how to divide financial power between the wife and husband or better educate their children," Wu told newspaper Legal Weekly.
After his retirement, Wu found he missed assisting couples through their difficulties so much that he enrolled in a program to become a certificated marriage counselor. During his voluntary service at the marriage registration office in Yuhang District, Hangzhou City in Zhejiang Province, he witnessed a spike in divorce applications.
"Unlike the old days —when I tried my best to persuade my colleagues not to break up—now I mainly advise against making impulsive decisions," Wu said. "I also educate them on how to minimize possible trauma to their children or themselves after the marriage falls apart."
Divorce boom
The divorce rate in China has been rising rapidly over the past 30 years, shooting up from less than 0.25 per thousand in 1978 to 2.29 per thousand in 2012, based on dividing the number of divorces by the entire population and multiplying the result by 1,000. Using the same calculation method, while the nationwide marriage rate climbed from 8.3 per thousand to 9.8 per thousand between 2008 and 2012, the divorce rate during this period exhibited a much steeper curve by surging from 1.71 per thousand to 2.29 per thousand.
According to official statistics, a total of 13.23 million couples were wed while 3.1 million divorced in China in 2012, representing one marriage falling apart almost every 10 seconds.
The total number of divorces in 2012 was 133 percent more than in 2003, according to Zhang Shifeng, head of the Department of Social Affairs at the Ministry of Civil Affairs. Although national divorce statistics for 2013 have yet to be released, he predicted that they would maintain their upward trajectory.
In July 2011, the Ministry of Civil Affairs launched a campaign aimed at reducing the number of impulsive divorces by improving the free counseling services available at divorce registration offices.
Discussions on the Internet about the staggering divorce rate have seen some netizens criticize the phenomenon and blame divorcees for not taking their marriage seriously. Others consider it a sign of social progress and an indicator of more freedom and rationality when making choices about marriage.
Many sociologists believe that at the root of the change is a more affluent, open and tolerant society, where people put more emphasis on individuality and freedom of choice. Moreover, society has become more tolerant toward divorces and divorcees.
A report by Xinhua News Agency in November 2013 identified four factors eroding marriage in China: an increase in vulnerable marriages entered into for pragmatic, material goals; a windfall for one party; extramarital affairs; and "technical divorces," which were filed to avoid paying certain taxes during property trades or to sidestep car purchase restrictions.
After the issuance of a new set of government policies aimed at reining in housing prices in March 2013, couples in many cities flocked to divorce to avoid a new property sales tax, which can amount to tens of thousands of yuan in large cities such as Shanghai and Beijing.