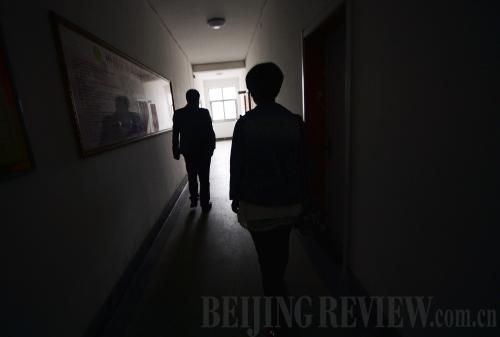 A couple steps out of the divorce office of Qiaoxi District in Shijiazhuang, Hebei Province (CFP)
On June 25, former Olympic champion hurdler Liu Xiang announced he and his wife Ge Tian, an actress, were getting a divorce, ending their marriage of only nine months. Liu's announcement on Sina Weibo, China's Twitter-like microblogging service, said that he and his ex-wife didn't adapt well as a couple.
Liu, born in 1983, and Ge, 1988, got married last September after a four-month courtship, but since then, they were rarely seen together in public.
Today, one out of every four marriages in China ends in divorce. Liu and Ge are characteristic of what is becoming known as the "younger-generation divorced population": They were both born in a single-child family after 1980 and divorced after a short marriage.
In order to rein in the surging population, China tightened birth control in 1980 by allowing most urban couples to have only one child and allowing most rural couples to have two if their firstborn was a girl. In late 2011, couples across the country were given the option of having two children if both of the parents are themselves from one-child families. Restrictions were further eased in December 2014, when the Standing Committee of the National People's Congress, China's top legislature, decided to allow families to have a second child if one of the parents is an only child.
"Most post-80s babies don't have any siblings to communicate with and are the focus of the attention of all senior family members," said Sun Yunxiao, Deputy Director of the China Youth and Children Research Center. "This hinders their ability to communicate effectively with their spouses. Marriage is an art of compromise."
Forget-me-not
According to figures released by the Ministry of Civil Affairs (MCA) on June 10, a total of 3.6 million Chinese marriages broke up last year. Among them, the 25-29 age bracket represented 38 percent of the total, up 2.8 percentage points from 2013.
"The reason the divorce rate is high among these groups is that they value their own interests and rarely care about others' feelings," said Sun, who revealed that many young people now divorce for trivial reasons. "Some reasons sound absurd. For example, I heard that a woman wanted a divorce because she couldn't bear seeing her husband using a toothpick after meals."
Zhang Xiao (pseudonym), a 30-year-old Beijing resident, recently divorced after 13 months of marriage. "I tied the knot with my ex-husband after six months of dating," Zhang said. "But during our 13-month marriage, he refused to do any housework and I had to wash all the clothes. Neither of us could cook, so we seldom ate at home. It didn't feel like a home at all."
"Many young people now get married impulsively before they truly know what marriage is," said Chu Yunlu, a lawyer in Beijing who mainly handles divorce proceedings. "The image of marriage in their mind is mainly from movies or TV dramas. Some believe love at first sight can last forever and every day needs to be super romantic. When real life doesn't meet those expectations, they get disappointed."
Chu suggests the government and/or non-governmental organizations hold marriage awareness campaigns, telling unmarried people that the spousal relationship is more about responsibility than romance.
"Only after getting married did I realize marriage is not only the union of two people but also that of two families," said 28-year-old Gao Min (pseudonym), who divorced in May after a four-year marriage.
"I heard this saying before, but didn't think much of it," Gao said. "I thought as long as we loved each other, we could overcome any obstacle."
A graduate from the prestigious Tsinghua University with a master's degree in economics, Gao fell in love with her ex-husband, who graduated from the same university with a doctorate, in 2010. The two got married in 2011.
"The first two years after getting married were sweet and happy," Gao noted. "Things changed after my ex-mother-in-law moved in with us in 2013."
Gao's ex-mother-in-law is all but a vegetarian, but Gao loves meat. "What I like doesn't mean that much to her. She only cares about her son. As she is the cook, I had a hard time eating meat at home," said Gao, who complained to her ex-husband but received no positive response. She then started to eat outside most of the time.
According to Gao's ex-mother-in-law, children help hold a marriage together. However, Gao's daughter's birth didn't stop her marriage from breaking up.
"I had many arguments with my ex-mother-in-law over how to take care of my daughter, and all this made the whole situation even worse. Love is weak in the face of complicated family issues," Gao said.
Now, Gao lives with her daughter alone. "I think sometimes about how to tell my daughter about the divorce when she grows up. I hope she can understand," she said.
"Many parents of the post-80s generation like to get involved in their children's marriage," said Zhou Qiangyun, a lawyer in Shanghai. "One reason is that most young people are the only child in their family and parents don't want to leave them. In addition, many parents believe they are obliged to be involved because they have spent a huge portion of their savings on their child's marriage, including the wedding ceremony, housing, cars and other expenses."
Data from the Shanghai Putuo District Mediation Board for Women- and Children-Related Disputes revealed that among all marriage-related mediation cases involving post-80s generation couples, over 90 percent of the divorce seekers were accompanied by their parents during the proceedings. In many cases, the parents handled the majority of the divorce process on their children's behalf.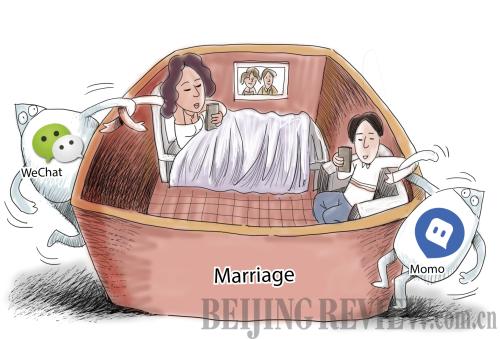 (LI SHIGONG)
Union crossroads
Unlike most young couples who tend to end their marriage on impulse, most middle-aged divorce seekers, who are burdened with many responsibilities, choose to sever their ties after serious deliberation.
In recent years, a large number of couples have ended their marriages after their children took the national college entrance exam in June, also known as the gaokao. As a result, the divorce rate usually peaks from June to September. Zhou Hao, a lawyer in Wuhan, central China's Hubei Province, said that among all the 30 divorce cases she handled after the gaokao this year, more than 20 involved couples whose children had just took part in the exam.
A couple in Wuhan reportedly signed their divorce agreement five years ago but had to fake their relationship for their daughter because they didn't want family troubles to hinder her performance on the exam.
Statistics based on divorce records in a third of China's provincial-level regions show that more divorce cases were filed in courts in the 20 days after the gaokao than in the 20 days before it since 2009.
In Changsha, capital of central China's Hunan Province, nearly 500 couples filed for a divorce in the first week after this year's gaokao, a number that nearly doubled that in the previous week, reported the Changsha-based newspaper Sanxiang Metro.
Jin Hui (pseudonym), a 43-year-old woman in Jinan, east China's Shandong Province, divorced her husband right after the score of their daughter in the gaokao was released.
"We had both worked in a county in the vicinity of Jinan. But in 2005, he quit the job and came to Jinan to start his own business," Jin said. "He soon made a lot of money, but the accumulation of wealth also made a gap between us. He has new social connections with whom I can't be involved. I know we can't go back to where we were."
In front of their daughter, though, they pretended to be happy and intimate. "It was torture for both of us," Jin admitted. "So we decided to give up and set each other free."
Normally, many middle-aged couples choose to end their marriage because of the change of wealth and/or social status of one party.
"But it is not an irreconcilable conflict. Many people just don't want to take actions to better the situation," Sun said. "They are, by and large, tired of the long marriage."
Statistics released by the MCA also reveal that extramarital affairs are spotted in 74.6 percent of all divorce cases. Sixty percent of people surveyed have been cheated on by their spouses, either physically or mentally.
The boom of social networking platforms has been blamed for catalyzing cheating in recent years. Extramarital affairs in which social networking apps such as WeChat and Momo have played a role increased 20 percent in 2014. Currently, WeChat has 468 million active users per month and the less popular Momo boasts 100 million users.
"It has never been so easy to reach out to strangers," said Wang Lulu, a Beijing resident, who admitted that she felt nervous about her marriage after she found out that her husband was chatting with a woman on Momo. "He said that it is just chatting, nothing else, but I know it is not that simple. Every time his smartphone buzzes, I feel bad."
Xie Lin (pseudonym), a housewife taking care of a 3-year-old son at home, always feels bored, and chatting with random people encountered on social networking apps is the only thing she has to pass the time. "But I will definitely hide this from my husband," Xie said.
Besides all the reasons above, a unique factor that has increased the divorce rate mentioned in the report of the MCA has nothing to do with love.
In 2013, tight housing purchase restrictions were implemented in major Chinese cities to curb soaring property prices. The new policy charges an extra 20-percent income tax if a couple with two homes wants to sell one. However, if the couple was to get divorced, each ex could then register a house in their respective names, meaning that if either house was to be sold, no extra tax would be incurred.
The initial purpose of the policy was to cool down the torrid real estate market, but within days after the new policy took effect, a lot of cities reported a rise in divorce applications, as pragmatism continues to win out over romance in China. In most housing-related divorce cases, divorced couples remarried after the transaction was complete.
"Any policy that leads to something this dramatic is defective," said Minister of Finance Lou Jiwei at a press conference in March 2014.
Peaceful dissolution
Whatever the reasons behind divorces, the divorce rate in China has been growing over the past decade.
Li Hongxiang, a professor of law at Jilin University in northeast China's Jilin Province, said that today's people no longer believe marriage is a lifetime commitment and a weakened idea of marriage has led to more divorces. He also pointed out the current marriage registration regulation that went into force in 2003 has made it easier to get a civil divorce.
"Society now has become more tolerant toward divorce," said a doctor surnamed Ma at the Beijing National Olympic Psychological Hospital, who declined to give her full name. "Divorce is no longer considered shameful as was the case decades ago."
The decision to marry and divorce is influenced by the growing emphasis on what is beneficial to the individual in a society that has traditionally been taught to prioritize public interests.
Some Internet users believe that couples should be able to divorce whenever they want because the freedom to divorce is a sacred right endowed to Chinese citizens by the law and that marriage registration offices should increase the efficiency of relevant legal procedures.
However, others believe that time can allow couples to calm down and think about making such a drastic move.
In March, the local court of Beijing's Mentougou District decided to assign its juvenile delinquency division to handle all cases of divorce involving couples with underage children.
The move comes as the court recognizes that the legal proceedings of divorce can cause serious mental anxiety for underage children. Having failed to receive appropriate care and instruction from parents, a high proportion of juvenile offenders come from broken families, revealed division head Yang Chang.
Efforts have been made by the division to explore a pre-divorce education program for couples. For example, a video clip titled Divorce? Made Up Your Mind? is now screened for divorce seekers prior to a court trial. Multiple handbooks showing examples of inappropriate behavior and remarks made by divorce-seeking parents that might harm their children are also available.
Ma Xia and her husband Wu Honggang (pseudonyms) refrained from blaming each other or engaging in violent fights after watching the video and reading the books. Ma, previously determined to divorce due to her husband's affair and to fight for custody of her 5-year-old son, finally decided to leave her son under the custody of his father for the sake of the child's better education.
In the same way, the Mentougou court has concluded 48 divorce cases in 2015, with 85 percent of them being settled through mediation or out-of-court negotiations, 19 percentage points higher than the average level in Beijing in the same period.
On June 30, the Mentougou court signed an agreement on cooperation with the district's women's federation, labor union and other institutions in alleviating and removing the adverse impacts of divorce on minors. The agreement states that education and counseling must be given to couples once or twice during the divorce trial, lasting at least one hour each time.
In addition, psychological counseling about family and marriage has yet to become a public service stipulated by the law.
"Divorce is by no means a happy ending for a family; sometimes a second thought changes the whole situation," Yang said. "We hope divorce seekers would spend more time and energy on maintaining and developing a healthy marriage than breaking up on the spur of the moment." 
Copyedited by Kylee McIntyre
Comments to yuanyuan@bjreview.com