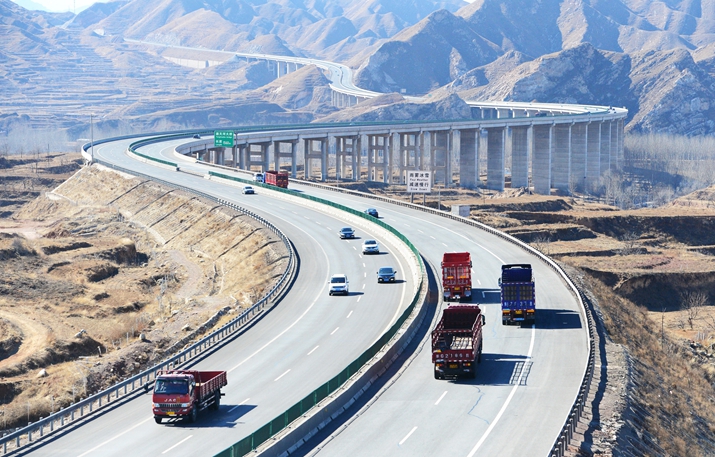 A section of the Baoding-Fuping Expressway in Hebei Province. Infrastructure construction has been stepped up to promote regional economic development (XINHUA)
Despite a slowing economic growth in recent years, observers are staunchly confident in the country's potential and future.
"During the 13th Five-Year Plan (2016-20) period, China's economy will grow between 6 and 8 percent annually," said Wang Jun, a researcher with the China Center for International Economic Exchanges, a Beijing-based think tank.
He made the remarks ahead of this year's full sessions of the National People's Congress (NPC) and the National Committee of the Chinese People's Political Consultative Conference (CPPCC). These high-profile gatherings, officially known as the Fourth Session of the 12th NPC and the Fourth Session of the 12th CPPCC National Committee, take place in Beijing from March 5 to 16 and March 3 to 13, respectively. The 13th Five-Year Plan for China's economic and social development will be adopted at the conclusion of the NPC session after deliberation by national lawmakers.
In a recent article, Wang enumerated 10 factors that will strongly propel China's economic development. For instance, the dividend from its investment in human capital—education and health—is growing and will be continuously released. Also, urbanization will create huge room for consumption expansion and infrastructure improvement. Furthermore, industrial upgrading will create vibrant growth impetus and mass entrepreneurship will also unleash growth potential and vitality.
Wang's assessment of China's economic growth trend echoed the views of most Chinese economists.
Xu Shaoshi, Minister in charge of the National Development and Reform Commission (NDRC), China's top economic planning agency, shared Wang's view about the positive growth vector, even though he saw it from a different perspective.
To understand the Chinese economy, one should understand the "new normal," he said.
The new normal has three main factors—a shift in economic growth speed, structural optimization and a change in the main growth engines.
Although China's economic growth speed has slowed down, it remains within a reasonable range. Last year saw a 6.9-percent GDP growth, which was not far from the 7 percent or so predicted at the beginning of that year.
More importantly, China is still one of the fastest-growing economies globally. Data released by the International Monetary Fund revealed that China, the world's second largest economy in terms of nominal GDP, contributed to more than 25 percent of the world's economic growth in 2015.
China's role as a major force driving the global economy will remain unchanged for some time in the future, Xu said.
He explained that when evaluating China's economic trend under the new normal, more attention should be paid to the economic structural transformation as well as economic quality and benefits rather than the short-term fluctuations in the economic growth rate. Currently, China's economic transformation is accelerating, and positive results have already been achieved in structural optimization, according to Xu.
First of all, the demand structure has continued improving, and consumption is contributing more to growth than investment. In 2015, final consumption contributed to 66.4 percent of economic growth, exceeding investment figures.
Second, solid progress has been made in structural adjustment. In 2015, the service industry accounted for 50.5 percent of the GDP, surpassing 50 percent for the first time. The value added of hi-tech industries went up 10.2 percent from the previous year, a rate much faster than that of traditional industries.
In Xu's eyes, China's economic growth trend is balanced. "The economic demand as well as industrial, regional, urban-rural and energy structures are continuously optimizing, and new stimuli are being nurtured," Xu said.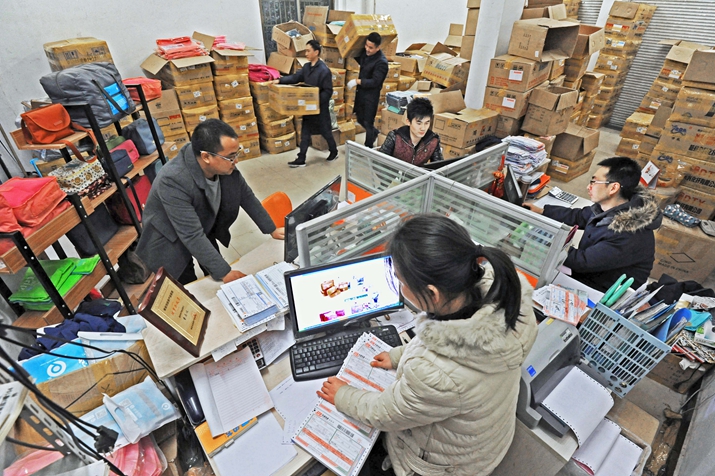 Employees of an online retailer in Yiwu, Zhejiang Province, are busy at work on December 29, 2015 (XINHUA)
Government actions
In response to worries about China's economic growth slowdown, Chinese government officials have expressed their confidence on various occasions. The government has set the annual economic growth target for the next five years as no lower than 6.5 percent on average.
The target was unveiled by President Xi Jinping while explaining the Proposals on Formulating the 13th Five-Year Plan at the Fifth Plenary Session of the 18th Communist Party of China (CPC) Central Committee, which concluded on October 29, 2015.
China aims to double its GDP in 2010 as well as that year's per-capita income of both urban and rural residents by 2020. To achieve this goal, a minimum annual average growth rate of 6.5 percent is necessary, Xi said.
The CPC's proposals spell out five concepts of development—innovation, coordination, ecological friendliness, opening up and benefits to all. In addition to stepping up the ongoing economic transformation and structural adjustment, the document set three major tasks.
The first is to foster development by optimizing the allocation of productive factors including labor, capital, land, technology and management. This includes promoting innovation and entrepreneurship, generating new demand and supply, pushing ahead the vigorous development of new technology, and also supporting emerging industries and business formats.
The second involves further boosting regional development, industrial upgrading, infrastructure construction, as well as the cyber and marine economies. Endeavors such as the Silk Road Economic Belt and 21st-Century Maritime Silk Road Initiative, the integrated development of Beijing, Tianjin and Hebei Province as well as the establishment of the Yangtze River Economic Belt are expected to push forward the development of key areas and the balanced development of urban and rural areas.
To promote industrial development, more support will be given to energy conservation and environmental protection, biotechnology, IT, smart and high-end equipment manufacturing, alternative energy and other emerging industries. Efforts will also be made to bolster the revamping of traditional industries.
China also plans to carry out major public facility and infrastructure projects, accelerate the construction of a new generation of information infrastructure, as well as improve water conservancy, railways, highways, waterways, civil aviation, general aviation, pipelines and the postal service network.
To spur the development of the cyber economy, plans have been in place to implement the Internet Plus initiative and develop the Internet of Things. The country will also carry out the big data national strategy, promote data sharing, and support all kinds of Internet-based innovation.
In regard to developing the marine economy, focuses will be placed on the rational exploitation of marine resources and protection of the marine ecological environment.
The third task outlined by the CPC's proposals is to expand consumer spending and upgrade the consumption structure.
In January and February, 31 provincial-level regions on the Chinese mainland all made their economic and social development plans for the next five years at local legislative sessions. The annual GDP growth targets proposed by local governments showed that they were upbeat about this year's economic performance.
Economically advanced coastal provinces and autonomous regions such as Shandong, Jiangsu, Shanghai, Zhejiang, Guangdong and Guangxi set their GDP growth targets between 7 and 8 percent. Meanwhile, provinces that have encountered development bottlenecks such as Jilin and Heilongjiang in northeast China set their GDP growth targets at 6-6.5 percent.
Wang said that as the 13th Five-Year Plan is set in place, the Chinese economy will shift from high-speed growth to moderate and quality-focused growth. The country's economy is rife with potential in a variety of terms including overall development, technology and creativity levels, as well as factor costs and labor productivity.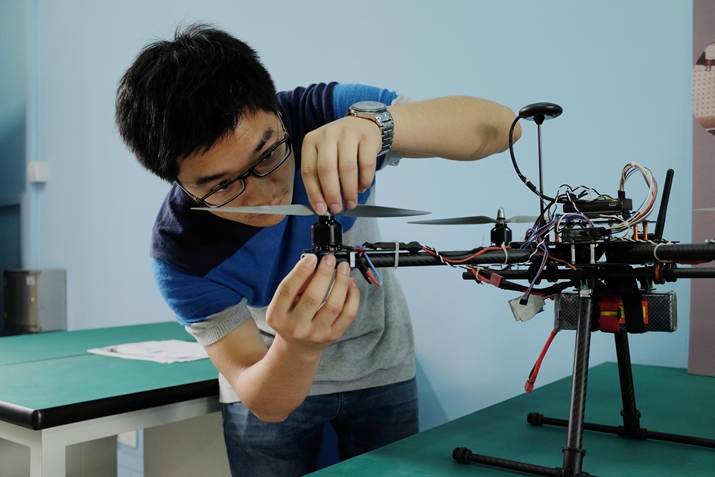 In a makerspace in Shanghai-based Donghua University, Zhou Youwei, a student majoring in mechanical engineering, debugs a self-made drone on May 14, 2015 (XINHUA)
Overcoming difficulties
During the past three decades of high-speed development, many problems hindering economic development have built up in China. To maintain stable growth, these difficulties must be tackled. Consequently, in 2013, the CPC put forward a strategy to comprehensively deepen reform. The next five years will be an important period determining the success of this scheme.
Yang Weimin, Deputy Director of the Office of the Central Leading Group on Finance and Economic Affairs, said that the Chinese Government is currently focusing on five issues. Those issues concern cutting industrial overcapacity, destocking housing inventory, financial de-leveraging, lowering costs for companies and improving the weak links in economic development. The Central Leading Group on Finance and Economic Affairs is a key economic policymaking institution at the top level.
Currently, China is becoming an upper-middle-income country and its population growth is slowing down. Yang said that affected by these factors, plus the sluggish demand from the international market, China's demand structure is shifting from being industry-oriented to being service-oriented, and demand for traditional commodities is shrinking. He claimed that this has led to overcapacity in some industries in relative or even absolute terms, so reducing excessive production capacity will be a major task in the next two to three years.
Huge housing inventory levels are also a form of overcapacity, while a high vacancy rate represents a waste of resources, Yang added.
Enterprises with overcapacity, as well as real estate developers and local financing platforms have accumulated a large quantity of debt during the rapid expansion period. Banks are therefore increasingly cautious about lending to these companies and have even stopped issuing loans to some of them. Hence, financial de-leveraging and lowering costs for companies have become major policies that the government uses to boost economic growth.
According to Yang, relevant departments have stepped up efforts to tackle overcapacity, and are researching and working out comprehensive policy measures that suit local conditions.
The government has also launched a policy package including tax cuts and special financial support to slash the operating costs of enterprises in real economy.
To destock housing inventories, efforts will be made to expand effective demand, including urbanizing migrant workers from the countryside.
The Chinese Government has also produced detailed methods regarding income distribution, enterprises' self-development abilities as well as infrastructure improvement to shore up weak links in economic development. In particular, the Central Economic Work Conference in December 2015 decided to raise the budget deficit ratio as part of a proactive fiscal policy to deal with the downward economic pressure. China raised its fiscal-deficit-to-GDP ratio to 2.3 percent for 2015, compared with 2014's target of 2.1 percent, with the number expected to rise to 3 percent or more in 2016.
In regard to the defusing of financial risks, the government demands comprehensive oversight and the resolute prevention of systematic and regional risks.
External influence
In Xu's view, China's economic growth will be affected by external factors more than internal ones in 2016-20. "The world economy is still experiencing deep adjustments, slow recovery and low growth. The international financial market is increasingly volatile, with continuous drops in the prices of bulk commodities and increase of uncertainties, which will ripple into China's economic development in various ways," he said.
Xu said that the deep-seated effects of the 2008 financial crisis will linger for quite some time, as global economic growth is weak, protectionism is rising, and geopolitical relations become more complicated. In addition, conventional and unconventional threats to security have intertwined, and external risks are increasing.
By raising the interest rate, the U.S. Federal Reserve (Fed) has added uncertainty to the world economy, said Zhang Yuyan, Director of the Institute of World Economics and Politics at the Chinese Academy of Social Sciences.
"It was originally estimated that from last December to this year, the Fed would raise the interest rate four times to reach about 1.5 percent. Now, the economy is in bad shape, and [Chairwoman of the Fed] Janet Yellen has been backing off [from interest raises] in recent remarks, which exposes the increasing risk of policy errors. The recovery is very weak, so any mistake in the timing, extent or frequency of interest raises might lead to another economic recession or financial crisis," Zhang said.
In 2008, the financial crisis in the United States triggered a global recession. To stimulate the economy, the Fed implemented a quantitative-easing policy. The international community's opinion of the measure is that although this policy has prevented the global economy from plunging into a great depression, the ultra-low interest rates that it employed has gradually created negative side-effects.
Ultra-low interest rates have also led to a debt problem. The Basel-based Bank for International Settlements in Switzerland estimated that such interest rates will enter a vicious cycle, exposing investors to excessive risks, leading to poor credit allocation, and luring policymakers to postpone fundamental reforms needed to promote economic growth.
"Currently, the world is suffering from a toxic combination of low inflation, low growth, low interest rates and high debt levels. Everybody knows that this situation will not last long," Zhang said.
Zhang added that now there is a tendency for the economic policies of developed countries such as the United States and EU nations to be highly politicized, that is, political considerations are put before economic ones, which could hamper economic globalization.
The U.S.-led Trans-Pacific Partnership (TPP) multinational trade agreement is an example that illustrates the point. U.S. President Barack Obama explicitly said that the TPP was created in part to prevent countries like China from dominating the creation of regional trade rules. Hence, the impact of the TPP on the Chinese economy should be carefully observed.
Copyedited by Bryan Michael Galvan
Comments to lanxinzhen@bjreview.com