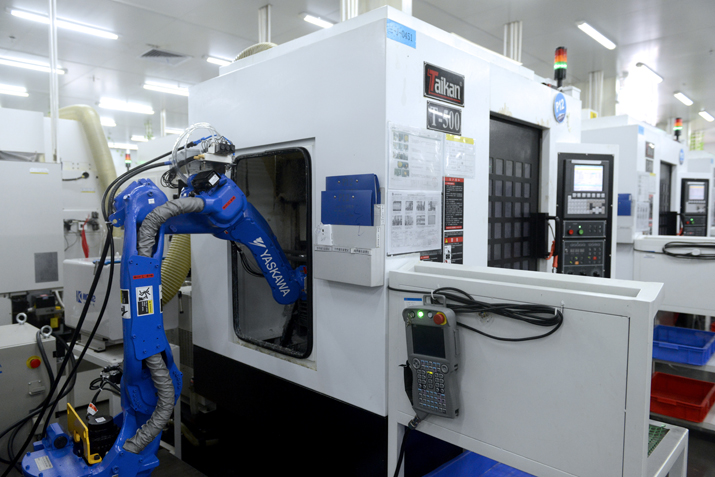 A robot operates at a workshop belonging to the Dongguan-based Janus Precision Components Co. Ltd. (CFP)
South China's Guangdong Province, which is famous for its manufacturing industry and processing trade, is now facing "growing pains." It is under the dual pressure formed by the reindustrialization movement in developed economies, as well as the low-cost competition coming from developing economies. Realizing that transformation is necessary, the province has been restructuring its industrial structure.
Workshop revolution
More than 70 robots have replaced human workers on the assembly lines of one of the Dongguan-based Janus Precision Components Co. Ltd.'s workshops. All of the steps in the manufacturing process are being operated by automated machines.
"A traditional workshop usually needs 204 workers to operate on the assembly lines, but with industrial robots, a smart workshop only needs 13 technicians responsible for quality inspection and machine maintenance," said Huang He, Vice President of Janus. According to him, smart manufacturing can improve production efficiency by more than 30 percent.
"If the product mix and production style cannot satisfy market demand, a company would be unable to survive market competition," Huang said. "Smart manufacturing therefore becomes a way out of the labyrinth, as the labor and production costs keep rising."
The company has invested 600 million yuan ($91.74 million) in transforming equipment for smart manufacturing, of which 9 million yuan ($1.31 million) is from a special government fund supporting the robot replacement program. It is estimated that the investment can be recovered in one and a half years, said Cao Haojie, head of Janus intelligent workshop.
The robot replacement campaign is not simply a solution for addressing labor shortages, but a revolution to the production style of the manufacturing industry. "The title of the world's factory used to be a burden for Guangdong in terms of economic transformation, but facts have proven that workshop innovation has a bright future," said Deng Jiangnian, a research fellow with the Guangdong Provincial Academy of Social Sciences (GDASS).
In 2014, Dongguan issued a three-year plan for the robot replacement campaign, offering 200 million yuan ($29.24 million) worth of special funds each year to support the upgrading of manufacturing equipment, according to figures from the Information Office of the Dongguan Municipal Government.
"The robot replacement campaign can also boost the development of China's robot industry, and the Guangdong Intelligent Robot Institute is located in Dongguan," said Xu Jianhua, Party Secretary of Dongguan.
The workshop revolution is also improving the position of corporations in industrial chains, helping them to expand their business from manufacturing to research and development, design and branding. Janus, for example, used to be an original equipment manufacturer for Samsung, Huawei and other cellphone makers. The company is now transforming itself to become more in tune with the service-oriented manufacturing industry.
"Now many corporations have come to us for cooperation in building intelligent factories. In the future we will become a provider of intelligent manufacturing solutions for corporations across the country," Huang said.
Innovation as a booster
Fifteen years after its establishment, dormitory furniture producer Guangdong Lianying Furniture Co. Ltd. saw that its traditional business pattern was hitting a bottleneck at the end of 2012. After attending a training course for e-marketing in October that year, Zhang Xilin, president of the company, realized the Internet's potential and became determined to shift his business to e-commerce.
The first order through the Internet was from Samsung in 2013, which earned 7 million yuan ($1.07 million) for the company. Now the company has become a supplier for many well-known corporations such as China Southern Airlines. Their sales revenue reached 30 million yuan ($4.59 million) in 2015, and is expected to surpass 100 million yuan ($15.29 million) this year, maintaining 100-percent growth for three consecutive years, Zhang said.
"With Internet Plus, our business pattern is completely renovated, and the production becomes more flexible," said Zhang, referring to the Chinese Government's proposal to utilize the capacity of the Internet for business efficiency and marketing. Zhang decided to expand his business after benefiting from e-commerce. In 2014, Zhang transformed the living quarters of Nokia's Dongguan factory, which was shut down in the same year, into the Poly Electronic Business Park, serving as an incubator where traditional enterprises can be transformed via e-commerce.
New technology, products, industrial forms and business models are boosting Guangdong's economic transformation. "There are no outdated industries, but only outdated technologies and business models. Implanting genes of innovation to traditionally competitive industries will definitely reinvigorate them," said Ding Li, head of the Regional and Enterprise Competitiveness Research Center of GDASS.
Hengli is an industrial town for mould manufacturing in Guangdong. Benefiting from innovation, the town has maintained double-digit GDP growth for the past three years.
In November 2012, the township government of Hengli established a Synergy and Innovation Center through collaboration with seven universities and research institutes nationwide, such as the Shanghai Jiaotong University, the Guangdong University of Technology, the Dongguan University of Technology, and the DG-HUST Manufacturing Engineering Institute. Through this center, the 600 mould producers in Hengli can easily access technological solutions from those universities and research institutes.
Liquid metal is a new material that the Wintop (Dongguan) Industrial Technology Co. Ltd. has developed. With this elastic and erosion-resistant new material, Wintop has expanded its businesses from moulding to the manufacturing of glass covers, cell phone parts, dentures, and even to the field of aeronautics and astronautics. "Such a transformation cannot be achieved without the joint efforts of the scholars from the town's synergy and innovation center," said Yang Hai, Deputy General Manager of Wintop.
"We used to get a free ride from the country's reform and opening-up policy and the international industrial transfer, so the manufacturing industry has grown prosperous with the advantage of low costs," said Chen Xiwen, Party chief of the town of Hengli. But now that the economy is undergoing restructuring, "We must change from getting a free ride to buying tickets. Only by taking the train of innovation can we run faster," Chen said.
Cutting-edge manufacturers
Quadcopters made by the Shenzhen-based DJI Innovations, such as the Phantom series and the Inspire series, are becoming better known throughout the world. They are frequently seen in popular movies, and have even appeared on the news due to one of the drone's crash on the lawn of the White House in Washington, D.C. The machines were also used to help recovery efforts when a 7.8-magnitude earthquake hit Nepal in April 2015.
With complete and independently developed technology chains, DJI Innovations is now a market leader in easy-to-fly drones and aerial photography systems. According to Wang Fan, DJI Innovations' Public Relations Director, the company now owns 70 percent of the global market share, and it is one of the few companies coming from China that is leading the global industrial trend. "DJI is like a boy holding a torch in the darkness, followed by many others," he said.
"I hope that 'Made in China' will soon become a synonym for high quality and taste. This is my dream for the current stage," said Wang Tao, founder and CEO of DJI Innovations.
As a national demonstration city for independent innovation, Shenzhen has laid out plans for the development of seven strategic emerging industries, such as new-energy vehicles and environmental protection, and four future industries including wearable devices and intelligent equipment. "In the past five years, value-added output completed by strategic emerging industries has been growing at an annual average of 17.4 percent, and their proportion in the city's total GDP has increased from 28.2 percent to 40 percent," said Chen Biao, Vice Mayor of Shenzhen, during a press conference on February 26. The size of the four future industries has totaled 400 billion yuan ($61.16 billion).
Despite efforts and achievements in the economic transformation in Guangdong, challenges still remain. Xu, Party Secretary of Dongguan, listed some problems the city is facing, such as uneven enterprise quality, poor innovation ability, and insufficient numbers of major industries and big projects that are competitive enough to support future development. He also claimed that Dongguan was short of talents who could contribute to the region's transformation and upgrading.
Copyedited by Bryan Michael Galvan
Comments to wangjun@bjreview.com