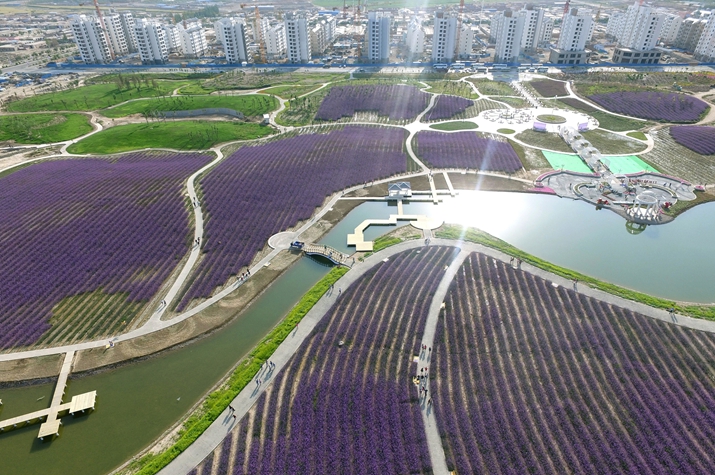 A scenic lavender field in Jinchang, Gansu Province, which is China's largest manufacturing base of nickel and cobalt. In recent years, the resource-based city has transformed to develop a green economy (XINHUA)
Green development has become a crucial component of China's initiative to push forward supply-side structural reform.
Amidst the current economic slowdown, resolution and courage should be strengthened to encourage progress in sustainable industries and economies, because it is neither feasible nor viable to pursue temporary GDP growth at the expense of natural environment, said Wu Xiaoqing, Vice Minister of Environmental Protection at a press conference for the Fourth Session of the 12th CPPCC National Committee on March 7. He also stressed that environmental protection should not become an obstacle to economic development.
In the past three decades, China's economy was based on the wholesale construction of industrial facilities, manufacturing of consumer goods, improvement of housing conditions, motorization of transportation, etc. However, the massive use of materials involved in those tasks has resulted in excessive per-capita energy consumption, serious pollution and subsequent climate change. Aside from that, the economy has now reached a bottleneck, and can no longer be supported by the low-end capacity expansion, mass production of traditional consumer goods, and low environmental standards and labor costs of that era.
"Green and low-carbon development is totally different from what China has pursued in the past. The focus is on both promoting economic development and improving the quality of people's life," said Zhou Dali in an exclusive interview with Beijing Review during the United Nations climate change conference in Paris last December.
"Green development, which is primarily fueled by innovating in technology and boosting development quality, is in line with the purpose of supply-side structural reform, Fu Chengyu, former Chairman of Sinopec Group, told Beijing Review .
In fact, the initiative to pursue green development has already yielded some results. During the 12th Five-Year Plan period (2011-15), energy consumption per unit of GDP was brought down by 18.2 percent year-on-year, outpacing the previously set goal of 16 percent, with the emissions of major pollutants down more than 12 percent. From 2013 to 2015, energy consumption per unit of GDP decreased by 3.7 percent, 4.8 percent and 5.6 percent respectively, suggesting growing momentum.
Furthermore, Premier Li Keqiang pledged that cities will enjoy good air quality throughout 80 percent of the days during the 13th Five-Year Plan period, which spans from 2016-20.
Smog-filled days are primarily a result of coal burning and automobile exhaust, therefore, achieving [Li's] goal will be an arduous process for many cities, said Qin Dahe, an academician with the Chinese Academy of Sciences.
To this end, responsibilities should be explicitly defined and detailed tasks should be assigned to government officials at all levels. Also, an appraisal and accountability system needs to be set up and their performance in completing these tasks should be considered when assessing their achievements. Moreover, strict law enforcement measures should be respected and promoted and short-term economic growth should not be put before long-term environmental goals set by the government, and environmental progress should be exposed to public supervision, said Wu.
Lingering problems
In its Intended Nationally Determined Contributions submitted to the United Nations, China promised to reach peak carbon emissions by 2030, since the nation is still a developing country. "Due the ongoing process of industrialization, urbanization, agricultural modernization and information-systems adoption, China needs energy to fuel its development. At the same time, it also needs to substantially adjust its energy mix and industrial structure," said Xie Zhenhua, China's special representative on climate change affairs.
In recent years, China's progress in energy conservation has been conspicuous. In the past two decades, it contributed 58 percent to the total amount of energy saved throughout the world. Beyond that, its installed capacity for renewable energy usage makes up 24-25 percent of the world's total, according to statistics from the National Development and Reform Commission.
Despite that, there is room for improvement in legislation, standards and awareness. During the 12th Five-Year Plan period, northwest China's Gansu Province witnessed its installed capacity of wind power and solar power hit 12.52 gigawatts and 6.1 gigawatts respectively, ranking second and first amongst all provinces in China, according to the 2016 report on the work of the Gansu provincial government.
However, due to weak local demand and an incomplete grid system that has not incorporated all of the new energy power sources, wind and solar power commonly goes to waste in Gansu.
"Last year, roughly 39 percent of wind power installed capacity stand idle on average, and sometimes the ratio could even reach 70 percent. The idleness of solar power installation was also very high," said Li Ningping, President of Gansu Province Electric Power Investment Group Corp.
Though the Renewable Energy Law requires electricity grid companies to buy all the power produced by renewable energy generators, few green-power generation companies have been able to take advantage of the policy, and therefore have to discard the wind and solar power generated by their projects, said Li.
On the other hand, the massive installed capacity of fossil fuel power is still a large contributor to some provinces' GDP, and local governments are reluctant to leave those systems behind. This leaves little consumption space for renewable energies, said Li, urging authorities to strengthen related legislation and enforcement of those policies.
In addition to that, China's industrial standard is relatively lower than that of developed countries. "The energy intensity in China is as much as 2.9 times of the best performer in Europe, which is still thirsty for improvement," said Fu, noting that it's a result of low industrial standards set by the government and Chinese enterprises' failure to fully comply with the standards set.
The government as well as ordinary people also need to improve their awareness and behavior regarding these issues, and stick to environmental friendly production models and lifestyles. "In China, the government tends to construct special buildings for various events and conferences, as opposed to many foreign countries, in which venues for these activities are just large warehouses or temporary constructions," said Xie. He suggested that the government hold international events in a thrifty and energy-saving way.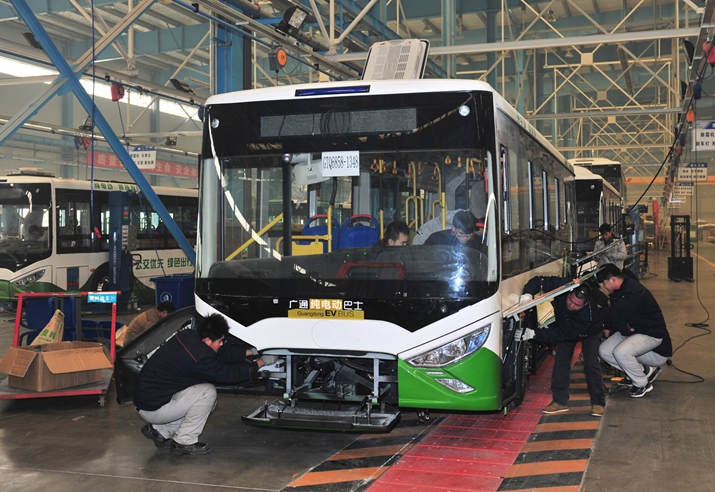 Workers at the Shijiazhuang Zhongbo New Energy Bus Co. Ltd. are assembling a new energy bus to fulfill an order for 800 buses on December 9, 2015 (XINHUA)
New energy vehicle
"New energy automobiles are a pillar industry in the national economy and a symbol of a nation's economic competitiveness," said He Xiangjiu, a member of the 12th CPPCC National Committee. He noted that the green initiatives will not only prepare the automobile industry to fulfill demands posed from national security, climate change, environmental protection and structural upgrading, but also promote sustainable economic development.
By the end of 2015, China had seen the number of in-service new energy vehicles reach 583,200 units, a year-on-year increase of 169.48 percent, of which 332,000 units were purely electric cars. That marked a year-on-year increase of 317.06 percent, according to statistics from the Traffic Management Bureau of the Public Security Ministry.
Chang Anjin, President of Anhui Jianghuai Automobile Co. Ltd., argued that inadequate charging facilities for the cars poses a stumbling block for the popularization of the new energy cars. "The government should bolster the construction of the supporting infrastructure through preferential policies," said Chang.
Meanwhile, authorities should elevate the requirements for market access and strengthen its management of market admittance, in order to eliminate potential battery safety risks, said He, the CPPCC member.
As the world's largest new energy car user, China should formulate coordinated plans to set standards, solve quality problems, and construct the required charging infrastructure, so that the popularization of the new energy cars can progress in an orderly way, said Xie.
"It's a fledgling industry, and the government should deliberately plan for its development before heavy losses are incurred," said Xie.
Copyedited by Bryan Michael Galvan
Comments to yushujun@bjreview.com