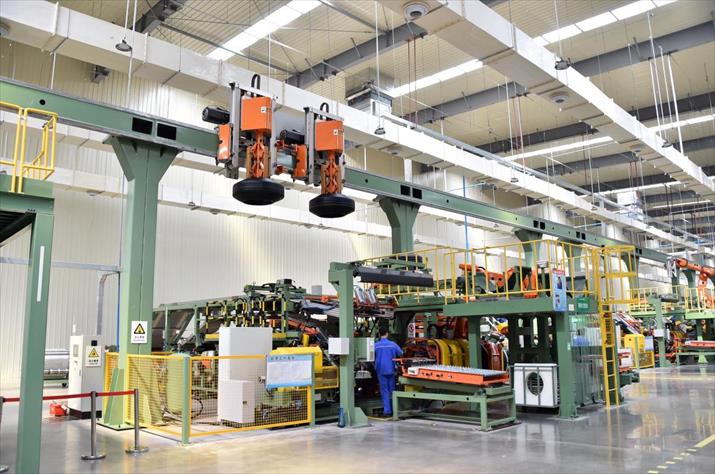 A smart workshop of the Double Star Group in Qingdao, east China's Shandong Province, on September 5, 2016 (XINHUA)
Amidst the rapid stretching out of China's financial industry, the National Financial Work Conference convened in Beijing on July 14-15, gathering top policymakers to discuss hot financial issues and formulate policies for the sector.
Held every five years, the conference is an important event that sets the tone for the country's financial policies and reform in the coming years, focusing on strengthening coordination between various regulators and fending off systemic financial risks.
"Finance comprises a country's core competitiveness, while financial security lies in the center of national security, and the financial system makes up the foundation for economic and social development," said President Xi Jinping at the conference.
"Now, China is at a crucial stage of finishing building a moderately prosperous society, driving economic transformation and upgrading, and getting over the middle-income trap. Given that, better work in the financial sector will significantly fuel economic growth and maintain social harmony, which is a reflection of the country's governance capability," said Wen Bin, chief researcher at China Minsheng Banking Corp., in an interview with Xinhua News Agency.
"China has grown into the second largest economy in the world, and at the same time, the financial sector needs to do a better job in allocating resources and making good use of the national wealth accumulated since the reform and opening up," Zeng Gang, Director of Banking Research at the Institute of Finance and Banking in the Chinese Academy of Social Sciences, told Xinhua News Agency. He also said that with adjustments and sustained development, the sector is likely to become an important source of China's competitiveness.
At the conference, policymakers highlighted three tasks—making the financial sector better serve the real economy, containing financial risks and bolstering financial reforms.
Backing up the real economy
Finance is the artery of the real economy. Serving the real economy is the duty and purpose of the financial sector and the fundamental way to guard against financial risks, Xi said.
As China's economy is at the crossroads of transformation and upgrading, more financial resources should be channeled into major fields and weak links of economic and social development.
However, in recent years, the financial industry has shown signs of moving away from the real economy. Instead of funding the real economy, a large amount of liquidity has kept flowing back and forth among financial institutions. High costs and difficulties in financing have severely hindered development of the real economy.
"A review of global financial history shows that the root cause of most economies hit by the financial crisis was the deviation of their financial industries from the real economy after long years of development and innovation," said Dong Ximiao, a visiting research fellow at the Chongyang Institute for Financial Studies, Renmin University of China, in an interview with China Business News.
Dong Dengxin, Director of the Financial and Securities Institute at the Wuhan University of Science and Technology, suggested building a multi-layered capital market system and diversifying direct financing tools and channels. Thus, the financing needs of innovative companies and small and medium-sized enterprises can be better satisfied.
Dong said indirect financing still accounts for the largest part of China's financing structure. Therefore, efforts should be made to improve indirect financing by pushing forward the strategic transformation of large state-owned banks, fostering the development of small and medium-sized banks and private financial institutions, reducing operational cost, and streamlining and standardizing intermediary links.
"That's to say, banks should optimize management ideas, rationally set earning targets and adjust profit expectations in order to better serve the real economy," said Zeng.
Risk prevention
"Guarding against systemic financial risks is the eternal theme of financial work and the government should take stronger initiative to monitor, warn against and deal with risks in a timely manner," said Xi, who stressed that China will accelerate the formulation of laws and regulations governing the financial sector, improve macro prudential management and emphasize functional as well as behavioral regulation.
"Despite the sustained progress made in recent years, China's financial industry has seen mounting problems and risks, which need to be solved to propel supply-side structural reform," said Dong.
In the future, China will continue to focus on the control and prevention of financial risks, and intensify financial supervision and coordination, said Dong.
"At home, business operations still face high pressures, and risks arising from that may affect the financial sector. In the overseas market, monetary policies of major developed economies have become more volatile," said Zeng.
"Squeezed by these factors, China should focus on deleveraging, implement a prudent monetary policy and strike a balance between stabilizing growth, restructuring and controlling monetary aggregate," Zeng said.
A consensus was reached on curbing the increase of local government debts and establishing a lifelong accountability system for such debts.
"Some local government officials tend to ignore laws and regulations concerning local government debts, blindly seeking short-term achievements and trying to make their successors the scapegoats for their mounting debts," Qiao Baoyun, Director of China Academy of Public Finance and Public Policy, Central University of Finance and Economics, told China Business News.
The conference resolved to set up a committee under the State Council to seek financial stability and development. It will be responsible for the coordination of financial reform, development and regulation.
"China's systemic financial risks are generally under control, but bad assets and liquidity issues are still alarming, and regulation has become uncoordinated, inadequate and outdated in the face of innovation and development of cross-market financial products," said Lu Lei, head of the Financial Stability Bureau of the People's Bank of China, the central bank.
"The new committee will target weak links in supervision and guard against systemic risks to ensure sound development of the financial system and help it better serve the real economy," said Lu.
Copyedited by V. Apurva
Comments to dengyaqing@bjreview.com