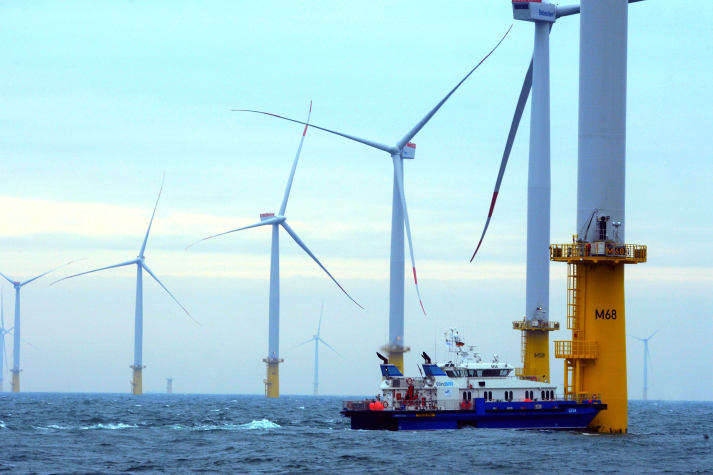 Meerwind Offshore Wind Power Project in Germany (COURTESY OF CTG)
Worsening living environment caused by various forms of pollution as well as sporadic occurrence of safety incidents such as nuclear leakage has been a wake-up call for humankind to give up the old conventional forms of energy, which have done critical damage to the earth and engendered chronic problems, and set out looking for viable and feasible alternatives.

At the 2015 Paris Climate Conference, China reiterated its aims to peak carbon dioxide emissions by around 2030 and increase the share of non-fossil fuels in its primary energy consumption to around 20% by 2030, the European Union targets to cut its emissions by 80% to 95% until 2050 and by 40% until 2030 compared to 1990 levels.

The ambitious goals push a global shift from fossil fuel such as coal, petroleum and natural gas to renewable energy, said Jens Assheuer, Chief Executive Officer of WindMW, a Germany-based offshore wind power company, who believes wind power and especially offshore wind power will be an important component of renewable energy in the future.

Eying global market

According to statistics from Global Wind Energy Council, global offshore wind power capacity increased by 2,219 MW in 2016, maintaining the momentum of rapid expansion starting from 2010. Britain ranks first in market size, with its installed capacity accounting for 36% of the world's total, followed by the 29% and 11% registered by Germany and China.

In Germany, offshore wind power capacity grew by more than 800 MW in 2016 and about 630 MW in first half of 2017 respectively; by the end of last June, roughly 4.8 GW of offshore wind power capacity has been in operation. In Britain, the figure has exceeded 5 GW.

On the heels of Britain and Germany, China is now on the track of growing into another major offshore wind power producer, said Assheuer.

In July 2016, China Three Gorges Corporation (CTG), as China's biggest clean energy group, acquired 80% stake of a 288 MW offshore wind power farm operated by WindMW and became the majority shareholder of the German company, marking the first step Chinese companies took to act as the majority shareholder of maturely operating offshore wind power assets in Europe.

While developing hydropower in China, CTG has embarked on diversifying its business into renewable energy such as wind power and solar PV and actively exploring overseas markets, aiming to become the world's leading clean energy group.

CTG has stretched its offshore wind power development and exploration into Fujian, Jiangsu, Liaoning, Hebei and Guangdong. The company's Jiangsu Xiangshui offshore wind farm is China's first wind power project to transmit power via an offshore transformer substation constructed in the outer waters of Xiangshui County in Jiangsu, which has started operation in 2016.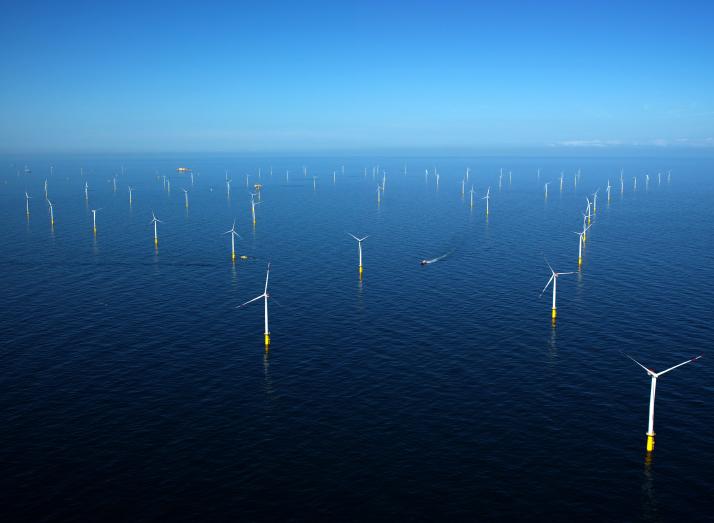 Meerwind Offshore Wind Power Project in Germany (COURTESY OF CTG)
Forging ahead
According to a survey carried out by the State Grid Energy Research Institute, the average cost of offshore wind projects—$2,400 per kilowatt in 2015—is as much as 2.8 times that of inland ones.

Despite that, the remarkable growth of offshore wind power capacity in the past few years has substantially brought down the cost of R & D, manufacturing, transportation and installation.

To sustain the constant reduction of cost, the power output and quantity of wind turbines should be further increased, which requires wind farm operators to make continuous improvements in construction, operation and maintenance, said Assheuer.

To ensure a company could recover the money it invests in a wind farm, the output of each turbine needs to reach 13 MW to 15 MW. That's to say, the capacity of existing wind turbines needs to be doubled in the next few years.

In addition, the place of power production is not necessarily where consumers are located. In some countries, industrial parks and power facilities are still far from coastlines.

"The power transmission network between coastlines and inland needs to be further upgraded and completed. Aside from grid construction, creative solutions should be worked out to realize energy storage, because offshore wind farms can only partially produce power according to demand," said Assheuer.
Copyedited by Laurence Coulton
Comments to dengyaqing@bjreview.com