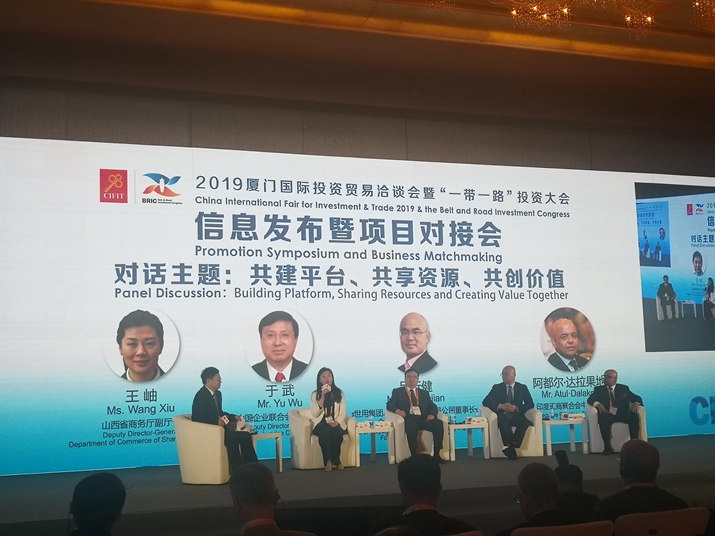 A panel discussion for the China International Fair for Investment and Trade 2019 at a promotional symposium on May 9 in Beijing (ZHANG SHASHA)
The China International Fair for Investment and Trade (CIFIT) 2019 will strive to provide an investment promotion and cooperation platform for Belt and Road participating countries, according to a promotional symposium held on May 9 in Beijing.
"The CIFIT has been trying to provide more value to its participants," said Atul Dalakoti, Executive Director of the Federation of Indian Chambers of Commerce and Industry China, adding that it is a bridge between Chinese and foreign enterprises, which helps to introduce foreign direct investment and facilitate Chinese companies going global.
Themed on bilateral investment promotion, this year's CIFIT will further strengthen the function of the three platforms of international investment promotion, authoritative information release and investment trend discussion.
"The CIFIT is a gathering place for capital and projects," Lu Xingjian, President of Shiyong Group, a company focused on new energy vehicle (NEV) business, said, explaining that the fair provides three opportunities for participants. First, it is conducive to broadening horizons and understanding; second, it offers a platform for exploring trends and seizing new opportunities; and third, it serves as a platform to make new friends and contacts, and expand markets.
At the symposium, Dalakoti invited Lu's company to invest in India, saying that there is a big market for the development of NEVs due to environmental pollution.
Wang Xiu, Deputy Director-General of the Shanxi Province's Department of Commerce, said, "The CIFIT does not only provide information on commerce, industries and markets, but also serves as a platform for an inland province like Shanxi to exchange ideas with professionals in these areas."
This year, the Belt and Road Investment Congress will be held during the event and the Silk Road Trade Pavilion will showcase featured commodities from countries participating in the Belt and Road Initiative. In addition, a string of forums such as the 2019 Overseas Chinese Business "Belt and Road" Investment Cooperation Summit will take place.
The CIFIT will run from September 8 to 11 in Xiamen, southeast China's Fujian Province, and will assemble 30,000 investment projects from around the world and arrange more than 1,000 matchmaking sessions as well as 300 business-to-business meetings.
Copyedited by Rebeca Toledo
Comments to zhangshsh@bjreview.com