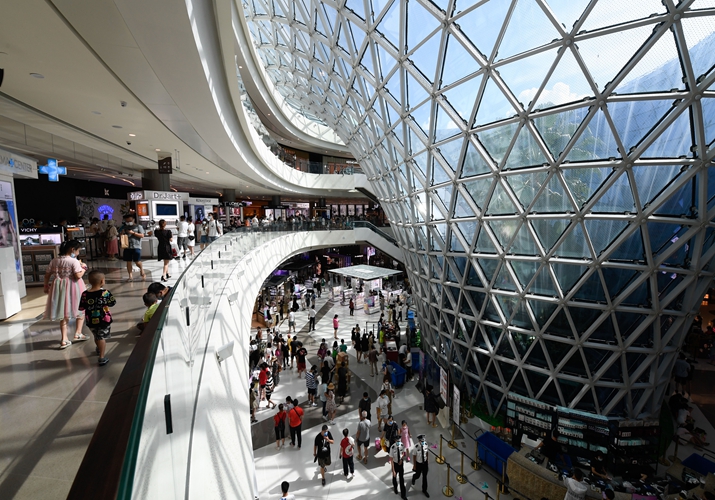 Tourists shop in a duty-free store in Sanya, Hainan, on August 6 (XINHUA)
The duty-free shop at Sun Moon Plaza in downtown Haikou, capital of Hainan Province in south China, is a bustling little place, especially since it added new mobile phone and tablet counters, which are a magnet for visitors. He Jing is one of them. She decided to buy an iPad from the shop after comparing the price it is offering against the figure given on Apple's website.
"I decided to buy it here because the price is at least 300 yuan ($43.42) less," she told Economic Information Daily.
With an expanded offshore duty-free shopping policy announced on July 1 by the Ministry of Finance, the General Administration of Customs of China and the State Taxation Administration, there has been an immediate uptick in sales, official statistics showed.
From July 1 to August 18, the four duty-free shops in Hainan—two in Haikou, one in Sanya and the other in Boao—notched up a collective sales revenue of 5 billion yuan ($723.59 million), up by 2.5 times over a year ago. Chen Xi, head of Hainan Provincial Department of Commerce, said at a press conference on August 19 that 740,000 buyers purchased 4.58 million items, up by 70 percent and 1.5 times respectively.
According to a China Daily report, Apple's iPhone became the rage with an iPhone 11 Pro Max selling at 10,210 yuan ($1,477) in Hainan's duty-free shops, some 2,489 yuan ($360) lower than the price on Apple's website.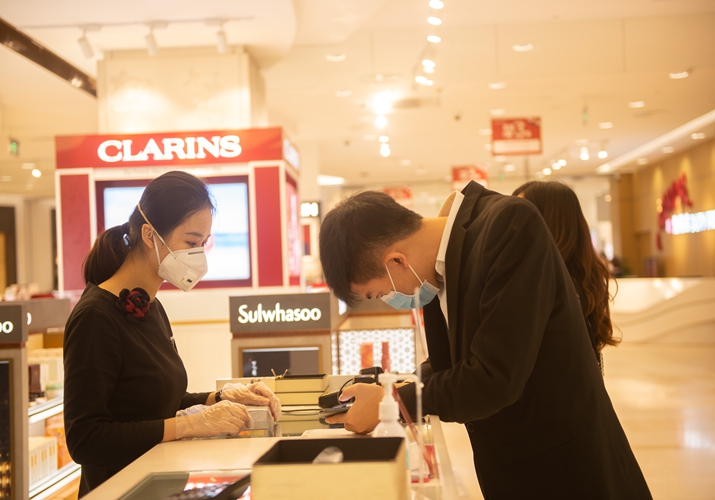 The duty-free store at Sun Moon Plaza in Haikou, Hainan Province in south China, on March 11
(XINHUA)
New benefits
According to the new policy, individual buyers can now make duty-free purchases of 100,000 yuan ($14,471) in a year, up from the earlier 30,000 yuan ($4,341). The range of duty-free goods has also increased from 38 categories to 45, with smartphones, laptops, game players, wines and spirits added to the list.
In addition, the previous duty-free limit of 8,000 yuan ($1,157.74) for a single tax-free purchase has been lifted while those splurging on cosmetics can now buy 30 products instead of the earlier 12 items on every outbound trip from Hainan.
At the cosmetics and perfume section of Sun Moon Plaza, Wu Ting, a tourist from Hubei Province in central China, was choosing cosmetics, thrilled by the relaxation of the limit. "This is absolutely wonderful news for women," she said. "I'm going to stock up on skincare and other cosmetics this time."
Wu is a frequent traveler to Hainan and duty-free shopping is a must-do on every trip. "Compared with other coastal tourism cities in the country, Hainan has the advantage of duty-free shopping, which makes it more attractive to tourists," she said.
Liu Feng, head of the Research Center for Free Trade Port with Chinese Characteristics under Hainan Normal University, said the upgrade in Hainan's duty-free shopping policy will stimulate tourists' shopping enthusiasm.
"Shopping used to account for a small proportion in the tourism industry of Hainan, but the upgraded duty-free shopping policy will change this situation. In the future, shopping will become a very important purpose for tourists in Hainan, which will promote transformation of the province's tourism industry and build it into an international tourism consumption center," Liu told Economic Information Daily.
To regulate the market, the authorities have stepped up vigilance. Those who purchase tax-free goods for others to make a profit or to resell on the domestic market will not be allowed to enjoy the favorable policy for three years.
Shop at home
According to Chen, the most popular duty-free products are smartphones, tablets and alcohol, with their sales volume accounting for 95 percent of the total sales. During the July 1-August 18 period, sales of duty-free items with a unit price of 8,000 yuan ($1,157.74) increased by 4.2 times to 1.2 billion yuan ($173.66 million), or 24 percent of the total sales of duty-free products.
"This has played an important role in attracting consumption of high-end products from overseas to the domestic market," Chen said.
Huang Shengqiang, Dean of School of Customs and Public Administration at Shanghai Customs College, told Hainan Daily that Chinese buyers' shopping in overseas markets accounts for a large proportion of their consumption. The government has been trying to attract them to shop in the domestic markets instead. "If Hainan fully develops its advantages in product varieties and prices, the duty-free shopping policy for tourists will stimulate Chinese consumers to spend in Hainan," Huang said.
Wei Kailei, a professor with the Hainan University School of Economics and Management, told Hainan Daily that the duty-free policy for tourists is one of the most effective measures to build Hainan into a free trade port. "Further improvement of the duty-free policy for tourists in Hainan will not only attract overseas spending by Chinese consumers back to the home market and reduce China's trade deficit in services, but also help build a dual circulation development pattern," Wei said. "The domestic economic cycle will play a leading role in this development pattern while the international economic cycle remains its extension and supplement."
Duty-free shopping became a major boost for the tourism industry of Hainan since it adopted the duty-free policy for tourists in April 2011. Figures from the customs at Haikou showed that since the implementation of the policy in 2011 to the end of the first quarter this year, 72 million pieces of duty-free products under customs supervision had been sold, with a value of 55.07 billion yuan ($7.97 billion).
Monopoly challenge
According to a Hainan Daily report, the Sanya Phoenix International Airport recently added 20 new duty-free pickup counters and the Haikou Meilan International Airport eight more to improve tourists' shopping experience. Chen said this year Hainan will set up three new duty-free stores in Sanya, one at the airport and two downtown, to encourage moderate competition while meeting tourist demands.
According to Liu, the current annual quota for duty-free shopping meets the demand of tourists, but the low number of product varieties, inadequate supply of duty-free products and poor consumer experience remain challenges.
At present, all the four duty-free stores in Hainan are run by the China Duty Free Group. "Hainan must break the monopoly in the duty-free market and introduce more market players for competition, so that consumers can enjoy more benefits," he said.
(Print Edition Title: Duty-Free Boom)
Copyedited by Sudeshna Sarkar
Comments to wangjun@bjreview.com