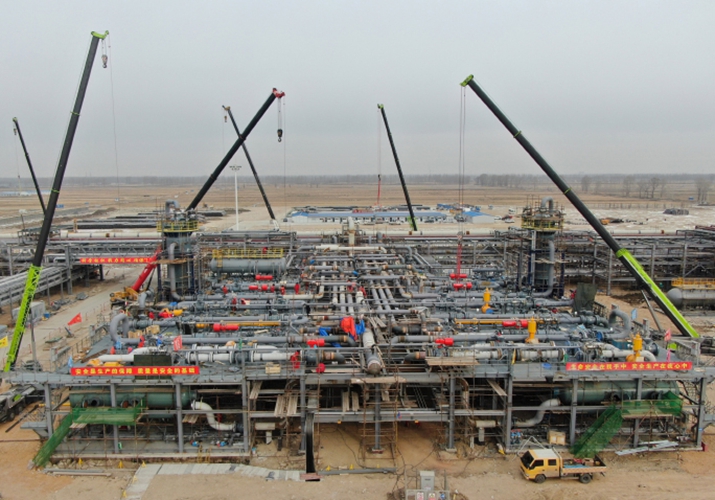 A natural gas storage facility in the Liaohe Oilfield in Panjin, Liaoning Province in northeast China, on February 3 (XINHUA)
With the government's decision to peak carbon emissions before 2030 and achieve carbon neutrality before 2060, the race is on in China to switch to clean fuel.
Some of the biggest energy companies in the country have increased investment in the exploration of natural gas. China National Offshore Oil Corp. (CNOOC), the largest producer of offshore crude oil and natural gas in the country, for example, has announced that gas will account for 30 percent of its production by 2025, growing to 50 percent in 2035.
The overall domestic production of natural gas has increased by more than 10 billion cubic meters for four consecutive years. It improved 9.8 percent last year, amounting to 188.8 billion cubic meters, equivalent to about 150.4 million tons of crude oil, according to data from the National Bureau of Statistics (NBS).
The largest oil and gas producer China National Petroleum Corp. (CNPC) said its gas output reached over 100 million tons of oil equivalent last year, exceeding crude oil output for the first time.
The annual imports totaled more than 101 million tons in 2020, up 5.3 percent year on year, the NBS said.
The rise can be attributed to growing demands driven by economic growth and the green development target. In recent years, liquefied natural gas (LNG)-powered vehicles and ships are being promoted to replace petrol-powered ones and gas pipelines are being built. More gas than coal is being used for industrial production and in daily-life activities.
According to S&P Global Platts Analytics and the Chinese Academy of Social Sciences, China's natural gas consumption stood at 320 billion cubic meters in 2020, up 17 percent from the amount in 2019. The demand is likely to reach 360 billion
cubic meters this year and by 2025, the country's natural gas output is expected to exceed that of petroleum.
Every 50-billion-cubic-meter increase in the demand for natural gas can bring 1.2 trillion yuan ($185 billion) of investment for domestic industrial chains, Li Yalan, Executive Chair of China Gas Association, told Xinhua News Agency. "China enjoys advantages including sufficient supplies, supporting policies and a strong industrial foundation for developing natural gas industries. Natural gas facilities need to be expanded to meet growing demands, boost investment and drive industrial restructuring."
Robust growth
According to the China Energy Research Society, after the launch of the West-East Gas Pipeline Project in 2004, China's natural gas output surged till 2014, with notable progress in field exploration. The project supplies natural gas from west China and Central Asia to central and east China. But from 2015, a decline in exploration and the low quality of newly discovered gas resources led to sluggish growth of production.
However, the output picked up after the government released a plan in 2017 on improving the proportion of natural gas in primary energy consumption during the 13th Five-Year Plan (2016-20) period.
Natural gas imports, starting from 2006, have kept expanding. A report from the Development Research Center of the State Council (DRC) in 2020 said there are over 30 import sources now, Turkmenistan and Australia being the top two. The import channels have been expanding with the China-Russia east route natural gas pipeline put into operation in 2019. The pipeline brings natural gas from eastern Siberia to the Beijing-Tianjin-Hebei region in north China. But LNG has the larger share in overall imports as it doesn't require expensive pipelines and transportation costs are low.
To boost the natural gas sector, the government has been advancing reforms by opening up oil and gas exploration and development and promoting a national network. Two trading centers have been set up in Shanghai and Chongqing, southwest China, and a third one is being built in Xi'an, Shaanxi Province in the northwest, to facilitate the establishment of a market-oriented pricing regime.
The Shanghai Petroleum and Natural Gas Exchange (SHPGX), China's first national energy trading center, officially opened for business in 2016. A year later, the government announced a reform plan for the oil and gas industry for higher efficiency and competitiveness, followed by the establishment of PipeChina, a pipeline operator, in 2019. The SHPGX started a trial run of its online platform for international LNG trading in August 2020.
Major suppliers
The top three natural gas producers in China are Shaanxi and Xinjiang Uygur Autonomous Region in the northwest, and Sichuan Province in the southwest. They make up around 70 percent of the total output. In 2020, the Changqing Oilfield in Shaanxi, the country's largest oil and gas field, produced around 44 billion cubic meters of natural gas.
The Tarim Basin in Xinjiang is another major source of natural gas. Since Sinopec, the biggest refiner in Asia, discovered 500 billion cubic meters of natural gas deposits in the Shunbei Oilfield in the basin in 2016, gas exploration has been stepped up in the area. In 2020, the basin produced over 30 billion cubic meters for the first time. Moreover, CNPC has reported another massive gas reservoir in Xinjiang, which is expected to produce 610,000 cubic meters per day.
The Sichuan Basin's output in 2020 was around 56.5 billion cubic meters, up 6 billion cubic meters from the previous year and accounting for 52 percent of the total output increase. CNPC also exploited 741 billion cubic meters of shale gas in the basin last year.
Sinopec is also exploring shale gas in Sichuan. On January 6, it said it had completed the first phase of a new shale gas field, Weirong. Currently producing 3.5 million cubic meters daily, it will have an annual output of 3 billion cubic meters in 2022, which can meet the annual needs of 16 million households.
"In the explored natural gas fields in China, around three fourths of the gas resources are unconventional like shale gas, tight gas and coalbed methane," Yang Zhi, a researcher with the Research Institute of Petroleum Exploration and Development, told Economic Daily. Therefore more sophisticated technology is needed to tap these gas fields.
Impeding factors
Despite the progress, according to the DRC report, the use of natural gas remains challenging due to factors like methane gas leakage, which is an environmental hazard. There is also need to increase investment in research and development of new technologies and expand cooperation with other countries on exploration.
The sector also faces competition from coal, which has a lower cost, and renewable energy resources.
The report says private investment should be encouraged, trading platforms boosted and import sources diversified. It also advocates creating technological breakthroughs.
"The government needs to upgrade the gas pipelines in old communities, encourage domestic enterprises to participate in international natural gas projects, and improve the market-oriented pricing regime," Li said.
(Print Edition Title: More in the Pipeline)
Copyedited by Sudeshna Sarkar
Comments to lixiaoyang@bjreview.com