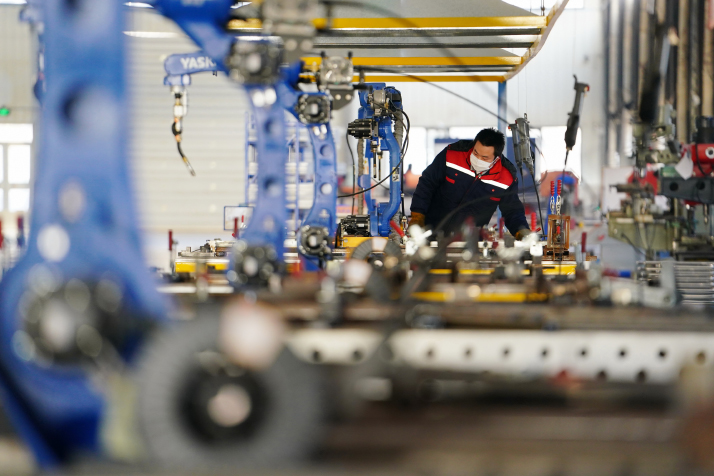 An employee works in a medical equipment company that was relocated from Beijing to Tangshan, Hebei Province in north China, on December 15, 2020 (XINHUA)
From working in a quarry to becoming an outdoor performer, Ouyang Luofasheng has seen his life improve with green development.
Ironically for the miner living in Ruijin, Jiangxi Province in east China, it started after the pit was shut down to prevent pollution. In 2018, the area was transformed into a scenic spot and tourists started to come in. The quarry became an outdoor theater and today, Ouyang is a dancer there with his wife Tang Yuchun. Each of them earns 4,000 yuan ($618) a month.
The development epitomizes China's new urbanization drive, seeking to ensure rural residents moving into cities enjoy urban public services while those staying in their hometowns also lead a better life. Local governments have stepped up efforts to boost industrial growth, create more jobs, enhance infrastructure and improve the rural living environment.
Notable progress in urbanization was made during the 13th Five-Year Plan (2016-20) period with the reform of the household registration system. This has enabled migrant workers to enjoy public services such as education and healthcare and buy housing in the cities where they relocate. Public services now cover more people, and the development of secondary and tertiary industries in counties has boosted urban-rural integration.
According to National Bureau of Statistics (NBS) data, over 60 percent of the population were settled in cities by the end of 2020, from 57.35 percent in 2016.
This population flow from rural to urban areas, where the industries are concentrated, is accelerating economic development, Yao Yang, Dean of the National School of Development at Peking University, told Beijing Review, adding that over the past decades, 14 percent of the economic growth can be attributed to urbanization.
"The urbanization drive will boost consumption in cities and shore up investment in housing and renovation of shantytowns and old communities," Feng Kui, a researcher at the China Center for Urban Development under the National Development and Reform Commission (NDRC), told Economic Daily.
To achieve new urbanization in all respects by 2035, when China is expected to basically realize modernization, the government has pledged to expand domestic demand and boost people-centered rural
vitalization. The main measures for this include improving the bearing capacity of major cities and city clusters while controlling the population in mega cities, boosting counties, improving the urban living environment and speeding up permanent urban residency for migrants from the countryside to cities.
With industries and the population flowing to major cities and city clusters with strong growth potential, more efforts are needed to ease traffic congestion and pollution, drive industrial growth in cities and expand the middle-income group, Yin Zhi, a researcher with the Institute for China Sustainable Urbanization, Tsinghua University, told Beijing Review.
"Due to the limited space in large cities, differentiated land, taxation and household registration policies are needed to direct personnel and resources to small and medium-sized cities and rural areas," he said.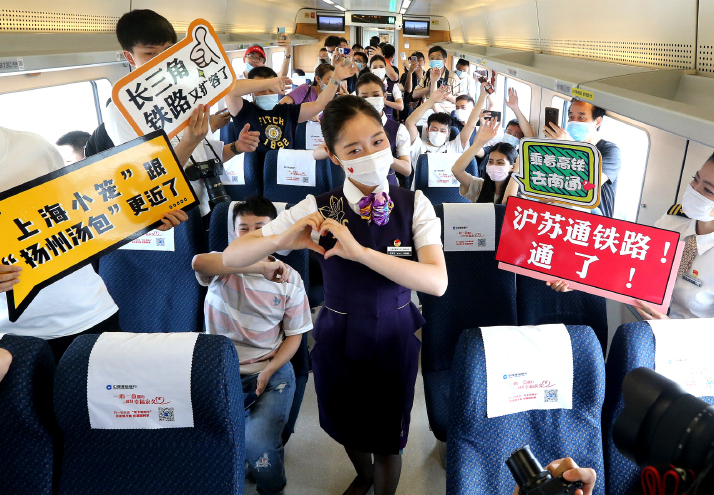 Attendants and passengers aboard a train running on the newly opened Shanghai-Suzhou-Nantong Railway in east China celebrate the opening on August 24, 2020 (XINHUA)
Parallel growth
In 2014, a new urbanization program was launched to promote people-centered and environment-friendly urban growth for the next decade. The NDRC said earlier this year that the target of turning 100 million people from rural areas into urban residents by 2020 had been accomplished. In addition, over 100 million urban residents without permanent household registration have been issued residence certificates that give them greater access to local public services.
Cities with a population of less than 3 million had removed barriers for rural residents to apply for urban household registration. Bigger ones with a higher resident population eased restrictions for incoming groups including migrant workers with stable jobs and college students from rural areas.
Many city clusters and large cities have seen mushrooming development and population. According to Hu Zucai, deputy head of the NDRC, the urbanization drive has created 19 city clusters, where over 75 percent of the entire urban population live. These clusters contribute more than 80 percent of the GDP.
There were 684 cities by the end of 2020. Sixteen of them had a population of over 10 million in 2019, according to the Ministry of Housing and Urban-Rural Development.
The expansion of cities is accompanied by improved quality of life. Hu said in an article that more than 13 million new urban jobs were created per year between 2016 and 2020 on average. Despite the COVID-19 epidemic last year, NBS data showed nearly 12 million new urban jobs were created in the whole year and the surveyed urban unemployment rate was 5.2 percent.
The government boosted flexible employment for rural residents and income sources were expanded for the group. The per-capita disposable income of rural residents in 2020 was 17,131 yuan ($2,647), up 6.9 percent year on year in nominal terms. The urban-rural income gap narrowed from 2.64:1 in 2019 to 2.56:1 last year, the NBS said.
According to the NDRC, rural residents had better access to urban public services and water and electricity supplies, with transportation and Internet access improved. A report from the China Internet Network Information Center in February said Internet availability in rural areas neared 56 percent by the end of 2020.
Rural residents moving to cities enjoy wider access to compulsory education, medical care and skill training services. Around 90 percent of migrant workers' children receive compulsory education in public schools in the regions where they now live, the NDRC said. Data from the Ministry of Civil Affairs showed rural minimum subsistence allowance increased 11.7 percent year on year in 2020.
To protect the interests of rural residents settling down in cities, the revised law on rural land contract came into force on January 1, 2020. It allows rural residents turning into urban dwellers to retain the contract right over their allotted land. While the previous version of the law said a farmland use contract was valid for 30 years, the revised one has extended it for another 30 years.
The Chengdu-Ziyang-Chongqing Expressway in southwest China on December 30, 2020 (XINHUA)
New roadmap
The proposals of the Communist Party of China Central Committee for formulating the 14th Five-Year Plan (2021-25) and long-range objectives through 2035 outline new goals for urban growth.
The document says the growth of major metropolitan areas and city clusters, especially the Chengdu-Chongqing economic circle in southwest China, will be spurred on. Regional development gaps will be narrowed by providing more financial support for the northeastern, central and western regions and improving the transfer payment system, which ensures direct transfer of funds from the Central Government to prefecture and county-level governments. Major cities and city clusters will play a greater role in driving the development of their neighboring regions.
The proposals also envision addressing pollution, better designing urban spaces, protecting historical heritage, and renovating old communities. Water and sewage systems in urban areas will be improved. Risk control will be enhanced, the housing market reined in, and the urban household registration system eased further.
However, Hu said problems including the low quality of life of rural residents settling down in cities, uneven regional development, and insufficient urban governance capacity call for more targeted efforts.
To make cities real home to rural migrants, public education and indemnificatory housing—low-rent housing, affordable housing and regulated rental housing—have to be improved. The group should also be given skills training for industries with a high labor demand, such as smart manufacturing and household services, to improve their income and purchasing power.
"China needs to develop more cities with international competitiveness. Its development has relied on a few major cities for a long time," Yin said. "It led to traffic congestion, high housing prices and pollution in large cities, leaving many small and medium-sized cities insufficiently developed."
Hu's proposal therefore is to develop county-level economies and improve inter-city transportation. He also pointed out that cities need to improve their risk control systems to cope with emergencies such as last year's COVID-19 epidemic, and use digital platforms for more efficient governance.
The digital economy is a highlight in the development plans of many cities this year to improve public services and urban governance and make them smarter.
The growth of smart cities is envisioned through the use of new technologies including 5G and artificial intelligence, which will improve physical infrastructure and the digital platforms for urban management.
The average annual investment in information technology for developing smart cities will exceed 200 billion yuan ($30.9 billion), a report from Beijing-based CCID Consulting earlier this year projected.
Rising forces
For better development of counties, which are expected to be the major drivers of urban-rural integration, Yin calls for differentiated measures. Some counties in metropolitan areas and city clusters have become more like cities, instead of serving as grain bases. These can be integrated into cities for better management. Those that have major agricultural product resources and ecological zones should be boosted through agricultural modernization, especially by improving the processing of agricultural products and cold chain logistics services.
Both for counties and cities, distinctive development approaches have to be taken in line with their industrial foundation and edge to avoid homogeneous growth and ensure collaboration. Instead of blindly copying the development modes of cities, counties should prioritize basic infrastructure construction while building service facilities prudently, considering the lower-level consumption demands compared with urban demands, Yin said.
In the next phase, the government needs to encourage two-way personnel flow between urban and rural areas. Due to the mounting employment pressure in cities, many rural residents may choose to return to their hometowns. The working skills they have acquired can make them key contributors to local overall development.
"As new urbanization advances, more personnel, funds and other resources will flow to rural areas, which will improve resource allocation," Yin said.
(Print Edition Title:Duet for Development)
Copyedited by Sudeshna Sarkar
Comments to lixiaoyang@bjreview.com