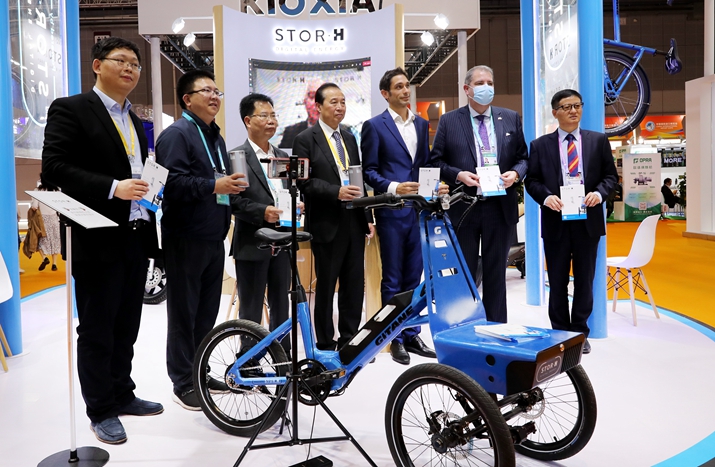 Delegates from China and Switzerland sign an agreement at the booth of STOR-H Technologies SA, a Swiss low-carbon solution provider, during the Third China International Import Expo in Shanghai on November 6, 2020 (XINHUA)
The largest robotics manufacturing and research facility of ABB, a Switzerland-based technology company, is set to start operating in Shanghai by the end of this year. Its annual production capacity is expected to reach 100,000 robots, about a quarter of the world's total back in 2019.
Those industrial and service robots will not only serve the Chinese market, but also other economies across the globe. They can be used in the fields of new-energy vehicle, 5G, consumer electronics and healthcare sectors in the post-pandemic era, according to the company. The new factory also features a comprehensive research and development (R&D) center and will become a key part of the ABB global robotics supply system.
Liu Chao, President of the Swiss Chinese Chamber of Commerce (SwissCham) Shanghai, told Beijing Review that many Swiss companies prioritize China, the largest manufacturing market in the world, in their development.
SwissCham China has more than 600 members. So far, Switzerland has invested in more than 1,000 projects in China with a total investment of over $8 billion, according to Xinhua News Agency.
"Expanding trade with China is the first step, followed by local production or local R&D to meet the needs of the Chinese market," Liu said, adding that Swiss companies such as ABB have already set up either R&D centers or production lines in China.
"This is a major breakthrough, which can be explained as 'in China, for China'," he said.
Promising outlook
Starting with its iconic watch industry in the 16th century, Switzerland has developed a highly industrialized precision cluster, making it a world leader in the mechanical, electrical and metal (MEM) sectors.
While addressing the first edition of the Swiss Machining Seminar in Beijing on April 14, Bernardino Regazzoni, Swiss Ambassador to China, said almost 80 percent of Swiss MEM products are sold overseas. The country holds second place in the international comparison of per-capita export of machinery.
Many Swiss manufacturing giants, including ABB, have rolled out the global supply chain system since the early days and are pioneers for the Chinese market. The two countries have been collaborating in high-end manufacturing such as precision machine tools.
Through its cooperation with Swiss companies, China has enhanced its technological capabilities and transformed and upgraded its industries, Liu said. The two countries have established joint industrial parks across cities such as Zhongshan in Guangdong Province and Chongqing.
According to Liu, they have also explored the cultivation of technical personnel, driving the sustainable development of the MEM industry at large. The dual-track approach combining theory and practice, the backbone of today's apprenticeship framework in Switzerland, can apply to China as well.
In September 2017, both countries signed a memorandum of understanding on cooperation in vocational education and training and decided to hold regular dialogues, providing a platform for exchange and scientific communication.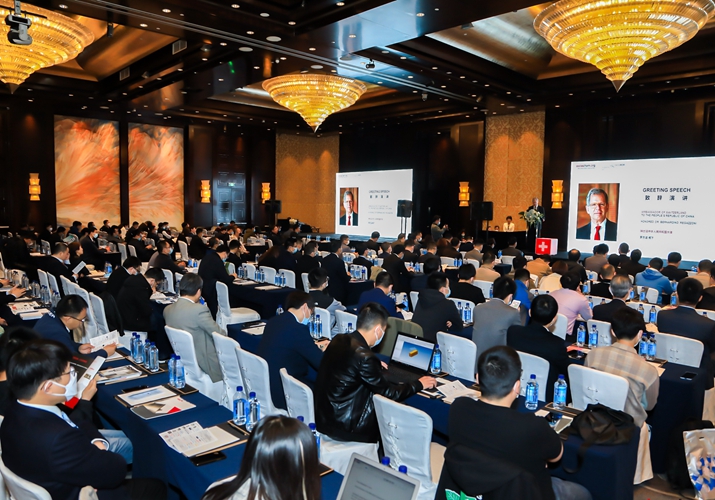 The first edition of the Swiss Machining Seminar takes place in Beijing on April 14 (COURTESY PHOTO)
Vital innovation
As the world is rushed by the waves of the COVID-19 pandemic, the Chinese branches have contributed more than ever to the business growth of many a Swiss company. "The lesson here is that we can no longer rely on the headquarters as much as we used to, whether it be in terms of technical problem-solving capabilities, or the management of operations, production and supply. We need to be more independent and innovative," Liu said.
China is driving the construction of new infrastructure including 5G networks and data centers, and enterprises across different sectors need to enhance their manufacturing capability. This presents a new array of opportunities for global companies, Sami Atiya, President of ABB's robotics and discrete automation business, told China Daily.
According to the International Federation of Robotics, despite a decelerated growth in the shipment of industrial robots worldwide, collaborative industrial robots, known as cobots, are expected to become a growth engine for the sector. China is poised to take center stage in this new trend.
With smaller sizes and more safety built into their functionality, compared with traditional robots, cobots eliminate caging in the industry and are able to work closely with humans. ABB unveiled such cobots, designed by a team of international R&D personnel including Chinese staff members, in March.
The company has also been providing solutions by partnering with Chinese companies such as cargo container producer China International Marine Containers (Group) Ltd., CRRC Qingdao Sifang Co. Ltd., a high-speed train manufacturer, as well as 5G equipment supplier Huawei.
Switzerland remained first in the top-performing economies in the Global Innovation Index (GII) 2020, according to the UN's World Intellectual Property Organization, while China retained its 14th position. The ranking also showed that China has established itself as an innovation leader, having been the only middle-income economy in the top 30 for years.
The innovative strategic partnership between China and Switzerland, established in 2016, is the first of its kind between China and a foreign country.
Innovation, which means "having good ideas and creating value out of them," is crucial for both China and Switzerland. A competitive environment, an educational system with a broad basis for all, and the mobility of talented people are essential to his country's innovativeness, according to Regazzoni.
"As the international number one in innovation, I believe that Switzerland is the ideal gateway for any groundbreaking Chinese company willing to internationalize its business and develop its activities in Europe," he added.
Free trade
In 2013, China and Switzerland signed a free trade agreement (FTA), the first China had ever reached with a continental European country. Three years ago, both sides agreed to work on elevating the agreement.
In a recent phone call with Vice President and Foreign Minister of the Swiss Confederation Ignazio Cassis, Chinese State Councilor and Foreign Minister Wang Yi said China appreciates Switzerland's openness in cooperation with Chinese-funded enterprises, and as China is moving faster in advancing high-level opening up, both countries are seeing broad prospects in cooperation.
Roger Germann, deputy head of the Swiss Business Hub China, told Beijing Review that "due to this FTA, especially in the manufacturing sector, around 90 percent of products would be tariff-free until 2024." The institution is the Beijing-based representative of the official international trade and investment promotion agency Switzerland Global Enterprise.
China is the third largest trading partner of Switzerland. Bilateral trade has doubled in a decade, and much of that growth has occurred since the FTA came into force. Data showed that there are trade creation effects of over $1.09 billion per year both in exports and imports, Yves Morath, head of the Swiss Business Hub China, said.
"Additionally, the FTA is today used by broadly 60 percent of all Swiss companies, which in our understanding is already a very good rate. As this rate climbs, we consider that a positive tendency in the application of the FTA," he said.
(Print Edition Title: In China, for China)
Copyedited by Elsbeth van Paridon
Comments to mamm@bjreview.com