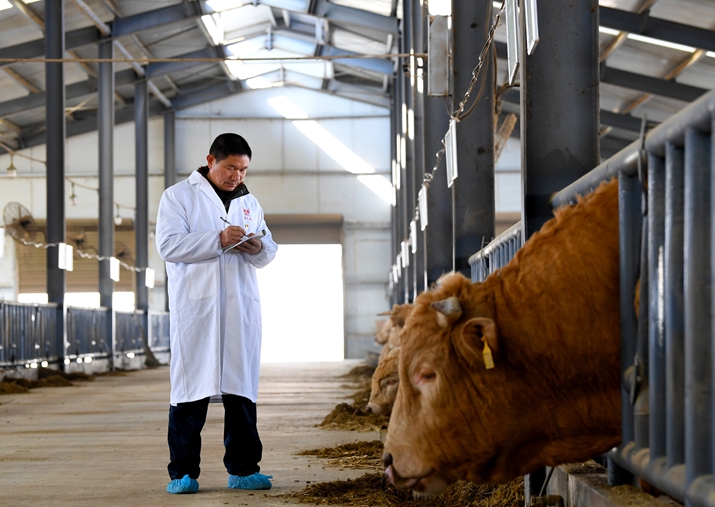 Lin Fengpeng, a researcher, records the condition of cattle in a farm in Biyang County, Henan Province, on January 14. The cattle belongs to a variety with the trademark registered in China (XINHUA)
In April, the Shanghai Intellectual Property Administration released 10 typical cases of intellectual property protection in the municipality in 2020, covering patent, trademark, copyright, trade secret and Olympic logo. One of the cases was the crackdown on counterfeit Lego toy.
In December 2020, the Shanghai Higher People's Court upheld the first-instance verdict on the case involving nine people forging 330 million yuan ($51 million) worth of Lego toys.
The criminal gang was accused of replicating Lego toys and selling them online and offline since 2015 under the brand name Lepin without authorization from Danish toy company Lego. The defendants received sentences ranging from six months to three years and fines of up to 90 million yuan ($14 million).
Huang Guoqiang, Senior Vice President and General Manager of China with Lego Group, said that China has taken a series of measures to protect the intellectual property rights (IPRs) of foreign-invested enterprises, which has strengthened Lego's determination to develop the brand in the Chinese market.
According to a survey released by the National Intellectual Property Administration (NIPA) in April, the Chinese public is increasingly satisfied with the country's protection of IPRs. The survey showed public satisfaction with China's IPR protection last year reached a record high of 80.05 out of 100 points, 1.07 points higher than the figure in 2019, and 11.33 points higher than the 2015 number.
"The increase means that the active efforts from all regions and departments in IPR protection have been more widely recognized by all sectors of society," Zhang Zhicheng, head of the NIPA's intellectual property protection department, said at a press conference in April in Beijing.
Moving forward
Nearly 97 percent of respondents thought China's legal system of IPR had been further improved, according to the survey based on replies from 12,000 respondents, including IPR holders, professionals and the general public.
Zhang attributed the high satisfaction rate to stronger legislation, as China has promulgated a succession of laws, regulations and IPR protection guidelines in recent years, including amendments to the patent and copyright laws.
For example, in 2019, the general offices of the Communist Party of China (CPC) Central Committee and the State Council jointly issued the Guideline on Strengthening Intellectual Property Rights Protection. According to the document, by 2022, China will strive to effectively curb IPR infringement, and largely overcome challenges including high costs, low compensation and difficulties in providing evidence for the safeguarding of IPRs. By 2025, public satisfaction with IPR protection in China is projected to reach and maintain a higher level.
China's Copyright Law, first enacted in 1991 and amended several times after, drastically raised the ceiling for statutory damages. The introduction of punitive damages in its latest amendment will come into force on June 1 this year. Recent years have also seen punitive damages included into Chinese laws such as the Trademark Law and the Patent Law to help the country transform itself from the "factory of the world" to a "factory of ideas and knowledge" by better protecting IPRs and spurring on creativity.
"Strengthening IPR protection is the most important content of improving the IPR protection system and also the biggest incentive to boost China's economic competitiveness," the guideline reads.
The positive public view of China's IPR protection efforts shown in the survey results is also consistent with those demonstrated by global surveys. For instance, the International Intellectual Property Index released in March by the U.S. Chamber of Commerce indicated that China had seen improvements in its 2020 scores, despite the challenges presented by COVID-19.
The NIPA survey also revealed that enterprises' satisfaction with China's IPR protection efforts exceeded 80 points. Chinese patentees are more proactive in upholding their legitimate rights and interests. The report indicated that 73.9 percent of enterprise patentees acted to protect their rights after infringements, about 11 percentage points higher than the number in 2015. Furthermore, the cost of patent infringement in China continues to climb.
Skyjet, a hi-tech enterprise that has patented its double-sided digital printing technology, saw the infringer of its patent punished last year. Skyjet once again focused on product development and production. According to Wang Hui, Skyjet's General Manager, thanks to independent innovation, the company's sales in 2020 increased 20 percent despite the impact of the epidemic. This year, its newly developed double-sided textile printing technology will be introduced to the market, in hopes of raising sales and profits to the next level. "As a company that started out by relying on independent innovation, research and development costs can be very expensive. Strong intellectual property protection is a booster to companies' confidence," Wang told Xinhua News Agency.
The proportion of patent infringements in China is on the decline, with last year's amount coming in at 10.8 percent, down 3.7 percentage points from that in 2015. This significant decrease indicates that the IPR protection environment in China continues to develop.
"China's IPR protection effort is unprecedented, but corporate effort in this regard is still weak. It is necessary to make it unprofitable for infringers by increasing the penalties and other costs for counterfeiting," Tang Wenshi, a senior lawyer with Allbright Law Offices Changchun Branch, told Beijing Review. Tang added that society at large needs to forge a stronger sense of self-protection, establish technological confidence and be cautious of overseas technology infringement.
Additionally, China's continuous efforts in IPR protection have boosted foreign investor confidence in the Chinese market. In a report released by the World Bank, China's business environment ranking surged to the 31st in the world last year, from the 46th place in 2019.
China, also the world's largest market, has seen robust growth in foreign investment inflow, especially in its hi-tech sector. Data from the Ministry of Commerce showed that foreign investment in the hi-tech sector increased 11.4 percent year on year, and the hi-tech service sector saw its foreign direct investment surge 28.5 percent year on year in 2020.
China has also actively cooperated with international partners. For example, the NIPA and the EU Intellectual Property Office signed an agreement on the exchange of trademark information in September 2020. And by the end of this March, the EU's intellectual property office had provided nearly 2 million pieces of EU trademark data to China, with China reciprocating the gesture by providing 31 million pieces of trademark data.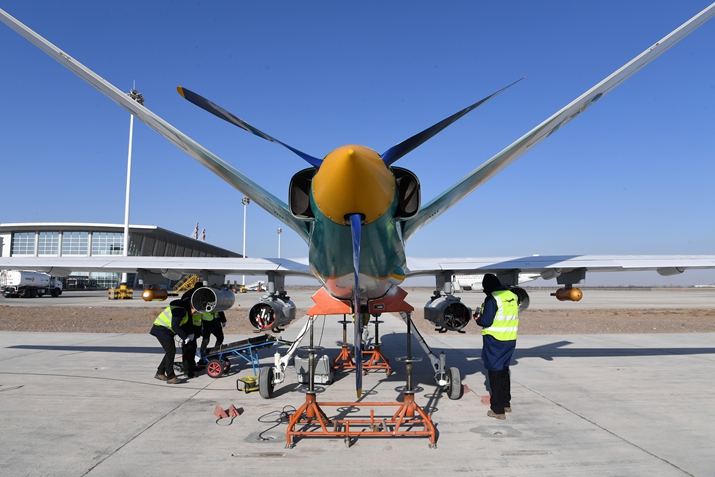 Ganlin-I, a weather modification unmanned aerial vehicle developed in China, completes its maiden flight on January 6 in Jinchang, Gansu Province. The technology has been patented in China (XINHUA)
Improving policies
The commercial use of patents in China has seen steady progress. The commercialization rate of effective invention patents rose above 30 percent from 2016 to 2020, with last year's rate reaching 34.7 percent, according to another NIPA survey covering 24 provincial-level regions and 15,000 patentees, and involving 42,000 patents.
However, there's still room for the conversion of advances in science and technology into actual productive forces. Huang Canhong, deputy head of the National Center for Science and Technology Evaluation, said that some scientific researchers emphasize basic research over applied research, and tend to focus on writing papers rather than promoting the commercialization of technological achievements.
Moreover, according to Shen Changyu, head of the NIPA, the patents of many universities and research institutes are difficult to find, let alone apply. Many small and medium-sized enterprises (SMEs) have a hard time obtaining the patented technology they need.
"Currently, we are building a platform for the promotion and application of patented technologies, and establishing an effective communication mechanism online and offline to match the needs of research institutes and SMEs," Shen said at a press conference in April. Also, regions that yield good results will be rewarded.
In regard to IPR protection involving new technologies and business models, Shen said at present, big data and artificial intelligence have become important production factors, and it is imperative to strengthen the protection of IPRs in these fields to boost the country's future economic and social development.
Regarding the protection of big data IPR, the focus lies on the proper handling of the relationship between protection and use, as well as the guaranteeing of security and privacy. "Regarding these issues, the NIPA will solicit opinions from academia and relevant industries, work on system improvement, and put the results in relevant policy documents promptly," Shen said.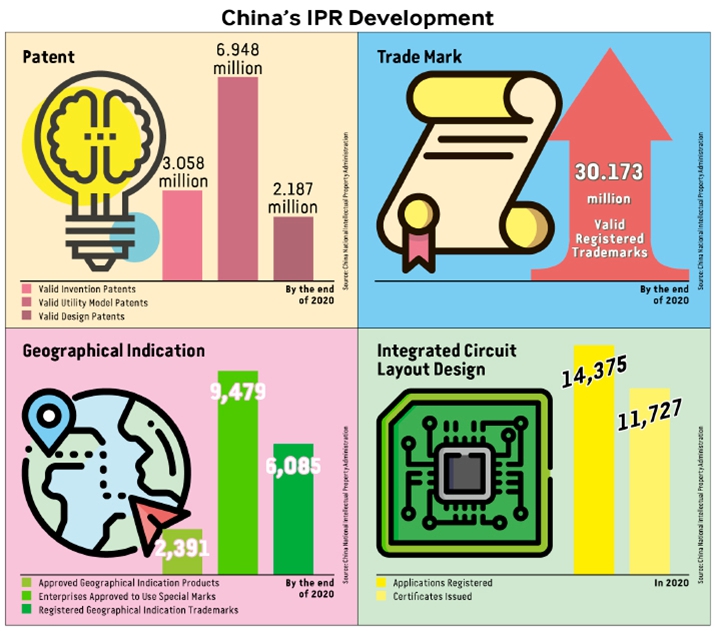 Copyright protection
In April, 15 television and film associations, as well as five online streaming platforms like iQiyi and Tencent Video joined hands with film and television companies to issue a joint statement on the protection of their related copyrights. Later, over 500 actors joined them, calling on short video platforms to promote copyright content management and clean up any unauthorized content.
With the rapid development of digital technology and the mobile Internet, online short videos are booming. Along with the boom comes piracy and copyright infringement. The Copyright Law stipulates that copyright-protected work shall not be disseminated and used without permission.
However, a large number of accounts on these short video platforms edit and rearrange the essential content of movies and television programs to illicitly gain profit from them, infringing upon the rights of copyright owners. Also, without paying the related copyright fees, such short video snippets get hundreds of thousands to millions of views.
In fact, short video platforms have already been working on protecting the rights of copyright owners by deleting remixed videos after auditing their contents. The NIPA also pledged to further crack down on such violations and improve copyright complaint management mechanisms.
Nevertheless, Wu Fang, a professor with the School of Media and Communication at Shanghai Jiao Tong University, raised another point. She believes that copied works with religious content in their very nature are different from the objectives of profit-seeking copyright violators. "Their creations are for communication among followers, not for profit. Film and TV producers should be careful in limiting such kind of replication," she said.
(Print Edition Title: On the Fringes of Public Property)
Copyedited by Elsbeth van Paridon
Comments to luyan@bjreview.com