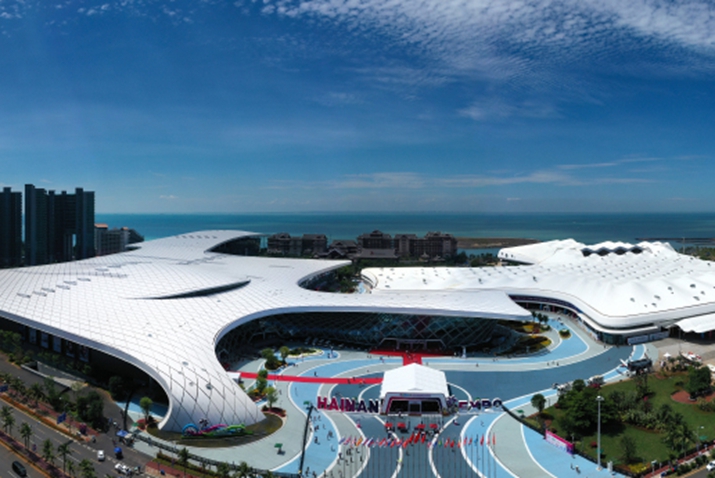 The Hainan International Convention and Exhibition Center in Haikou, Hainan Province, site of the First China International Consumer Products Expo (Hainan Expo) on May 7-10 (XINHUA)
Tapestry, the U.S. luxury fashion company famous for its brands including Coach and Stuart Weitzman, received much attention at the First China International Consumer Products Expo (Hainan Expo) in Haikou, capital of Hainan Province, on May 7-10. It presented new products made from recyclable materials, which were designed specially for the event.
"The expo is an innovative platform bringing together high-quality products and services from all over the world. It brings an important opportunity to showcase our brand concepts, expand market channels and innovate consumer trends," Yann Bozec, President of Tapestry Asia Pacific, said. "The constant upgrading of Chinese consumer demands and rising standards have generated new trends and market opportunities, becoming a powerful driving force for the global market."
Starting to tap into the market in Hainan in 2014, the company has built retail and duty-free stores in Haikou and Wanning, one of the famous ancient cities in the province and a prime tourist destination. According to Bozec, the company plans to open more than 10 such stores in Hainan and improve their sales to over 1.2 billion yuan ($186 million) by 2025.
The Hainan Expo, the first international expo in the tropical island province, attracted around 1,500 foreign enterprises from 70 countries and regions, showcasing over 2,600 brands. In addition, more than 800 China enterprises with around 1,200 brands participated. The exhibits ranged from food to jewelry and health products. More than 230,000 visitors from home and abroad attended the event.
"The appeal of the expo shows the advantages of the Hainan Free Trade Port (FTP) created by its geographical location, and China's consumption potential and opening-up measures," Han Shengjian, Director of the Hainan Bureau of International Economic Development, told a press conference on May 10.
Hainan was demarcated a free trade zone in 2018 and last year, the Central Government announced the plan to develop the island into a globally influential and high-level FTP by 2025. This April, preferential policies for the FTP were introduced.
The Hainan Expo fully utilized the province's advantages, such as the policies for boosting its trade in goods and services, according to Zhao Jinping, a researcher with the Development Research Center of the State Council. The expo helped meet upgraded domestic demands and injected impetus into global economic recovery amid the COVID-19 pandemic, Zhao told Beijing Review.
More than 80 percent of exhibitors said they would sign up for the second edition of the expo, with 42 enterprises, including Tapestry, having signed contracts.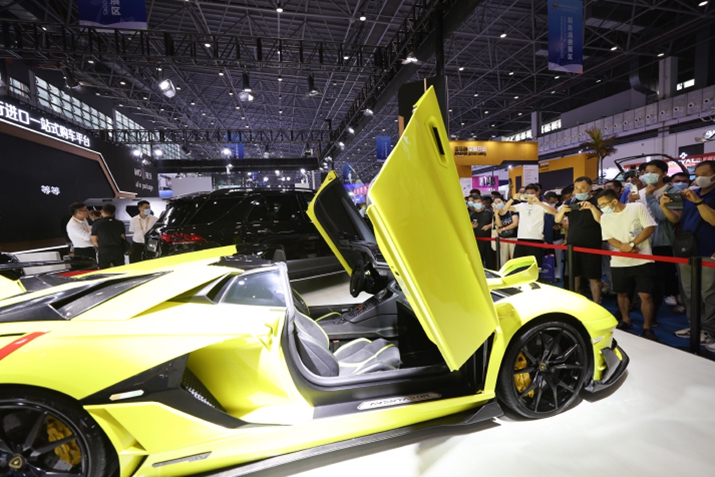 Imported cars on display at the Hainan Expo on May 10 (XINHUA)
A new platform
The expo provided a platform for both foreign and domestic enterprises with new, innovative and green products and services.
Many global brands that participated, such as Tapestry and beauty company L'Oreal, have already been attending the China International Import Expo in Shanghai.
Homegrown brands, including candy maker White Rabbit in Shanghai and the traditional soft drink brand Beibingyang in Beijing, also seized the expo to create better market awareness, introducing new products to meet the demands of Generation Z.
According to Han, many participants saw brisk sales. For instance, Scotland-based spirits company Edrington signed a contract worth over 100 million yuan ($15.5 million) with a company based in Shenzhen, Guangdong Province.
The expo also brought great opportunities for enterprises and retailers in Hainan showcasing specialty products including tea, pepper and furniture made of huanghuali, a rare species of rosewood. The letters of intent for business cooperation they signed in the first three days exceeded 100 million yuan.
Companies and consumers unable to attend the offline events were offered participation via online channels. Live-streams by domestic e-commerce platforms such as Tmall and JD.com attracted over 16 million viewers and generated a total turnover of 68 million yuan ($10.4 million).
Riding the tide of new technologies, the expo gave visitors a taste of augmented reality services and the digital currency. Since Hainan was listed as a pilot area for the use of the digital yuan last year, the expo set up an area with currency exchange machines to facilitate payments by visitors. According to Bank of China, 17 foreign currencies including the U.S. dollar and British pound could be exchanged for the digital yuan.
The expo has not only promoted sales of physical goods from across the world but also driven the development of service industries such as exhibitions and modern logistics in Hainan, Zhao said. Trade in services, which has more potential for sustainable growth than trade in goods, is likely to be a trump card of the island to develop as an FTP, he added.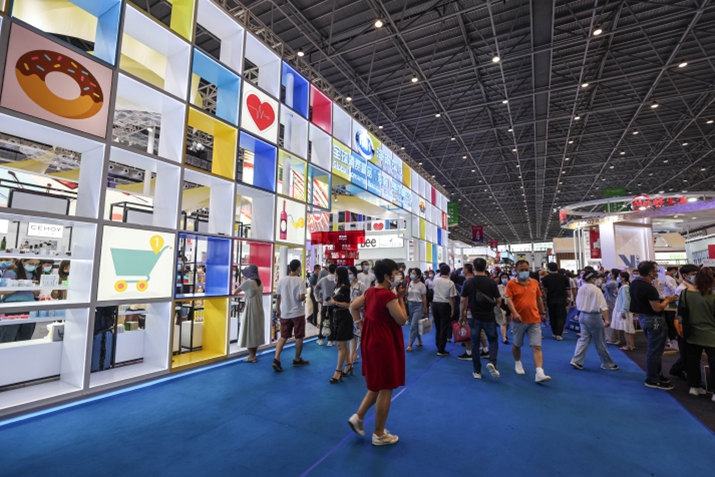 Visitors at the Hainan Expo on May 10 (XINHUA)
Showcasing strengths
According to Zhao, manufacturing industries are not a good option for Hainan due to high logistics costs, as it is an island, and environmental protection concerns. However, there lies great potential in the tourism, modern services and hi-tech industries.
Hainan is already a shopping and tourism hub with its 30-day visa-free entry policy for tourists from 59 countries, offshore duty-free shopping and a tax-exempt import list. In April, the authorities drafted a negative list on cross-border trade in services for the Hainan FTP. Once implemented, it will facilitate foreign investment by clearly spelling out which areas are out of bounds for investors.
A joint KPMG/Moodie Davitt report released on May 7 said the island could turn into the world's largest duty-free market at its current growth rate.
According to the provincial government, offshore duty-free sales in Hainan exceeded 32 billion yuan ($4.98 billion) in 2020, and average daily duty-free sales hit 120 million yuan ($18.6 million) by the end of last year.
The spree was due to the annual tax-free shopping quota being increased from 30,000 yuan ($4,666) to 100,000 yuan ($15,555) per person since July 2020. During the five-day May Day holiday this year, the province's offshore duty-free sales reached nearly 1 billion yuan ($155 million).
The island received 65 million tourists from home and abroad in 2020 despite the COVID-19 epidemic, with the revenue from tourism reaching 86 billion yuan ($13.1 billion). In preparation are plans to open 160 new domestic and international air routes, increase the number of accessible cities worldwide to 200, and improve passenger throughput to 60 million over the next five years.
Apart from retail tourism, Hainan is also focusing on modern services and hi-tech industries to attract businesses and consumers. According to Hainan's five-year development blueprint, by 2025, the output of the digital economy and biological medicine industries should exceed 400 billion yuan ($62.2 billion) and 50 billion yuan ($7.7 billion), respectively. Medical tourism is being promoted with the Boao Lecheng International Medical Tourism Pilot Zone that will offer international state-of-the-art medical facilities, while educational institutions are being developed in tandem with domestic and overseas partners.
Hainan's trade in services has kept expanding. While total service imports and exports of China in the first two months of the year were around 700 billion yuan ($108 billion), down 3.6 percent year on year, in Hainan it was a different story. There was a 21.6-percent year-on-year growth, reaching nearly 4 billion yuan ($621 million), data from the Ministry of Commerce showed.
To boost trade in services, the provincial government needs to accelerate the implementation of the negative list and reduce the items on it to ease market access, Zhao said. It should also explore new modes such as offshore trade.
Market potential
The Hainan Expo once again demonstrated China's market potential with its middle-income group of over 400 million people and steady consumption recovery. Data from the National Bureau of Statistics showed that retail sales increased by 33.9 percent year on year to 10.5 trillion yuan ($1.6 trillion) in the first quarter of the year.
"Despite the impact of the epidemic, the upgrade of consumption in China has continued. The consumption sector will recover to the pre-epidemic level by the end of this year," Chi Fulin, President of the Haikou-based China Institute of Reform and Development, said at a forum during the expo.
China is expected to become the world's largest consumer of goods during the 2021-25 period and the biggest service trader by 2035. To boost consumption, efforts are needed for industrial restructuring, opening up the market and expanding the middle-income group. The urban-rural gap should also be reduced. These changes can unleash the potential of rural markets, Chi said.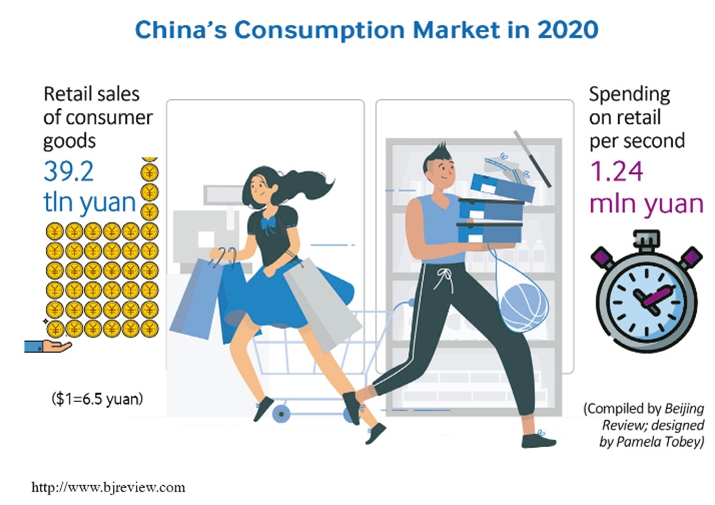 (Print Edition Title: Consumption Is King)
Copyedited by Sudeshna Sarkar
Comments to lixiaoyang@bjreview.com