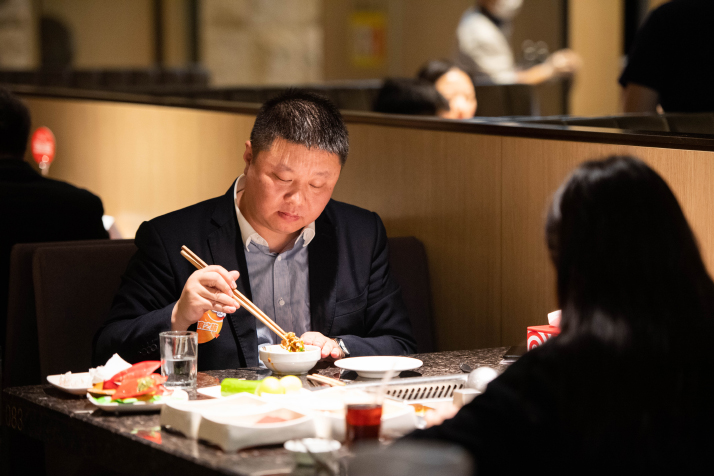 People dine at a Haidilao hotpot restaurant in Changsha, Hunan Province, on March 25, 2020 (XINHUA)
For Chinese people, dining means much more than just feeding themselves. Their increasing demand for variety and flavors has driven the growth of a large market, bringing an investment boom to many domestic brands.
In the latest move, Lanzhou beef noodles brand Chenxianggui completed its Series A round of financing worth 100 million yuan ($15.4 million) on July 20, bringing its valuation to nearly 1 billion yuan ($154 million). Coffee chains such as Saturnbird Coffee, Seesaw and M Stand have also each raised over 100 million yuan since June and the Chinese bubble tea startup Nayuki went public on the Hong Kong Stock Exchange on June 30, banking on strong growth in the market.
The catering industry was once viewed as a traditional one with low growth potential due to non-standard production and low profitability. However, the boom of catering chains with optimized operation models has challenged that notion. Like U.S. fast food chains McDonald's and KFC, many emerging Chinese catering enterprises have developed streamlined production processes and invested a lot in brand marketing.
The industry saw sluggish growth in 2020 amid restrictive measures against the COVID-19 pandemic. According to the National Bureau of Statistics (NBS), China's catering revenue reached nearly 4 trillion yuan ($617 billion) last year, down 16.6 percent year on year. With the suggested containment, it has seen a gradual recovery. In the first half of 2021, the catering revenue exceeded 2 trillion yuan ($308 billion), up 48.6 percent year on year. Qianzhan Industry Research Institute, a market research consultancy, projected that China's catering market will be worth over 7 trillion yuan ($1.08 trillion) by 2026.
"More Chinese catering enterprises are expected to embrace financing and seek stock listings in the next decade. Such a move could help boost brand marketing, expand sales and improve management of the enterprises," Song Xiangqian, founding partner and Chairman of Harvest Capital, told Caijing magazine.
Sharing the pie
Chinese consumers, especially the younger generation, have attached growing importance to the quality and diversity of food and dining environment and the interior design of restaurants. While they are embracing modern dining styles like coffee and light meals, Chinese-style hotpot, noodles, spicy crawfish and milk tea are still their preferences.
Eyeing the large market, emerging Chinese enterprises have plunged into the business for restaurant chains and online food sales. Many brick-and-mortar stores used to see sound cash flow and viewed it unnecessary to seek social investment. However, restaurant chains such as Xibei that offer traditional cuisine from northwest China were hit hard by COVID-19 last year. Since then, more and more catering chains have sought cooperation with investors to tide over the difficult time.
Growing investment has driven the expansion of many restaurant chains. After raising nearly 800 million yuan ($123 million), Hefu Noodle had opened over 340 restaurants across China as of the end of June. The number of its restaurants launched in the first six months of this year almost doubled that for the entire 2020, meaning that it opened a new restaurant for every two days. Besides venture capital firms, tech enterprise Tencent is also an investor in Hefu Noodle.
The rapid increase of commercial complexes in recent years has facilitated the growth of Chinese catering chains. According to China Chain Store and Franchise Association, the number of shopping malls with a floor area of over 30,000 square meters exceeded 6,000 in the country at the end of 2020. That has provided restaurants soil to grow and thrive.
As the government tightens regulation on the catering industry to improve food safety, efficient and reliable supply chains have become increasingly important. According to a report released by China International Capital Corp (CICC) in April, the rising costs of labor, rental and food products are driving many restaurants to develop in-house logistics chains to back up outlets and are turning to more easily prepared products.
Many catering logistics systems have become very sophisticated. For example, Shuhai Supply China Solutions, a logistics company affiliated with Haidilao, a leading hotpot restaurant chain, was established in 2011. The company has developed nationwide centers for cold chain logistics, processing of food and hotpot soup and vegetable planting. Besides supporting Haidilao, it also provides services for other restaurant chains such as Beijing-based Hanshi Barbecue. Companies such as Hefu Noodle and Baman beef rice noodle have announced that the capital they recently raised will be invested in developing digital systems and building supply chains.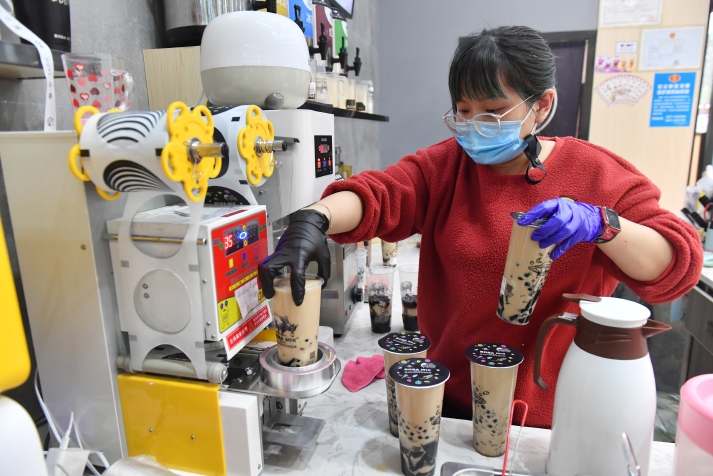 An entrepreneur works in her milk tea startup in Lhasa, Tibet Autonomous Region, on May 6 (XINHUA)
Concerns remain
Although the catering industry has much growth potential, food safety, management and operating standards remain major challenges to overcome. According to Song, only about 20 percent of Chinese catering brands are able to make large profits against rising costs. Added to this, the number of people dining at brick-and-mortar restaurants has declined especially as the pandemic hit and food delivery services expanded. This trend is likely to continue.
Haidilao suffered losses of over 950 million yuan ($146 million) in the first half of 2020. Even if its total revenue jumped massively year on year in the first six months of 2021, CICC viewed its profitability as likely below expectations due to the rising costs of labor and the fact that the number of consumers has not returned to pre-pandemic levels.
While the existing players are striving to recover from the virus-induced impacts and improve profits, more competitors are emerging because hotpot restaurant and milk tea house models can be easily copied, CICC said.
China's catering brands still have a long way to go to develop into giants. As of July 11, the U.S. saw over 50 catering enterprises listed on its stock market, while the publicly traded Chinese brands were around 10, data from Caijing showed.
According to CICC, catering chains account for only about 10 percent of China's total restaurants in 2019 while the proportion in developed markets reached about 50 percent.
"To ensure sound expansion, catering enterprises should improve their supply chains and standardize management. In view of this, investors need to follow due diligence to avoid potential bubbles and other would-be risks," Song said.
(Print Edition Title: The Market of Meals)
Copyedited by Ryan Perkins
Comments to lixiaoyang@bjreview.com