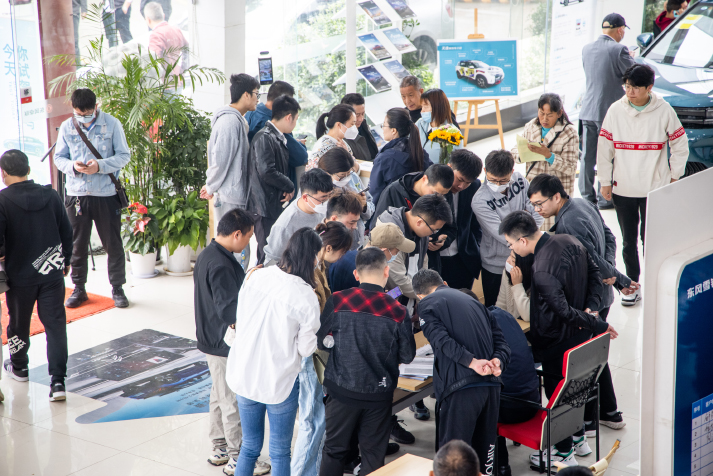 Car purchasers pack an auto dealership in Wuhan, Hubei Province, on March 8 (VCG)
In the face of a deep market downturn since the beginning of the year, China's car brands are engaged in a brutal price war to win over consumers. However, although the price cuts have lasted almost a month, they seem to be doing little to ease pressure on the industry, partly caused by the ending of stimulus policies and the introduction of new emissions standards.
The wave of decreasing car prices began in Hubei Province at the beginning of March. The provincial government, in collaboration with local automaker Dongfeng Motor and dealers, offered subsidies of up to 90,000 yuan ($13,158) on each purchase of cars manufactured by the firm, headquartered in Wuhan, capital of Hubei. Following that, more than 30 other automobile companies have launched promotional campaigns across the country, covering both their homegrown and joint venture brands such as BMW, Audi and Cadillac.
FAW, based in Jilin Province, cut prices by a total of 150 million yuan ($21.93 million) for purchases of the group's passenger vehicles in the province, with the maximum discount for each car reaching 37,000 yuan ($5,409). On March 16, SAIC Motor, China's largest carmaker, based in Shanghai, also announced a total price cut of 3.7 billion yuan ($540.94 million), with a maximum discount of 50,000 yuan ($7,310) per vehicle.
Sales pressure
Cui Dongshu, Secretary General of the China Passenger Car Association (CPCA), said the promotions launched by automakers across the country are attempts to spur car consumption at a time when demand is weak.
Before the price war began in March, China's auto market, the world's largest, had been experiencing headwinds since January, after the scrapping of a policy that halved the purchase tax for many passenger vehicles. CPCA data showed that retail sales of passenger cars declined 19.8 percent year on year to 2.679 million units in the first two months of the year. Among the 20 automakers that published their business data for the January-February period, only four registered positive growth in sales volumes on an annual basis.
Jiang Han, a senior researcher at the Pangoal Institution, a public policy think tank in Beijing, said currently, the demand in the domestic market has not yet reached its potential. In addition to no longer halving the purchase tax for eligible passenger vehicles, Jiang said the government is also no longer offering subsidies on the purchase of new-energy vehicles (NEVs) as it did in previous years. These two factors are causing the sharp drop in auto sales.
Other factors are also at play in the recent price cuts. Cui explained that as China is about to begin enforcement of phase B of its National VI vehicle emissions standards, carmakers are keen to liquidate their inventories of non-compliant vehicles.
Phase B of the standards, which are believed to be among the world's strictest on automobile pollutants, will be enforced from July this year. According to the regulations, issued in December 2016 by the then Ministry of Environmental Protection, the National VI vehicle emission standards consist of two phases, with phases A and B coming into effect as of July 1, 2020 and July 1, 2023, respectively. Once the standards are executed, automobiles that do not meet them are no longer allowed to be sold, registered or licensed.
However, a report from CITIC Securities Co. Ltd. predicts that the impact of the new standards will be much lower than that of the switch from National V to National VI standards in 2019.
In response to the nationwide price battle, the China Automobile Dealers Association (CADA) issued a statement on March 17 announcing that, despite the deep discounts, car sales in China continued declining. According to figures from the CADA, 414,000 passenger vehicles were sold during the March 1-12 period, a drop of 17 percent from the same period the year before and down 11 percent from the previous month.
The CADA cautioned that, if left unchecked, an escalating price war may cause harm to the long-term development of the auto industry. The association called on governments at all levels to formulate more policies to stimulate car consumption, but said subsidies should not be targeted or selective, but inclusive. In Wuhan, for one, subsidies have been granted only to brands produced in the city, sparking controversy.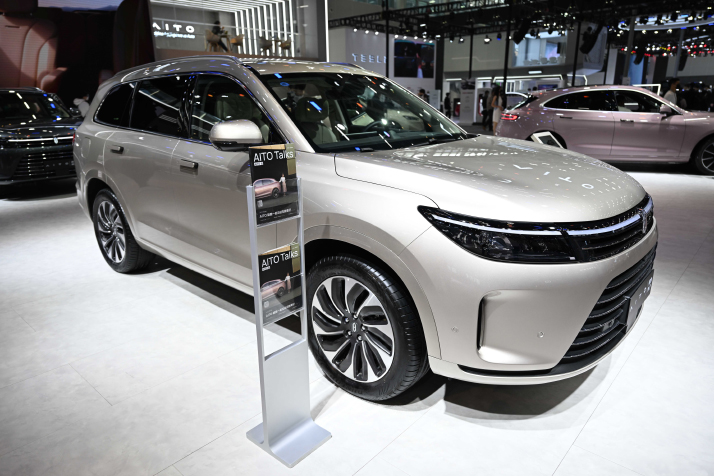 An AITO M7 electric sports utility vehicle produced by Seres, an automaker backed by technology giant Huawei, on display at the Guangzhou International Automobile Exhibition in December 2022 (XINHUA)
Fierce competition
A price war began to appear in the NEV market as early as the outset of 2023, starting with Tesla's price cuts and followed by homegrown startups such as AITO, Xpeng and NIO. According to figures from the China Association of Automobile Manufacturers, in February, 552,000 NEVs were produced in China and 525,000 were sold, up 48.8 percent and 55.9 percent, respectively, year on year.
NEVs now seem to be favored over gasoline-powered vehicles in the Chinese market. However, Jiang said although recent price cuts have significantly impacted the gasoline-powered vehicle market, it will not cause an industry-wide reshuffle.
He added that the gasoline-powered vehicle market is facing competition on multiple fronts. In addition to the rising public acceptance of NEVs, the weak demand has forced automakers to launch promotions to sustain their market shares.
In his opinion, after this wave of extensive price cuts, a "subsidy sequela" will be inevitable. "The key is whether it will change consumer expectations," he explained. If potential buyers expect continued lower prices for gasoline-powered vehicles after the promotions end, it will be difficult for makers of gasoline-powered vehicles to reverse the pricing strategy in the future.
Cui said 2023 is an important period for the automakers to undergo transition, and the industry will begin to show more complex characteristics during the year. In his opinion, this wave of price cuts is nearing an end, and the entire auto market is expected to return to its normal state.
Industry observers conclude although NEVs appear poised to replace their gasoline-powered counterparts in the long run, the latter will remain the mainstay in the market in the foreseeable future.
(Print Edition Title: An Automotive Dilemma)
The author is a reporter with the China Report magazine
Copyedited by G.P. Wilson
Comments to wangjun@cicgamericas.com