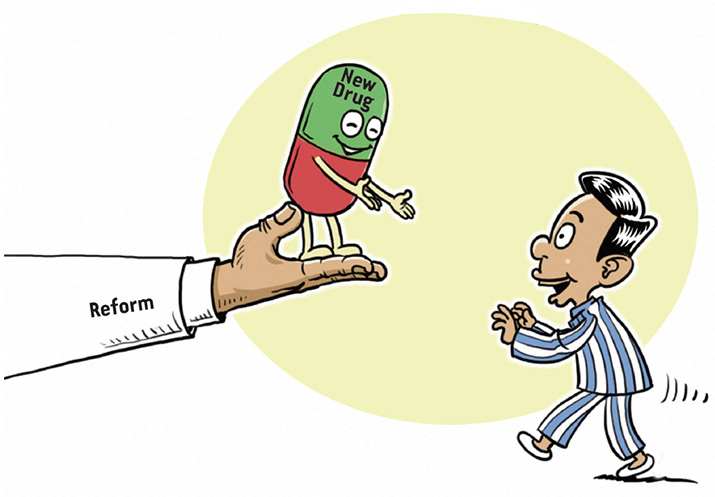 (XINHUA)
An experimental program aimed at loosening drug approval systems has been launched on November 5. The program, which will also handle the management of medical devices, was spread across 10 provinces, according to China's food and drug authority.
The scheme is designed to promote pharmaceutical innovation and improve the quality of the drugs by giving more incentives to researchers.
The trial will allow research and development bodies as well as individual researchers to apply directly for drug approvals, according to the China Food and Drug Administration (CFDA). Currently, only drug manufacturers can apply for approvals, and drug researchers are required to transfer their findings to producers.
"Researchers have long been put at a disadvantage and cannot obtain full proceeds after the medication hits the market, giving them little incentive to come up with new products," said Bi Jingquan, head of the CFDA. Bi made the remarks at the 17th Plenary Session of the Standing Committee of the 12th National People's Congress (NPC), China's top legislative body, which was held from October 30 to November 4.
China's pharmaceutical market is estimated to hit $185 billion by 2018, as stated by IMS Health, an American health market research firm. Chinese and foreign drug makers are competing fiercely for their share of the lucrative market.
However, the current rules make it hard for smaller, research-based firms to bring new drugs to market, since they need to invest in expensive manufacturing plants before seeking approval.
The ongoing pilot scheme is being conducted throughout Beijing, Tianjin and Shanghai municipalities as well as Hebei, Jiangsu, Zhejiang, Fujian, Shandong, Guangdong and Sichuan provinces.
After three years, the State Council, China's cabinet, will submit a report on the experiment to the NPC, which will then decide whether or not to formally revise the current law on drug administration.
Improving quality
According to the CFDA, the pilot scheme also aims at increasing China's pharmaceutical development compared to developed countries and seeks to promote generic drugs made in China to the global market.
In August, the State Council released a new set of guidelines on reforming the review and approval procedures for drugs and medical devices.
The document emphasizes creating a more transparent and efficient system. It also focuses on addressing the backlog of applicants by the end of 2016, improving the quality of the generic drugs and encouraging the development of proprietary drugs.
The quality of some generic drugs produced in China lags behind their international counterparts, a problem which reforming the drug review and approval system could address, Bi admitted.
"Struggling to meet public demand for medication, China's drug review and approval system does not suit the development of the drug-making industry," Bi said.
Currently, drugs fall into "new" and "generic" categories in China. The guidelines released by the State Council state that new drugs will be further classified into proprietary drugs and improved forms of new drugs.
Furthermore, the guidelines provide additional definitions for "new drugs," referring to drugs that have not yet been marketed anywhere in the world, a more restricted term than the previous definition. The outdated definition also included drugs not yet marketed in China. As for "generic drugs," the guidelines define them as products consistent with the original drug in terms of quality and efficacy.
The concept of "generic drugs" comes from the United States in 1984, when the patents of some 150 types of common drugs had expired. In order to keep the drugs in circulation, the U.S. Government issued a regulation stating that pharmaceutical companies can continue producing copies. However, the new producer must prove that its own medical products are therapeutically equivalent to the specified, previously approved "reference listed drug" that they're emulating. Thus, the term "generic drugs" was born.
Currently, generic drugs constitute the majority of China's drug supply. According to Pan Guangcheng, Executive Vice Chairman of the Beijing-based China Pharmaceutical Industry Association, most of the current 121,000 approval certificates for chemical drugs held by Chinese pharmaceutical enterprises are for generic products. In 2014, among the newly approved chemical drugs, 220 were generic, amounting to 47 percent; 127 were new drugs, accounting for 27 percent; and 63 were imported brand drugs, resulting in 14 percent of the total figure.
"China is a big country [when it comes to] producing generic drugs, but its development of drugs is less optimistic," Pan said. According to him, the approval standards for generic drugs in China were not strict enough in the past. Also, few medical enterprises were willing to do research comparing their own products to the original drugs, which led to poorer quality.
However, the quality and efficacy of the drugs are key elements that influence patients' choices.
The Shanghai Cancer Recovery Club is a self-help and mutual-aid nongovernmental organization formed by cancer patients. Currently, the club has 16,000 members.
According to Yuan Zhengping, President of the club, few of his members choose to take Chinese-made generic drugs. "Most of them [prefer] to buy expensive imported branded drugs or Indian-made generics. They just don't trust Chinese alternatives," Yuan said.
According to industry insiders, since China's current national standards for generic drugs have no obligational requirements for those producers to do bioequivalence experiments, many generic drugs made in China are just products re-imitating previous product versions. As a result, the efficacy of these drugs is unlikely to be guaranteed.
To improve the quality and efficacy of China's generics, the ongoing pilot scheme stipulates that those approved drugs should not only meet the national standard but also be up to the quality and efficacy of the original products.
Lowering prices
Industry insiders say that the change of narrative from just "up to the national standard" to "consistent with the quality and efficacy of the originator products" will greatly raise the approval criteria for homemade generic drugs and help improve their quality.
"The decision will also help promote the upgrading of China's healthcare industry," said Jiang Hualiang, Director of the Shanghai Institute of Materia Medica of the Chinese Academy of Sciences.
The reality is that the price of many medicines sold in China is higher than those in foreign countries.
Take, for example, the anti-cancer drug Glivec that is produced by the Swiss pharmaceutical company Novartis. It costs 23,000 yuan ($3,598) per monthly dose in China, compared with about $2,500 in Japan and $2,130 in the United States.
Last year, a high-profile case involving a Chinese leukemia patient buying generic Indian drugs drew public attention to the issue.
Lu Yong, then 46 years old, was diagnosed with leukemia in 2002. He had been prescribed Glivec.
In 2004, Lu turned to Veenat--a much cheaper, generic version of Glivec. It is made in India and costs only 4,000 yuan ($626) for a month's supply. After he discovered that the drug worked, Lu began to buy more of the medicine for himself and even helped other patients he met online to purchase it.
However, any medication that has not been approved by the Chinese authorities is considered illegal. In July 2014, a procuratorate in Yuanjiang, central China's Hunan Province, filed charges against Lu for selling "fake medication."
After Lu was sued, more than 400 leukemia patients signed a petition pleading the judicial organs to remit the criminal punishment against him.
In February, procurators dropped the charges against Lu.
Ma Dexiu, a retired professor at Shanghai Jiao Tong University, blames the monopolistic status of China's medical market for pushing the drug price so high. "There is only one way to break the monopoly--by improving the capabilities and levels of those pharmaceutical enterprises in researching and developing innovative and generic drugs," she said.
Ma believes that the pilot program to reform drug approval procedures can help improve China's pharmaceutical enterprises' research and development capabilities.
Zhao Daqing, a professor at the Changchun University of Chinese Medicines in northeast China's Jilin Province, agreed. He said that the pilot will motivate researchers' incentives and help set up more research-oriented pharmaceutical enterprises.
"With more new drugs appearing, the quality of the overall medical industry will be greatly improved and the price of medicines will be naturally lowered," he noted.
Copyedited by Bryan Michael Galvan
Comments to yinpumin@bjreview.com