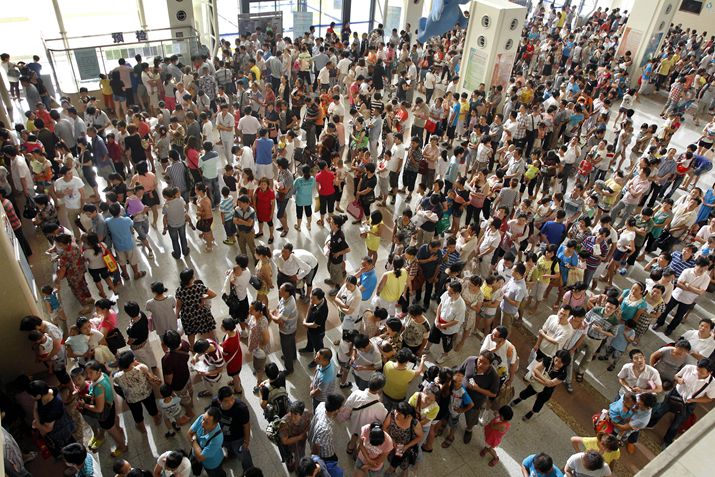 People line up to see doctors in a children's hospital affiliated with Fudan University in Shanghai on September 25, 2015(XINHUA)
Zhu Xinlian, a village doctor in Ningxia Hui Autonomous Region, has received a significant salary raise: earning 70,000 yuan ($10,606) in 2015 after earning less than 5,000 yuan ($758) a year in the late 2000's.
Graduating from Ningxia Medical School in 1996, Zhu has witnessed the dramatic change of the village clinic in the past years. With more than 3,000 residents in his village, the clinic that Zhu works for in Changcheng Village, Huamachi Town, Yanchi County of Ningxia, has been packed, he explained.
But what accounted for the dramatic change in salary? "I've earned more not because I got more patients and could make profits by selling more drugs to them," Zhu told Ningxia TV. "Just the contrary, I always try to find out a more economical way for the patients. The salary is from the compensation that the government paid for medical staff, especially village doctors."
Focus on health outcomes
As of 2003, the New Rural Cooperative Medical Scheme was launched, aiming to provide health coverage for the nation's entire rural population by 2010. The scheme has been pushed forward since early 2009 when the Central Government passed the medical reform plan and proposed the establishment of the National Essential Medicines System, which covers drug production, pricing, distribution, procurement, prescriptions and payment and instigated a "zero-mark-up" policy for medicines on the National Essential Drugs List when they were prescribed at the grassroots level.
"Now I would come to the village clinic for minor diseases like a cold or stomachache," Hou Yuezhen, a resident in Changcheng Village, told Ningxia TV. "In the past, we would stay at home, hoping the disease might recover by itself as it was always expensive to see the doctor."
Now, villagers come to the clinic and pay just 1 yuan ($0.15) to see a doctor and pay the rest after receiving any necessary prescriptions.
Changcheng Village Clinic is one of the pilot clinics in Ningxia to adopt the "see a doctor first and pay after" policy, which has also been adopted in the bigger county-level hospital. Patients get the treatment first and only pay 30 percent of the total fee, as 70 percent is covered by insurance.
Ma Xiudan, a resident in Yanchi County, paid 50 yuan ($7.60) as a deposit before her father had a surgery performed in the hospital. Out of the total 2,400 yuan ($363) for the operation, she paid 800 yuan ($121).
"It is a great relief for us, as in the past, we dared not go to the hospital to get the treatment," Ma told the television station. To enjoy this, the rural people just need to pay 100 yuan ($15) each year for the insurance.
On January 19, 2015, the State Council, China's cabinet, approved a plan for better rural medical care by deploying more doctors in the countryside. The plan sets out to ensure that there is one doctor for every 1,000 rural residents. These rural doctors will get extra trainings for free, better continued education opportunities, preference in their future careers, along with higher pay and pensions, according to the plan.
Zhu Jinhu, an 81-year-old retiree from Shanghai, has been living in Nantong, east China's Jiangsu Province, since retirement. With diabetes and high blood pressure, Zhu needs to go to hospitals for medical tests and medicine regularly.
Before 2015, Zhu could only get the reimbursement from the medical insurance after collecting all the payment receipts for several months and went to a fixed place in Nantong for reimbursement. Since January of last year, Zhu can get his money back immediately after he pays at the counter of the hospital thanks to a connection system that Shanghai and Nantong set up with Shanghai Bank that allows the medical insurance card holders in both places to get reimbursed right after payment is made.
"Medical care depends heavily on hospitals rather than community clinics and primary-care doctors," Du Xueping, Director of Yuetan Community Healthcare Center in Beijing, told Beijing Review . "This has resulted in the heavily burdened public hospitals, especially hospitals in bigger cities."
"To include community clinics and village clinics in the national medical insurance will in the long run relieve the burdens laid on the comprehensive hospitals," Du said.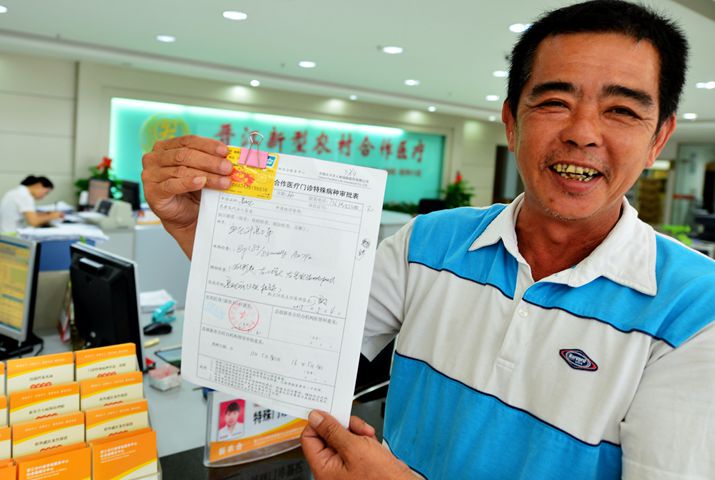 On May 15, 2015, a man in Jinjiang, Fujian Province, shows a document of one of his family members who enjoys the welfare provided by the New Rural Cooperative Medical Scheme, launched by China in 2003(XINHUA)
Private and public
The picture in the public hospitals is still not yet ideal. Long lines waiting to see famed doctors and heavy traffic jams around the hospitals are still common scenes in big hospitals in cities across the country.
On May 9, 2015, the State Council issued a circular, asking its ministries and departments as well as provincial-level authorities to deepen medical reform in 2015. In the circular, the State Council laid out specific tasks and plans to address prominent challenges the reform is facing. Among the tasks, the first is to continue to reform publicly funded hospitals with these hospitals joining in the reform efforts.
According to the government, the reform seeks to control the size of public hospitals so that they don't expand in an irrational manner. The public hospitals are forbidden to overcharge patients with the medicine mark-up price, so that the hospitals and their medical staff will be decently paid for their work instead of relying on selling medicines. Meanwhile, public hospitals should adopt a reasonable performance assessment system for their staff, the report recommends.
"The most urgent task is to make the hospitals a public welfare instead of business," said Li Ling, a professor from National School of Development at Peking University, to the magazine China Investment . According to the goal that the State Council has set, in 2015, more than 95 percent of the country's population will enjoy public health insurance; authorities should therefore increase the insurance's premium for urban children and the unemployed, as well as rural residents, read the curricular.
In June 2015, the State Council issued a series of measures to accelerate the development of private hospitals at the same time the reforms in the public hospitals are underway. Patients are currently allowed to claim medical insurance for private hospital visits as they do for a public hospital.
Hong Kong University-Shenzhen Hospital, jointly opened in 2012 by Hong Kong University and the Shenzhen Municipal Government, is one pilot private hospital. Having struggled for the first three years with patients' suspicion of its performance, in 2015, it saw a steady climb in demand for services.
"It is an incubator for people who are going to take part in healthcare reform," said Grace Tang, the hospital's chief executive. The hospital established a family-medicine unit to triage and manage patients, a bundled payment system that compensates doctors for spending time with patients, and a team-based treatment approach.
The payment system is quite new in this hospital. Rather than paying a very low fee to see a doctor plus separate fees for subsequent tests or drugs, patients are charged 130 yuan ($16) as an initial fee. Included in that price are a primary-care doctor consultation and a number of routine medicines and tests if they are needed.
"This might be a very dramatic pilot program for China's medical reform," said Tang. "But it is on track now."
"Actually in 1978, private investors could open private hospitals but many were too eager to chase profits," said Professor Li Ling. "The private hospital market is flooded with hospitals providing low quality services with negative reputations. Encouraging investment in private hospitals could help more reputable hospitals grow and the increasing competition would eventually force public hospitals to improve their services."
"The purpose of medical reform is to have a healthy China," Li said. "We are still on the way."
Copyedited by Mara Lee Durrell
Comments to yuanyuan@bjreview.com