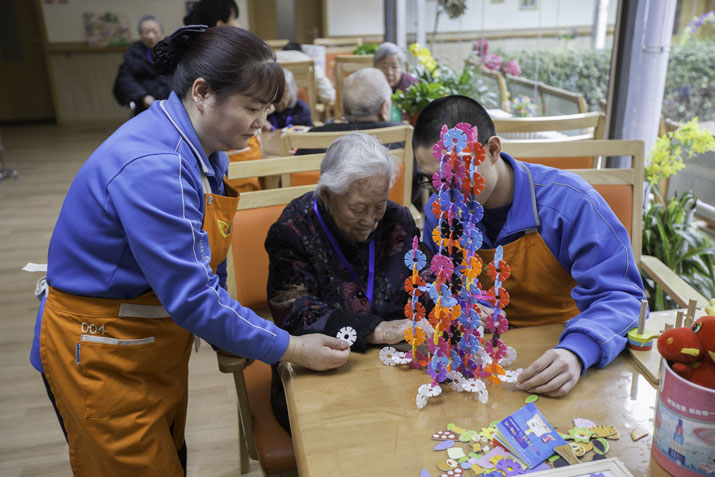 Workers help an old lady with toy bricks at the Cuncaochunhui Home in Beijing on February 26 (LI XIAOYIN)
Zhao Yunxia, 80 years old, has lived in Cuncaochunhui Home, a nursing home in east Beijing's Chaoyang District, for three years. Zhao had lived alone for some years after her husband died, as her elder son works in the United States and her younger son, who was born blind, lives in a charity house. To allow her to receive better care, her elder son arranged for her to live in the nursing home, which cost 4,700 yuan ($719) a month.
"The expenses are paid by my elder son, therefore I can spend my monthly income of 5,000 yuan ($793.7) freely," Zhao, who was a teacher before retiring, told Beijing Review.
Zhao's daily routine in the nursing home includes taking a walk around the courtyard in the morning and reading newspapers and talking with fellow senior citizens in the afternoon.
Currently, there are 39,000 senior citizens in Beijing who live in nursing homes like Zhao, according to the Beijing Civil Affairs Bureau.
Community-based service
Wang Xiaolong, Founder and President of Cuncaochunhui, said that the idea of establishing a nursing house came from his father's disease.
Five years ago, his father was diagnosed with Alzheimer's. He searched the whole city for a suitable nursing home but failed. Many refused him because of the difficulties involved in looking after somebody with such disease.
"Senior citizens who have entirely or partly lost the ability to take care of themselves are in urgent need of professional care... Why don't I establish a nursing home myself?" Wang asked himself at the time.
His idea was echoed by some of his classmates at Tsinghua University. With an investment of 10 million yuan ($1.5 million), the nursing house was established in 2011 jointly by Wang and a few of his classmates. The home is located in Heping Jiayuan, a residential compound with an aging rate of 30 percent. It is not simply a nursing home, but also functions a bit like a community service center, which provides services for nearly 5,000 seniors in the surrounding areas.
"The elderly nearby can choose to dine at or order food from the home through their mobile phones or laptops and have it delivered to their door. They can also order housekeeping services online or take part in activities in the nursing home," said a resident surnamed Yang in the community.
"Meanwhile, the intelligent terminals equipped at their homes can gather data such as their blood pressures and then send them back to the nursing home. Doctors at the nursing home will then know about their physical conditions through the data and give them suggestions," Yang added.
The home has also made adequate use of volunteers, of which Wang claimed over 20,000. In order to encourage volunteers to offer services at the home, it records the time spent by each volunteer there and if one day in the future the volunteers or their families need to live at the home, it will provide services, doubling the time the volunteers had served there for free.
"We have created an elderly care model which integrates nursing home care with care at home. Our goal is not simply to take care of the old but to enable them to live happily," Wang told Beijing Review.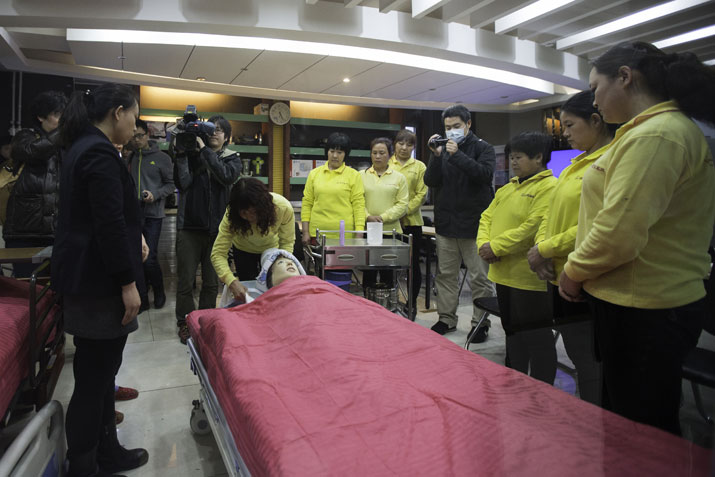 Caregiver candidates receive training at the Beijing Ainong Housekeeping Service Company's training school at the Chaoyang Elderly Care Service Center on February 26 (LI XIAOYIN)
Multiple solutions needed
The operation model of Cuncaochunhui may represent one solution to deal with Beijing's increasing aging population. Currently there are 3 million elderly people—defined as those above 60 years old—in the city, tantamount to the population of Rome in Italy, said Li Hongbing, Deputy Director of the Beijing Civil Affairs Bureau, at a press conference on February 26.
Moreover, the aging population is growing rapidly. "Every day there is an increase of 120 people for those above 80 years old and 450 for those above 60 years old. In 20 years, there will be one senior citizen for every three persons and such a scenario will last at least 50 years," said Li.
What is even more worrying is that there are 150,000 to 300,000 elderly people who have lost the ability to take care of themselves, according to Li. As families are becoming smaller—with an average of 2.5 people for each household—and half of senior citizens live separately from their children, it becomes all the more impossible for children to look after their parents.
In order to solve the elderly care problem, the Beijing Municipal Government unveiled a slew of measures last year, including a regulation on home elderly care in Beijing which came into force last May. The regulation specifies that the government plays the leading role in providing elderly care services, which elderly people can enjoy at their homes. Apart from delivering food, such services also include offering medical, nursing, housekeeping services, psychological counseling, and organizing cultural and sports activities for seniors.
The municipal government spent 57.2 million yuan ($8.7 million) in 2015 to support the community elderly care centers to offer daily care, catering, housekeeping, and medical services. The Chaoyang Elderly Care Service Center, established in December 2013, is an example of a center receiving the government aid in providing services to nearby seniors.
"With over 700,000 senior citizens, Chaoyang District has a high demand for elderly care. In July 2014, the district was designated as a pilot zone for the reform of the elderly care industry in China by the Central Government," Li Xiaomei, Director of the Chaoyang Elderly Care Service Center, told Beijing Review.
The government has also stepped up the training of caregivers by offering subsidies to relevant training institutions.
"We get subsidies of 1,500 yuan ($238) for each trainee if they pass a test for elderly care professionals," said Li Jielu, General Manager of Beijing Ainong Housekeeping Service Company, who runs a training school at the Chaoyang Elderly Care Service Center. Nevertheless, qualified nursing homes are still in short supply.
"For each bed, there are six to seven senior citizens waiting to get registered," Wang with Cuncaochunhui stressed. Moreover, nursing homes are not a lucrative business given the high costs involved in running a home. Wang said his care center can achieve a profit rate of just 6 percent every year, in spite of subsidies from the government which include 300 yuan ($47.6) to 500 yuan ($79.4) of subsidies per bed, per month.
Meanwhile, the cost of rent is high and keeps increasing. Yet Wang has persisted with his career because he recognizes that elderly care is beneficial to society and there is a high demand for it in China given the country's enormous aging population.
"If I can develop my nursing home into a chain, I will get a stable return. Most nursing homes in foreign countries have hundreds or thousands of branches," Wang said. He also expects the government to pay more attention to the elderly care sector. "It should not only be something seen to by the civil affairs department, but all government departments should play their roles," he said.
Copyedited by Mara Lee Durrell
Comments to jijing@bjreview.com