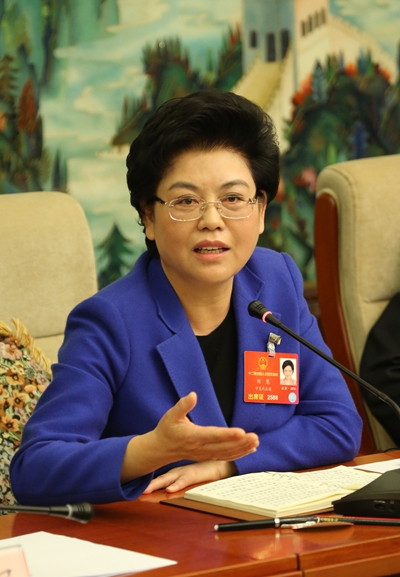 Liu Hui, NPC deputy and Chairwoman of the Ningxia Hui Autonomous Region (MA LI)
How can China carry out supply-side reform in its middle and western areas that are less developed than its eastern counterparts? Liu Hui, Chairwoman of Ningxia Hui Autonomous Region, has employed a mathematical mindset in order to take on reforms.
Addition
"Addition" means to continue to add to or further strengthen those economic factors that were previously positive to the local economy, Liu explained.
In Ningxia, the government needs to develop what it lacked before, such as its lagging infrastructure, to include more high-speed railways, highways, airports and water conservancy facilities.
As for some business areas which have become synonymous with Ningxia—including the coal and chemical industry, grapes, halal food and Muslim-oriented products—the region should improve efforts to foster their growth. For example, since Ningxia is known for its wine, the government should work to improve all segments of its production chain as well as integrate wine into its local tourism and culture. Through these measures, the region should be able to expand its wine industry and make it more of a value add.
Besides, since the development of new energy sources as well as the Internet—through cloud computing and big data—have recently been on the rise, Liu holds that Ningxia should also nurture new sources of economic growth by making full use of Internet technology.
Subtraction
"Subtraction" should be used to lower capacity, stocks and costs for businesses producing zero or low profits.
The steel and electrolytic aluminum industries, for example, are experiencing overcapacity throughout the country, and Ningxia is no exception.
"So, we should definitely get rid of them and speed up the transformation and upgrading," stated Liu.
At the same time, Ningxia also has a large amount of coal and cement in stock. Companies related to those industries should digest them internally through various market strategies.
As for the ailing housing market, the government should assist by purchasing some of the extra stock and then selling it at a lower price to low-income residents.
Multiplication
Businesses can attain multiple sources of profit through market-oriented strategies and innovation. In Ningxia, two companies stand out in their efforts to drum up profit.
One is a company selling dried fruit, which added a new product series promoting health care through beverages, snacks and make-up. The company's sales reached 10 million yuan ($1.54 million) on the Singles' Day shopping festival on November 11, 2015, whereas it only had 2 million yuan ($307,800) in sales throughout the whole of 2013, before its adoption of the new strategies.
Liu introduced another company in the traditional foundry industry. It realized its transformation via 3D printing technology which greatly increased the company's efficiency. Previously, the process behind 3D printing, from its inception to final product, took about half a year. Nowadays, it takes less than two hours.
"Scientific progress through multiple sources is what I mean by 'multiplication'," Liu said.
Division
Division mainly refers to cutting what is redundant, through administrative streamlining and delegation of power.
The number of the items that needed approval by the government was cut from 812 to 304, a 60-percent decrease.
"The change of our administrative hall in the capital city of Yinchuan is a typical example," Liu said. "It provides a one-stop service, saving time and energy for residents who previously had to go to different places to collect approval from different departments. Twenty minutes is enough if they have all the necessary materials at hand."
In order to encourage entrepreneurship, the region also simplified the procedures needed to register a company, which made it more efficient to access the market. Ningxia had 26,000 newly registered companies last year, according to Liu.
Copyedited by Bryan Michael Galvan
Comments to yushujun@bjreview.com