Editor's Note: Deputies to the National People's Congress (NPC)—the highest organ of state power—are tasked with putting forward motions and suggestions based on surveys and research. NPC deputies are elected every five years and currently there are more than 2,900. During this year's NPC session, held in Beijing from March 5 to 16, Beijing Review reporter Ma Li, China Today reporter Jiao Feng and China Report reporter Dong Yan interviewed several deputies to share their stories.
Luo Yunlian, Secretary of the Communist Party of China (CPC) Committee of Gulu Village in southwest China's Sichuan Province, hoped to get more attention for her village at this year's NPC session in order to develop the local tourism industry.
Gulu, a village under the administration of Hanyuan County, Ya'an City, is located on top of a cliff and is home to more than 300 villagers, over 95 percent of whom belong to the Yi ethnic group. For a long time, inconvenient transportation has been an obstacle hindering local development: The only way for locals to travel outside the village is via a ladder constructed in 2003, which measures 3 km long and nearly 1,000 meters vertically. That means that agricultural products, such as walnuts and livestock, cannot be transported down the hills to be sold at market.
However, this situation is set to change this year, thanks in part to Luo's efforts.
Luo suggested raising the subsidy standard for road construction in mountainous rural areas of Ya'an to promote local economic development during the NPC session in 2014. The government responded to Luo's suggestion.
A cableway measuring 800 meters long to the valley at the bottom of the cliff will be put into operation in August. The whole project costs 18.6 million yuan ($2.9 million) and each carriage can hold as many as 40 passengers, Luo said. "The carriage can transport not only people but also goods. Even a motor car can be placed in the carriage."
When the project is finished, the journey between a major highway and Gulu will take only one hour. "We are constructing a cableway rather than a road in order to preserve the mysterious and precipitous characteristics of the village, which constitute the primary draw for tourists," Luo explained.
Luo, first elected to be an NPC deputy in 2013, also makes use of social networking platforms such as the messaging app WeChat to promote her village and draw more tourists. She adds fellow NPC deputies and journalists who have interviewed her to her WeChat on which she posts pictures and introductions of her hometown.
Luo told Beijing Review that in previous years, many young people in her village would leave to work in cities after the Spring Festival. This year, many chose to stay home and opened family inns for tourists.
Xu Dequan, deputy to the 10th, 11th and 12th NPC, is secretary of the CPC Committee of Beixuzhuang Village of Linying County, Luohe City of central China's Henan Province. He has played a key role in driving the village's development.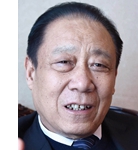 The village began to thrive in 1994 by growing greenhouse vegetables and knitting wall blankets. Now it has established Beixu Corp., a company incorporating grain processing, fodder production, pig breeding and meat processing. Villagers have since moved into 12-story buildings equipped with elevators and have Internet access.
"Villagers now work at local companies during the day and go back to their apartments in the evening. They are no different from urban residents," Xu said.
Beixuzhuang has also kept sustainability in mind when developing its economy. "The bran left from flour processing is used as fodder to feed pigs. The excrement from pigs is used to generate methane. We have achieved a circular economy," Xu told China Today.
With access to the Internet, Beixuzhuang's products can be sold online to other countries and local people can also make online purchases. When talking about the Government Work Report delivered by Premier Li Keqiang at the start of the NPC session, Xu said, "The problems of rural areas, farmers and agriculture will continue to top the agenda of the government in the future. I feel pleased to learn that the government will improve social safety for rural areas with respect to education, medical care and elderly care."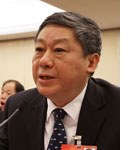 Zhang Shuping, Mayor of Linyi City in east China's Shandong Province, said the local government is working to transform Linyi into a national commercial, trade and logistics hub. He suggested listing Linyi as one of the hubs in China's Silk Road Economic Belt and 21st-Century Maritime Silk Road Initiative to promote local economic development and upgrading.
With the implementation of the Belt and Road Initiative, Linyi is presented with new opportunities for industrial upgrading and internationalization. Last year, the city's export volume to countries along the Belt and Road reached over $6 billion. Already, trade and logistics have become the city's two pillar industries.
As of last year, Linyi had opened eight freight trains. The line to Hamburg, Germany, facilitates trade with Europe; the two to Urumqi in Xinjiang Uygur Autonomous Region promote trade with Central Asia; and the trains to Guangzhou, Kunming, Nanning, Chengdu and Chongqing connect the city with Southeast Asian countries.
"Next we will open freight trains to Guiyang, Fuzhou and Yiwu in order to facilitate trade with Central, West and Southeast Asia," Zhang told China Today. "Moreover, we have established wholesale markets in countries such as Hungary and Kenya and will build more such markets in Pakistan, the United Arab Emirates and Qatar this year."
Linyi has also cooperated with leading domestic e-commerce platforms to develop cross-border e-commerce. "The China Post Group has launched international package collection services in the city. We will help develop 10,000 cross-border e-commerce businesses and 50 leading companies specializing in this area over the next two years," Zhang said.
Zhang suggested that more policy support in trade facilitation should be given to the city, such as elevating it to a national pilot zone for international trade. He also proposed accelerating the construction of a series of infrastructure projects aimed at facilitating trade and logistics, such as a new high-speed railway from Beijing to Shanghai, which runs through Linyi.
Xia Peng, Chairman of Sanxiang Advanced Materials Co. Ltd. in Shouning County, southeast China's Fujian Province, focused on issues concerning people's livelihoods, such as education, poverty alleviation and medical care for rural residents.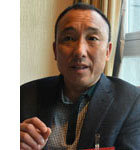 In 2014, Xia went to the clinic in Sanwangyang Village in Shouning, a county under the administration of Ningde City, to learn more about problems locals were facing. Locals told Xia that few physicians would like to work at the village clinic. A physician surnamed Wang complained that he had a very low income due to the village's declining population in the wake of the exodus of rural laborers to cities in search of job opportunities. He was also concerned about the risks of medical accidents because most remaining people were either the elderly or children, who are vulnerable to various diseases. As his children had all moved to nearby towns, he also wanted to leave.
Xia visited a dozen local villages and found that many village doctors had similar concerns. He wrote a proposal on improving medical services in rural areas, suggesting setting up medical, social and medical accident insurance for rural doctors, increasing their income and improving medical facilities in rural areas. Based on his suggestion, the government in Ningde has made medical, social and medical accident insurance available to all rural doctors.
When Xia visited Sanwangyang's clinic again ahead of this year's NPC session, Wang told him that he was happy to stay as a result of the new policies. "As an NPC deputy, I should get close to the people to learn about and call attention to their problems. Every time we solve a problem, we will be one step closer to realizing the Chinese dream," said Xia in an interview with China Report.
Xia's company, established in 1991, is located in Shouning, which is on the national list of impoverished counties. Its technologies for producing two kinds of materials used in liquid crystal display screens and space equipment rank top worldwide and afford the company a big say in the pricing of the two materials.
Over the past 30 years, Xia has refused offers from more developed cities and regions to relocate the company there. "If I leave, I will feel bad. My company pays taxes of over 60 million yuan ($9.2 million) to the local government every year," said Xia.
Copyedited by Mara Lee Durrell
Comments to yanwei@bjreview.com