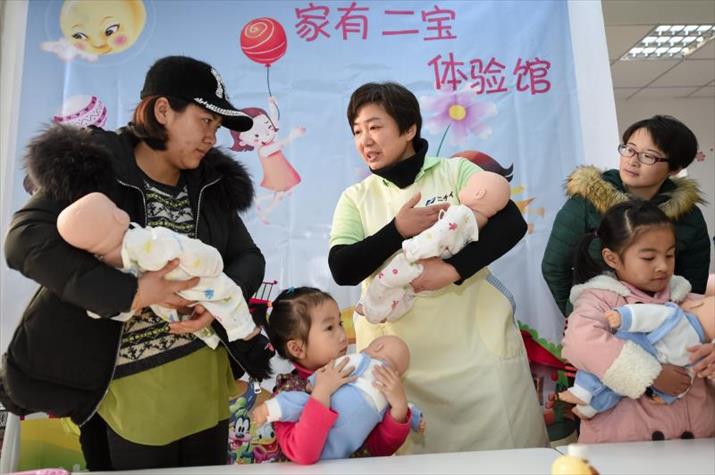 A newborn care specialist offers advice to a woman planning to have a second child at an activity in Hefei, Anhui Province, on December 17, 2015 (XINHUA)
Piao Chunhua is in two minds. Should she expand her business? There's a high demand for her services but on the other hand, the expenses are also high. Nine years ago, Piao started a private kindergarten in Wangjing, a residential area in northeast Beijing, and today, she has 41 pupils. "Many of the smaller kids are second children," she said.
Since the government relaxed birth control and announced in October 2015 that all couples can have two children, various sectors have been facing a boom in demand as families opt to embrace the new policy. Kindergartens are one of them. As public kindergartens often have stricter requirements—for example, the child should be at least 3 years old or have a household registration in the same area—smaller private kindergartens are becoming a convenient option for many parents.
Piao's preschool accepts children above 2 years, charging 2,800 yuan ($407) per child per month. Although the fee is almost double that of public kindergartens, it's still considered low among private ones.
A tough lesson
China is facing a shortage of kindergartens in the wake of the two-child policy. Kindergartens for children under 3 years are especially in short supply. Consequently, only 4 percent of all children under 3 years are enrolled in kindergartens, according to official data. When both the parents work, the lack of an affordable creche where they can drop their children while they go to work means they have no option but to rely on their parents to babysit.
Sun Fenglan, an official from the Beijing Women's Federation, said the government should push for more kindergartens for children aged between 2 and 3 years by providing financial support and formulating standards for such institutions. The state should also encourage private investors to start kindergartens.
According to Zhai Zhenwu, Dean of the School of Sociology and Population Studies at Renmin University of China, no government department is entrusted with setting up kindergartens for children under 3 years in China. The lack of such institutions is one important reason why many women are not opting to have a second baby.
According to a report published in 2016 by a private market research firm, ResearchInChina, in 2015, there were about 219,000 kindergartens in China, up from 116,000 in 2003, with a compound annual growth rate of 5.4 percent. Private kindergartens on the other hand grew by 8.2 percent, numbering 143,500. In 2003, their number was 55,500.
As a result, many parents have to choose private kindergartens, which are much more expensive, resulting in huge financial burdens on them.
Hospital dilemma
In addition to kindergartens, gynecology departments across the country are also feeling the pressure from an increasing number of women giving birth to a second child. At the Beijing Obstetrics and Gynecology Hospital of Capital Medical University, for instance, some patients have to lie in temporary beds in the corridors as there aren't enough beds, reported the Oriental Outlook magazine in December 2016.
At the end of 2015, Beijing had a little over 4,900 beds and 6,300 medical staff for all of its gynecology departments, which could accommodate 25,000 patients maximum per month. However, since December 2015, nearly 30,000 patients have been registering per month. In March 2016, the figure climbed as high as 36,000.
"In Beijing, if you can't register with a hospital before seven weeks of pregnancy, you'll find it almost impossible to give birth in a high-grade public hospital," said a Beijing resident who had given birth last year and wanted to be identified only by her surname, Li.
However, although the gynecology departments at premium public hospitals are in high demand, those at smaller public hospitals or private ones are not so stretched out.
Song Li, Deputy Director of the Department of Women and Children's Health under the National Health and Family Planning Commission, said pregnant women should be guided while choosing the medical institutions they would give birth in. The selection should be made according to the risk level of their pregnancy in order to ease the pressure on large public hospitals, she suggested. Moreover, service in community-level hospitals should be improved to reduce the burden on large hospitals.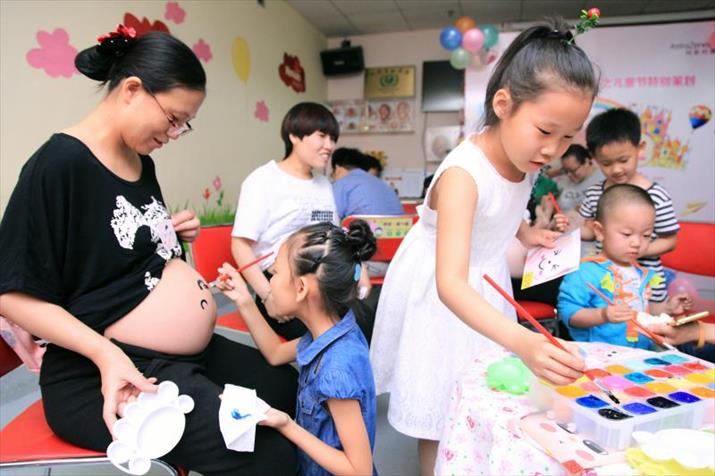 Children draw pictures of their younger brothers or sisters on their mothers' bellies at the Shijiazhuang Obstetrics and Gynecology Hospital in Hebei Province on May 27, 2016 (XINHUA)
Collective responsibility
The workplace may also affect the willingness of many women to have a second child. After a new national policy on maternity leave was announced last year, various localities have revised their regulations. Currently, mothers with a second baby in Beijing, Shanghai and Shandong Province would get 30 to 60 days of additional leave besides 98 days of mandated leave. But experts say it is still not enough. Yang Ge, an associate researcher with the Institute of Population and Labor Economics at the Chinese Academy of Social Sciences, said many breastfeeding mothers have to pump out their milk while at their workplace and carry it home.
"Regulations should be further modified to prolong maternity leave and allow more flexibility in female employees' working time to enable them to take care of their babies," Yang said.
According to a special regulation on the protection of female employees' rights enacted in 2012, employers can't reduce female employees' salaries or fire them if they are pregnant. Also, workplaces should have separate rooms for pregnant women to rest in or new mothers to breastfeed. However, the regulation has not been well implemented because of loose supervision and the light punishment for violators. More spot checks should be carried out and supervision tightened to enforce regulations and laws protecting women's rights, according to Yang.
At a press conference on January 22, Yang Wenzhuang, an official with the National Health and Family Planning Commission, said special attention will be paid to the difficulties in giving birth and child rearing during the 13th Five-Year (2016-20) period. A social environment favorable to childbirth will be created to encourage people to have children. Also, the old mentality of preferring a male child should be discouraged. Besides, couples should share the responsibility of looking after their children instead of putting all the pressure on mothers.
Yang Wenzhuang said no time should be wasted to formulate and implement policies to ensure a steady fertility rate because it takes five to 10 years for new policies to lead to actual demographic changes.
Zhu Zonghan, a researcher with the Capital Institute of Pediatrics in Beijing, said raising a kid shouldn't be solely the parents' responsibility. They deserve support from both the government and society. To reduce the costs of bringing up a child, the government could reduce or exempt taxes payable by parents in a particular age group.
Piao indicated the state should support not only parents but child-related sectors as well. Without any financial support from the government, it's hard to find an ideal venue for a new branch of her preschool, she pointed out. "The rent is so high that tuition fees can't cover it. However, if I raise the tuition fee, I may find it hard to get pupils," she said.
Copyedited by Sudeshna Sarkar
Comments to jijing@bjreview.com