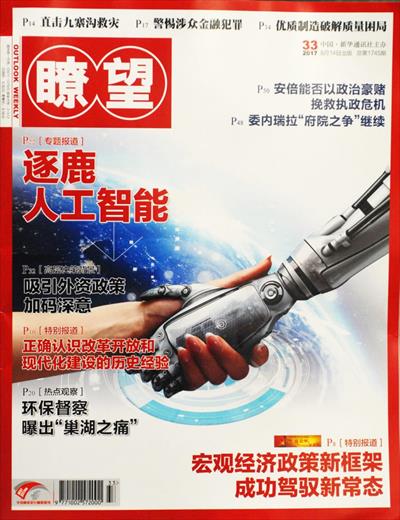 Artificial intelligence (AI) is transforming this planet in a subtle way. It is not only the most significant scientific invention in the 21st century, but also the most important change taking place since life emerged on Earth.
Today, throughout the world, commercial giants are rushing to invest in AI. With Alibaba and Tencent as the two vanguards, Chinese companies are also getting involved with AI programs. In some areas, they are poised to surpass their U.S. rivals.
AI can become a strategic program of China's national industries. In May 2015, China's Ministry of Industry and Information Technology as well as the National Development and Reform Commission jointly issued a plan of action on Internet Plus and AI, providing comprehensive and systematic guidance for AI development.
Not long ago, the State Council issued a plan for the development of a new generation of AI. It's predicted that by 2018, China's AI market will reach 38.17 billion yuan ($5.7 billion), compared with 23.9 billion yuan ($3.57 billion) in 2016.
Although the market is showing better momentum than expected, how to forge its "soul" within a short period of time is proving to be an uphill task. Fortunately, AI is blessed with good infrastructure and the whole society, from top to bottom, realizing its importance, is inputting efforts to ratchet it up. By utilizing opportunities and building up the AI ecosystem featuring chips, big data, cloud computing and operating systems, China will succeed in becoming one of the global AI powers.
(This is an edited excerpt of an article published in Outlook Weekly on August 14)