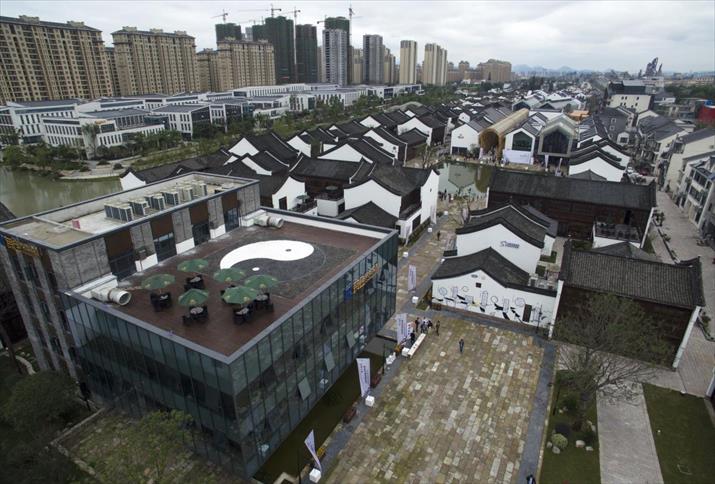 The Dream Town in Hangzhou, an incubator of startups (XINHUA)
Xu Feng (not his real name) remembers his hesitation in choosing between two job offers for project manager positions in leading technology companies Xiaomi Corp. and Alibaba Group.
The decision was a difficult one to make mainly due to the locations—Xiaomi is in Beijing, and Alibaba in Hangzhou, capital of east China's Zhejiang Province, some five hours south of the capital by bullet train.
Xu, who graduated from Beijing's Peking University with a master's degree, had lived in Beijing for seven years. Before his job hunting began, moving to another city for work had not been in his thoughts.
"More than half of my friends suggested Hangzhou," Xu told Beijing Review. Some Peking University graduates who were considering relocating or had already relocated to Hangzhou formed a group on WeChat.
"After talking to them, particularly those who went to Hangzhou in previous years, I thought it was not a bad choice."
Xu finally accepted the offer in Hangzhou, a city he had never previously visited.
Megacity diseases
Figures from Peking University and Tsinghua University, China's two most prestigious universities, show that more than half of their graduates this year chose to leave Beijing, and the numbers leaving Beijing have steadily increased in recent years.
The difficulty of obtaining a permanent local residence permit, or hukou, in Beijing, and the city's skyrocketing housing prices and pollution are the top three reasons graduates give for choosing to base themselves elsewhere.
Xu's job offer in Beijing from Xiaomi didn't include assistance with securing a hukou, which is critically important to living in megacities such as Beijing and Shanghai. People without a permanent local residence permit face restrictions which include having to pay local social insurance for five consecutive years before they can purchase residential property.
They also face greater difficulty in finding public schools for their children. Since 2015, Beijing has been reducing the number of hukous issued to graduates in a bid to control the size of its population, which has exacerbated the situation. But in Hangzhou, Xu can apply for a permanent local residence permit immediately upon taking up his new job.
"By 2020, the total population in Beijing should not exceed 23 million, and the [number of] permanent residents in the six central districts should reduce by 15 percent compared to in 2014," Wang Yukai, a professor from the Chinese Academy of Governance, told Beijing Daily.
In 2015, only 9,000 college graduates got a Beijing hukou, a super small portion among the 7.49 million graduates nationwide. In 2016 and 2017, the number continued to fall.
"Only some state-owned enterprises and government institutions have hukou quotas for new employees, but their salaries are relatively low," Xu said. "It is like a paradox—you get the permit to buy a house, but the housing price is too high to afford."
In Haidian District in Beijing, where Xu's university is located, the average housing price is almost 80,000 yuan ($12,030) per square meter. In Dongcheng and Xicheng, the two most central districts, the average housing price has surpassed 120,000 yuan ($18,045) per square meter.
Considering the monthly average salary of fresh graduates is less than 10,000 yuan ($1,503), buying a house seems to be a mission impossible.
Tian Li, a Beijing hukou holder from Sichuan Province, faced this paradox. Then the idea of moving to Chengdu, capital of her home province, popped into her head last year as she was enduring the peak hour subway crush.
Working in Beijing's hi-tech center Zhongguancun as a software engineer, Tian had moved home twice in two years following graduation; each time further away from her office in order to reduce her rent. In Beijing, she had to spend about three hours a day commuting.
"The distance was not that far actually, but the subway was insanely packed every morning, and there was no way to squeeze in until I'd tried four or five trains," Tian told Beijing Review.
"Why am I living like this? Is this the life I want to have in the coming years?" Tian asked herself one day when her feet could hardly touch the floor of the subway train. "I need to make a change, for sure."
Soon afterward she found a software engineering job in Chengdu with equal salary. "The cost of living in Chengdu is a lot less, and the hi-tech industry has been developing fast there," Tian said. "I don't know whether I will return to Beijing in the future. My hukou is still there, but I don't want to tie myself up just because of that."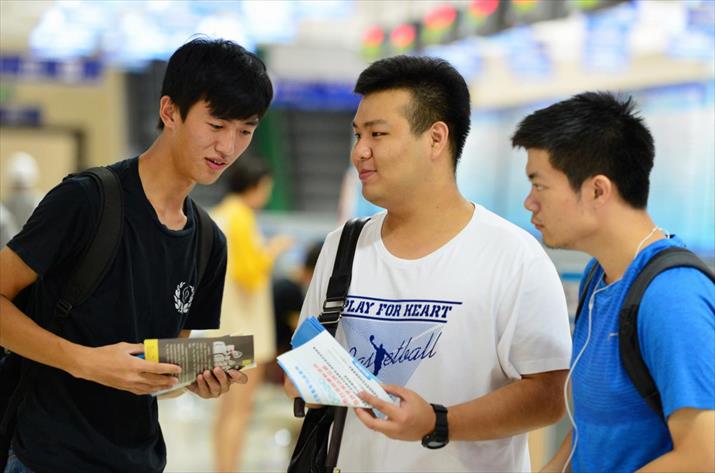 Graduates from Huaqiao University at a job fair in Xiamen, Fujian Provinde, in June (XINHUA)
Moving for a new start
Beijing, Shanghai, Guangzhou and Shenzhen are always mentioned together as China's first-tier cities and have long been the top choices for fresh graduates and young talent as the cities have abundant education, healthcare and transportation resources.
The intensive increase in these cities' populations, on the other hand, has also brought about negative effects, such as great work pressure, high housing costs and environmental pollution, which can be called "megacity diseases."
Second-tier cities, mostly the capital of and coastal cities in developed provinces, have boomed by providing more preferential policies and opportunities for fresh graduates, skilled workers and entrepreneurs.
The number of graduates moving to Hangzhou has steadily increased.
Zhou Kunpeng, an entrepreneur with a startup in Shanghai with less than 100 employees, moved his office to Hangzhou in June 2015.
Zhou moved into Dream Town, an incubator of startups in Hangzhou that combines apartment buildings, office buildings and entertainment facilities. "My company was provided with a three-storey office building here, about 4,000 square meters in total," Zhou told China Central Television. "And we don't have to pay rent for five years. This alone can save us 5 million yuan ($751,879) a year."
The chairs and desks as well as air conditioners were all ready for them before they settled in. "We could start work right away. It was just amazing," Zhou said.
Within three months, the number of employees increased to almost 600, and the company was set on a fast track of expansion.
"While we were in Shanghai, we had to spend most of the time finding investment," Zhou said. "But here, we are just next door to angel investors, and the Hangzhou local government from time to time provides supporting funds. All this is a big help for the startups [here]."
"The populations of Beijing and Shanghai have both exceeded 20 million, while in many second-tier cities, it is only about 5 or 6 million, which makes a large space for development," Niu Fengrui, a researcher with the China Academy of Social Sciences, told CBN Weekly.
Guan Qingyou, Vice Director of Minsheng Securities' research institute, said at a forum on urbanization and sustainable development held at Tsinghua University on August 19 that China needs at least eight first-tier cities.
"Even though the populations of the present four first-tier cities have exploded, the total number accounts for only 5 percent of the country's whole population," Guan said. "This is still a low ratio."
The booming second-tier cities, meanwhile, have proved their competitiveness by holding major international events.
Tianjin Municipality in the north and the coastal city of Dalian in Liaoning Province have taken turns hosting the World Economic Forum since 2011; in September 2016, Hangzhou successfully held the G20 Summit; and this September, Xiamen in Fujian Province will hold the Ninth BRICS Summit.
"In 2016, besides the four first-tier cities, another eight cities' GDP also surpassed 1 trillion yuan ($150.3 billion)," Guan said. "Cities like Chengdu, Hangzhou and Xiamen, with robust development potential, can be categorized as 'new first-tier cities'."
Copyedited by Chris Surtees
Comments to yuanyuan@bjreview.com