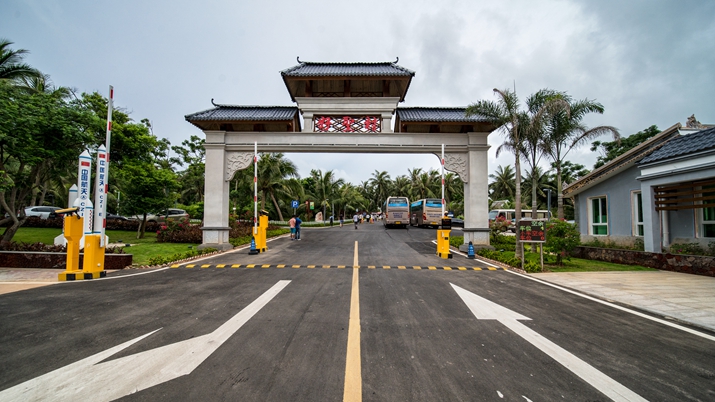 The entrance of Haosheng Village in Wenchang, south China's Hainan Province (ZHOU HUAYE)
Lin Mingyan, a 20-year-old resident of Haosheng, a small fishing village of Wenchang in the northeast of Hainan, retreated from first-tier city Guangzhou in south China's Guangdong Province to go back home one year after the Wenchang Space Launch Center was built near his village.
Once shabby and without any paved roads, Haosheng has only 68 villagers. Many young residents had left to work in large cities. But the turning point came in 2015 after China's first low-latitude satellite launch center was completed nearby.
The local government foresaw that the center would bring in enthusiastic rocket gazers. To accommodate visitors and help improve local residents' livelihoods, surrounding towns and villages were spruced up to develop tourism. Haosheng, 3 km away from the best gazing point, was the best choice for tourists. The village also developed unique products related to the space launch to cater to them.
In 2015, the village cottages were refurbished and lanes repaired with the help of the local government. A 1.4-hectare garden with 21 kinds of special "space vegetables" was built. The seeds, bred on spacecraft and analogue aerospace stations under multiple mutagenesis conditions, were given by the Hainan Aerospace Engineering Breeding Research Center for free. The garden is run by an agriculture cooperative with 58 permanent villagers as stakeholders. Its produce is sold to a newly built restaurant in Haosheng, which offers "space dishes" for rocket gazers and tourists.
Compared with planting traditional crops, like rice and sweet potato, growing "space vegetables" is more profitable. According to a briefing by the village authorities, the economic return of every mu (a traditional Chinese measurement equaling 667 square meters) of space vegetables farmland is expected to amount to 6,000 yuan ($910), tripling the original earning of traditional farmland.
"The space launch center has perked up Wenchang's tourism greatly," Wu Zongsen, Vice Mayor of Wenchang, told Beijing Review. When the center opened on June 25, 2016, there were 300,000 tourists that very day. The village restaurant raked in 10,000 yuan (1,517), an unprecedented daily income for its former fisherman owner.
In April 2017, an aerospace museum was built close to the village, displaying rocket remains, models and space suits. "These usually inaccessible exhibits have drawn lots of students so far," Wu said. Lin is working as a guard in the museum. "My hometown is getting better. It's more comfortable to work here than in Guangzhou," he said.
Now the village is looking beyond the windfalls during rocket-launching days. "To make our village better known, we need to introduce the Internet Plus model," Zheng Youchao, head of the village, said.
In January, Haosheng became China's first village to boast a global blockchain innovation center. Blockchain technology involves storing digitally recorded "blocks" of data in a linear "chain." The aim is to develop big data, the Internet of Things and tourism. A public account has been opened on popular social media platform WeChat to introduce Haosheng to the outside world. That is also the first for a village in Wenchang. Besides, an online store has been started to sell villagers' farm produce.
Most importantly, a "shared farm" concept has been introduced for villagers to share their "green property" with people far away via the Internet. According to Wang Junxiang, Product Director of Hainan-based Internet service provider icloudinn Network, in a shared farm one can "adopt" a piece of "space vegetable" garden, livestock or a coconut tree in the village via an online app. The adopters pay a sum of money online to share any of these properties for a period of time, and are entitled to products from that land, meat from that livestock or fruits of that tree for that period of time.
They can either rent a cottage in the village and take care of the vegetables and livestock by themselves, or hire farmers to take care of them and monitor the process via live-streaming, WeChat or short messages. In this way, everyone can share in a farm online, big or small.
Haosheng's nearly 2,000 coconut trees have been "adopted" by overseas Chinese and tourists, doubling the revenue from every tree to 100 yuan ($15.17) per year. The PCDI of Haosheng rose to 19,578 yuan ($2,970), 7,215 yuan ($1,095) higher than the nation's average rural PCDI in 2016.
Haosheng is not the only village with shared farms in Hainan. Early this year, the Hainan Provincial Government rolled out a guideline to develop shared farms, aiming to turn farmers into shareholders, farmhouses into guesthouses and farm produce into future goods. Visitors to the villages can become investors, all of which will increase farmers' income.
"Shared farms have multiple benefits," said Wang Yiwu, a professor with Hainan University. According to Wang, shared farms, on one hand, offer more choices for tourists, startups and elders who migrate to the tropical island to spend their twilight years there. On the other hand, they open up new ways for farmers to make money, which will further poverty alleviation efforts in Hainan.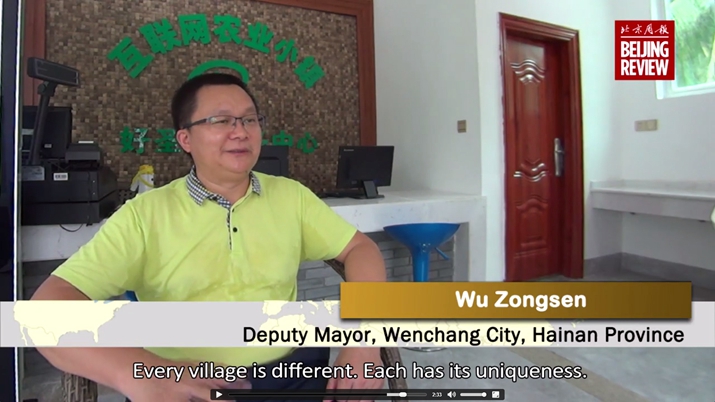 Wu Zongsen, Vice Mayor of Wenchang, talks to Beijing Review
All the remaining 17 cities and counties in Hainan are now trying to develop rural tourism. A total of 1,000 rural resorts are expected to be built by the end of 2019, according to a Hainan Provincial Government action plan released in February.
How to build up their own unique selling points and avoid homogeneous competition? The answer is different for different villages. As Wu said, difference matters.
"We are trying to cultivate one unique style for every town and one special product for every rural resort," he said.
(Reporting from Hainan)
Copyedited by Sudeshna Sarkar
Comments to linan@bjreview.com