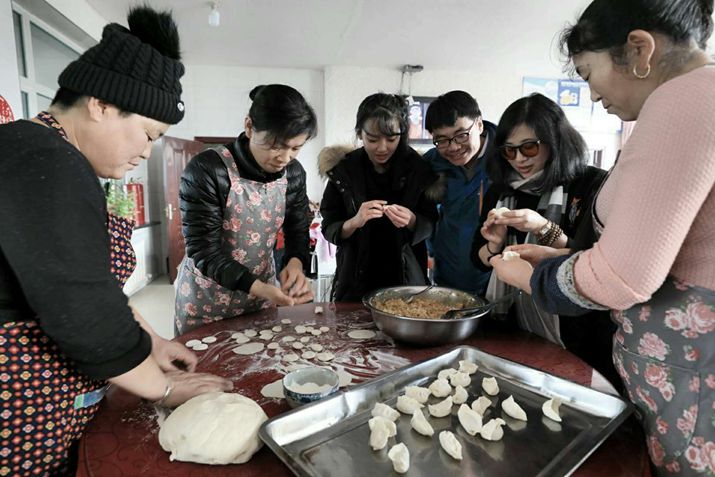 Pan Ya, a 48-year-old farmer in Bonihe Town, Changchun City,Jilin Province,started a homestay in 2012, offering accommodation for skiers(DU JINYING)
The long and cold winter used to be the offseason for residents in northeast China, when most preferred to maodong—curl up and idle away time in their cozy heated brick beds like a cat. In a frozen world with an average temperature of minus 20 degrees Celsius, there was neither farm work nor any business opportunities. Therefore, maodong has long been the typical way for northeasterners to spend the winters.
Like her peers, Pan Ya, a 48-year-old farmer in Jilin Province, spent countless winter days indoors, without any income for the whole season. Before 2007, her small hamlet in Dadingzi Village in Bonihe Town, Changchun City, was only accessible by dirt roads. Consequently, Pan lived off just her land for nine months a year, which brought her an income of 20,000 yuan ($3,108.5) to 30,000 yuan ($4,662.7) per year.
But things have changed in recent years. Skiers started flocking to her village in winter after a ski resort—Miaoxiang Mountain Resort (MMR)—was opened nearby. The once out of the way village was put on the tourist map. To accommodate the skiers, 20 rural families around the resort were encouraged to run homestays. The operators of the MMR helped train the farmers and redecorated their houses, installing flush toilets and offering free bedclothes.
The Pans were one of the chosen families. In 2012, Pan redecorated her farmhouse and started a homestay, offering accommodation for skiers. "We farmers turned hotel owners in winter thanks to the ski resort. My restaurant is already doing a brisk trade in winter." Pan told Beijing Review.
According to Pan, her restaurant receives 40 to 100 customers every day during the skiing season, which keeps her busy and generates additional earnings of 50,000 yuan ($7,771.2) to 70,000 yuan ($10,879.7) per winter, tripling her yearly income.
Also, Pan's homestay creates jobs for other villagers. Pan hired five housewives to be waitresses. Sun Guolian is one of them. "I now have a permanent job in the winter. It makes my life much better," Sun told Beijing Review, adding that the job helped double her yearly income.
In fact, Pan and Sun are not the only beneficiaries of the ski resort. A total of 70 villagers nearby are now working in the resort. But things were not always like this. "Rural northeasterners preferred to maodong at home and were reluctant to find jobs in winter. Now, running homestays and working in the resort enables many villagers to work at or very close to home. More and more villagers are willing to be active in winter," Wang Yong, MMR's President, told Beijing Review. After the year 2015, more and more homestay owners spontaneously improved their facilities and services to attract skiers, added Wang.
Copyedited by Chris Surtees
Comments to linan@bjreview.com