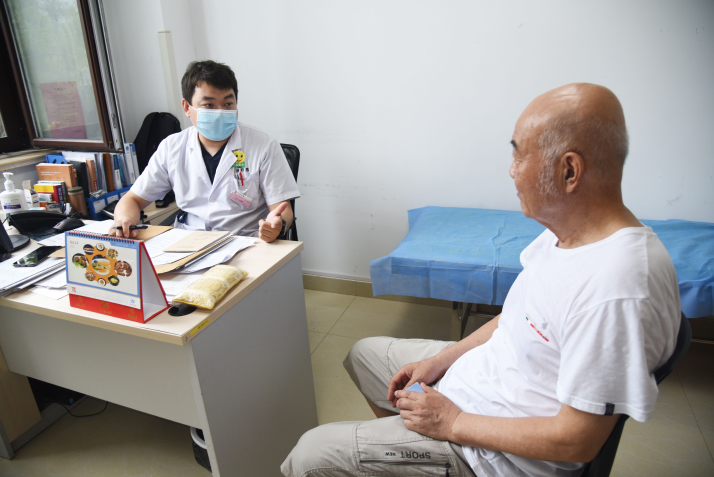 A medical worker at a nursing institution talks with a visitor in Qingdao, Shandong Province in east China, on July 22 (XINHUA)
Wang Shulan, 89, was unable to see her family face to face earlier this year due to the outbreak of the novel coronavirus disease. Even during the Spring Festival holidays, rather than having family get-togethers as in previous years, she stayed put at a nursing home in Changping District in Beijing.
But she didn't feel left out. With the help of the nursing home staff, she was able to use a smartphone to video chat with her family. That helped to assuage her solitude and her family's worries.
At the height of the epidemic, due to closed management, nursing home residents couldn't go out or have visitors. The staff recorded the seniors' daily life and shared the photos and videos with their families through social media app WeChat.
China had about 42,300 elderly care facilities nationwide, with a capacity of over 4.29 million beds, providing accommodation for nearly 2.15 million seniors, according to statistics released by the Ministry of Civil Affairs in July.
This year, these institutions, faced with serious challenges, have tried to come up with coping strategies in order to maintain sound operation and ensure that the elderly are well taken care of.
Smart care
Elderly residents at the branch of the Shouhoudajia Nursing Home in Chaoyang District in Beijing, were able to enjoy a healthy and happy life despite the epidemic.
According to the branch's president Tan Jiangyi, one of the biggest difficulties during the epidemic was accessing medical treatment.
The facility has strengthened its medical center which now offers around-the-clock service in cooperation with community clinics and large hospitals. Medical workers from hospitals visit the nursing home to treat patients, reducing their risk of infection during hospital visits. In addition, seniors can also get psychological counseling whenever they need it.
Intelligent devices are used to monitor seniors' health. The nursing home is equipped with a database system that includes everyone's health information for the staff to check easily.
Moreover, the elderly use intelligent mattresses that can monitor their sleep quality and heart rate, and raise the alarm if a person is away from bed too long during sleep hours.
To enrich seniors' indoor life, the nursing home organizes many activities. When the epidemic was the most serious at the beginning of the year, online social media platforms were important not only for disseminating information on epidemic prevention and control, but also for communication among the elderly, their family members and the staff.
"We teach residents how to use the smartphone when they first arrive, and now they have a lot of fun with the device," Tan told Beijing Review, adding that as they acquired more proficiency with smartphones, they began to propose new activity ideas.
The facility encourages seniors to record their life and post videos on platforms like Douyin, the domestic version of TikTok, to share with fellow seniors and family members.
The branch, opened in 2019, had fewer than 20 residents before the epidemic hit. Then it had to suspend the admission process. With the epidemic's containment in China, it has resumed its admission process. Currently, over 60 seniors live at the facility and it plans to admit more.
"Although the epidemic is not as severe as before, we will not relax our epidemic control and prevention measures," Tan said.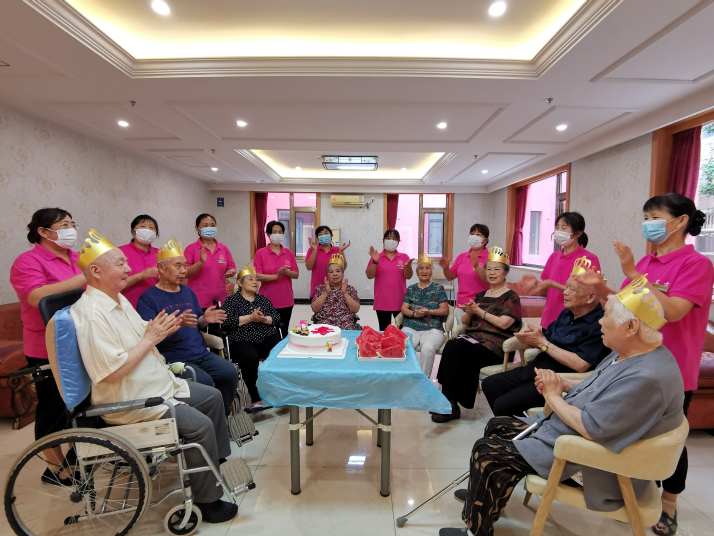 A birthday party is held at a nursing home in Chaoyang District, Beijing, on June 29 (XINHUA)
Turning the corner
For some nursing institutions, it has been difficult to withstand the blow of the epidemic. Happy Time Elderly Resort Center in Beidaihe, Hebei Province in north China, had to suspend its business this year. Unlike traditional nursing homes, it mainly accommodated seniors from across the country who want to stay short-term, usually for one or two months in summer to enjoy the cooler coastal weather. Many seniors with relatively high old-age pension like to travel around the country and stay at such care centers.
During the peak season from May to October, Happy Time can receive more than 2,000 seniors, according to Liang Xuedong, owner of the center. But this year is an exception. With no revenue, the center still has to pay rent, maintenance and staff wages. But Liang is confident about the future. "China is doing a great job in containing the virus. Hopefully our center will resume normal operation next year," he told Beijing Review.
Some nursing homes that have not suspended operation are facing rising costs and a decrease in customers. According to Zhao Zhi, a counselor on intelligent elderly care with Chinese IT company Dalian Hi-Think, some small nursing centers that didn't offer accommodation services now need to offer such services due to closed management during the epidemic, resulting in a rise in expenditure. Additional services have led to a strain on personnel, while increased manpower also increased costs.
To facilitate the recovery of nursing homes, local governments are lending a hand. For example, Beijing offered additional subsidies to nursing institutions from February to April. The government of Wuxi, a city in Jiangsu Province in east China, launched a policy that exempted up to three months' rent for elderly care service institutions suffering from operational difficulties due to the epidemic.
Currently, many nursing homes are gradually resuming operation and accepting new residents. Zhao said elderly care services should take long-term epidemic prevention and control measures.
Nursing homes should explore various options to meet the changing needs of the industry so as to survive and prosper in the market, Zhao added.
(Print Edition Title: A Happy Home )
Copyedited by Rebeca Toledo
Comments to luyan@bjreview.com