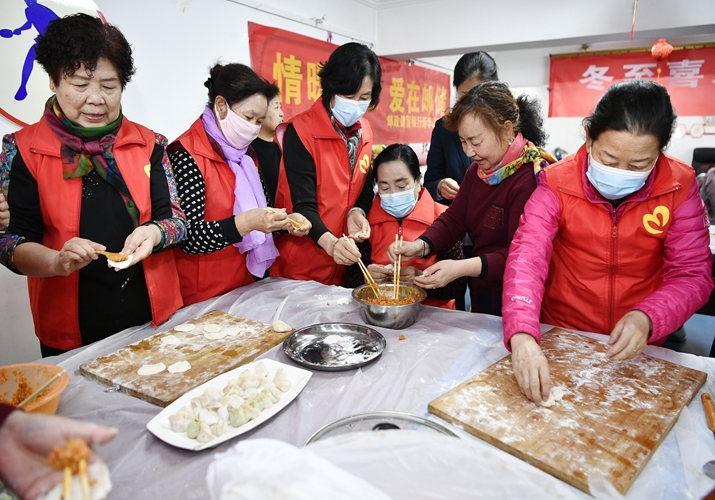 Volunteers and residents in a community of Yinchuan, Ningxia Hui Autonomous Region, northwest China, make dumplings on December 18, 2020 (XINHUA)
A decade ago, Xu Min began to volunteer at a community institution that provides services for people over 60.
In the 10 years, she has cared for 20 seniors, giving them company and comfort. "We grow into each other's family," she told Jiefang Daily.
Now, the organization, based in Shanghai, has been included in a time bank program. As a result, Xu, nearly 60 herself, can exchange her service hours for others' services when she needs them.
Time banking is a reciprocity-based work trade-off system. Under this, people can barter services for credits that can be used to obtain services from other members of the same time bank or cashed in for products.
In China, the concept was introduced about a decade ago but didn't do well despite pilot projects. However, now with the Chinese society aging further, the initiative is regarded as having potential to address the needs of the growing number of elders.
Way of mutual help
Many communities in Shanghai now have non-profit senior care organizations like the one Xu volunteered for.
The time bank has an applet on popular social media WeChat. Volunteers can log onto their account and check their "time coin." One hour of service gets them one coin; if the time exceeds one hour and 40 minutes, they get two coins. In principle, you get a maximum of two coins for each time you volunteer.
"Whenever I see the coins accumulating in my account, I feel a sense of satisfaction," Xu said.
The elderly or their family can request services via the applet and wait for volunteers to response.
"Everyone has a limited amount of time. I want to care for people and help them while I still have time and energy and share my life with them. Time waits for no one," said Yang Beifen, a time bank volunteer in Shanghai. She has served senior citizens from 60 to 106. Some of them are empty-nest elders with depression.
A 97-year-old, identified only by her surname Huo, is the latest elder Yang is volunteering for. Huo is in deep sorrow having just lost her son. Whenever she feels insecure or unwell, she gives Yang a call and Yang talks to her or assists her to take her medicines.
"My parents are not with me anymore, while granny Huo lost her son," Yang said. "The time bank model is also a way of mutual help, giving and receiving love and warmth."
"The core of the time bank is voluntary and altruistic services. It is based on the natural bond between human beings," Cai Jun, founder of Fanglin TimeBank, a technology company based in Wuhan, Hubei Province in central China that builds time bank systems, told Beijing Review.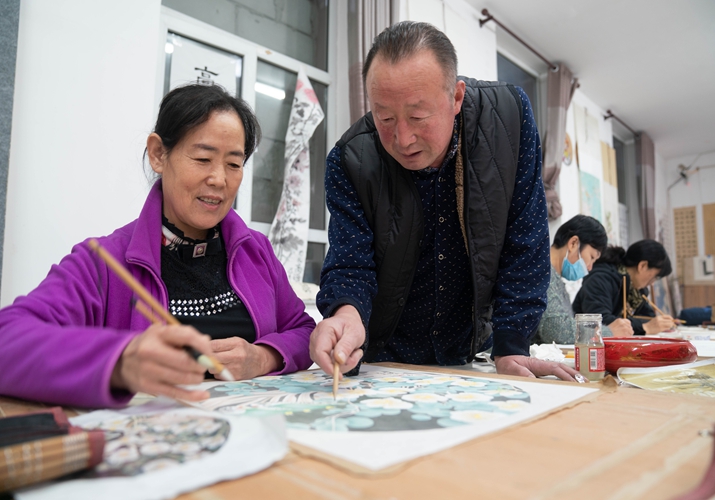 Residents learn painting at a center for seniors in Huanghua City, Hebei Province in north (XINHUA)
Nationwide programs
According to the Ministry of Civil Affairs, the number of people over 60 is set to surpass 300 million in China during the 14th Five-Year Plan (2021-25) period, meaning China will fall into the category of a moderately aging society.
The time bank model has been launched in many places in China. For example, about two years ago, the local government of Nanjing in Jiangsu Province, east China, started a time bank mostly involving volunteers and the elderly community. The city is one of China's earliest cities to become an aged society, and currently more than 20 percent of its population are over 60.
According to the city's pilot implementation plan on time banks released in 2019, volunteers mainly assist the elderly to take their meals, bathe, clean their apartments and address emergencies.
The city's civil affairs and health departments encourage medical workers to join the volunteer teams to offer their professional expertise to the senile elderly who can barely take care of themselves or those who have no family. Professional service institutions and higher education institutions also volunteer to provide medical training to the volunteers.
"We want the seniors to receive absolutely professional care," said Shi Xiulian, in charge of Nanjing's time bank program, adding that besides medical care, the training also includes nutriology and photography for the elderly.
When volunteers go to the seniors' apartment, they need to undergo facial and location recognition checks. "This ensures both the safety of the elderly and that the volunteers are actually providing services at specific locations," Yang Xinyu, head of a senior care center in Nanjing, said. Seniors who have difficulty using the time bank applet can go to the service station in their community to ask for help.
In December 2020, Liuduhe, a place 54 km north of downtown Beijing, opened the first village-level time bank service station in the capital. Besides claiming reciprocal services, volunteers can also use the credits they earn to get a meal at the local canteen for the aged.
According to Ma Naichi, Secretary General of the Beijing Elderly Volunteer Association, this time bank has distinct rural features. For instance, the volunteers can help senior villagers with farming.
Promoting reform
According to a report by the China Development Research Foundation, by 2022, people aged over 65 will make up 14 percent of the population. Another report by the Insurance Association of China and Chinese Academy of Social Sciences showed that from 2018 to 2019, over one tenth of this population were unable to perform basic functions like dressing, eating and bathing on their own; also, 25.4 percent of aged people required all-round care.
The time bank not only responds to the challenge of an aging population, but also promotes the overall development of voluntary services, said Li Sen, head of the Guangzhou Volunteers Association.
According to Wei Na, a professor of the School of Public Administration and Policy at the Renmin University of China, time banks can also tap the potential of relatively younger elderly who have enough time and energy after retirement to volunteer for the senile elderly who need help. "It is a low-cost strategy to deal with an aging society," she said.
Wei pointed out that the time bank model needs stronger policy guarantee, a unified information exchange platform, a comprehensive appraisal system and an operation institution with public credibility.
"The government should take the lead in promoting the time bank program and the society should actively participate," Wei said at a seminar in December 2020, adding that long-term investment, security and sustainability should be guaranteed.
Cai said while time banks can be an important force, for now, they are not a panacea for China's aging society. The government needs to ensure that the elderly get their pension and their basic needs are met, while the commercial market can play a role in meeting their higher level needs with customized services.
(Print Edition Title:

Time to Care

)
Copyedited by Sudeshna Sarkar
Comments to luyan@bjreview.com