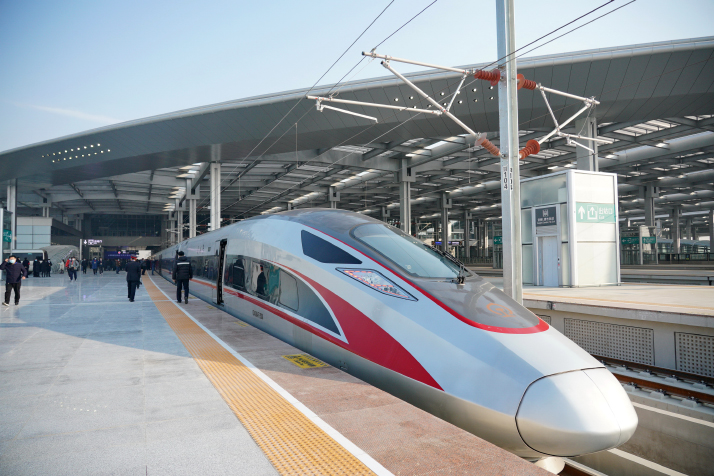 A bullet train is ready to set off from Xiongan Railway Station on December 27, 2020 (XINHUA)
It was a late proposal, a reversal of the set order of things, as it took place almost three months after the couple got married. It took place because the newlyweds would like to choose a perfect day for this event.
On December 27, 2020, when the very first train departed from Xiongan Railway Station in Hebei Province, north China, at 10:18 a.m., 25-year-old husband Hou Jiaming, decked out in his China Railway Construction Engineering Group (CRCEG) blue uniform paired with a safety helmet, proposed to his dressed-alike wife Zhang Jing in one of the train carriages.
Both employees of CRCEG, they met at the construction site and witnessed how the station was built from the ground up. And so, they decided to do something special on the first day the station would come into operation.
This special proposal was the highlight of the train's maiden journey. Passengers on board of the train, with every seat filled, were mostly Xiongan locals, workers involved in the railway construction and people who would keep the ticket as a souvenir. The terminal of the train is Beijing West Railway Station. Twenty minutes after this train departed from Xiongan, another one departed from Beijing West Railway Station, heading toward Xiongan along the new tracks.
Nineteen minutes away
When China announced to develop Xiongan New Area in Hebei in April 2017, there was no national railway in the area covering the three underdeveloped counties.
Now, occupying 475,200 square meters, the size of 66 football pitches, the Xiongan Railway Station is thus far the largest railway station in Asia. Designed into the shape of a dewdrop on a lotus leaf, the station has a "smart brain," referring to its hi-tech system using big data, cloud computing and artificial intelligence to automatically adjust temperature and humidity in the station, purify air and inspect key parts of the station, such as walls and ceilings, which greatly improves the safety performance and service life of these facilities.
The roof of the station is covered with photovoltaic materials, generating roughly 5.8 million kWh of electricity for the station. The walls within the station are all sound absorbent to minimize noise nuisance for travelers.
The construction of the railway commenced in early 2018, earlier than that of the station. It features six passenger stations along the line, three in Beijing and three in Hebei. The section in Beijing, connecting Beijing West Railway Station and Beijing Daxing International Airport, a new major transportation hub located on the border of Beijing and Langfang, Hebei, was completed at an earlier time and went into operation on September 26, 2019. So far, the section in Beijing has transported more than 220,000 passengers.
The operation of the completed line has shortened travel time between Beijing West Railway Station and Xiongan from two hours to 50 minutes; and the commute between Beijing Daxing International Airport and Xiongan to merely 19 minutes. "Most people in downtown Beijing can't get to the Daxing airport this fast," a Beijing resident surnamed Du said.
The new railway boasts various highlights, including an 847.25-meter-long fully enclosed noise barrier near Bazhou Station in Hebei, created to minimize the noise for those residential areas located along the railway. "This is the first time that a fully enclosed noise barrier of this type has been adopted in high-speed rail construction in China," said Zhang Tengfei, the China Railway Shanghai Bureau's project chief engineer.
The construction of the railway also adopted the most advanced intelligent steel-bar processing equipment, reducing labor intensity by a whopping 30 percent, and enhancing production efficiency by 1.3 times.
"Staff conducted 4 million so-called 'fatigue tests,' a number equivalent to simulating 40,000 trains passing per year during a total time period of 100 years, to guarantee railway quality," Zhang said.
Now there are 11 pairs of trains shuttling between Beijing West Railway Station and Xiongan Railway Station on a daily basis. From January 20 onward, this number will rise to 16. Different from many other express train tickets that come at fixed prices, the cost of this intercity train ticket may vary based on departure time. Train travel time also fluctuates based on how many stops it makes along the line.
This is the first major transport project linking Xiongan to a major city in the Beijing-Tianjin-Hebei region. At the end of 2019, authorities rolled out the additional plan to develop an intercity railway connecting Xiongan to Tianjin, another metropolis in north China.
Smart help
Xiongan New Area is currently still under construction with over 100,000 construction workers active across various sites in the area, according to China Youth Daily. "Normally we can't do anything in winter due to the bitter cold," a construction worker employed in Xiongan told The Beijing News, "But not this year, because Xiongan has adopted new materials that can withstand the freezing temperatures."
Designed as an area to take over the functions non-essential to Beijing's role as the country's capital so as to alleviate its overcapacity, Xiongan is expected to grow into an area of strategic importance.
Xiongan welcomes companies specializing in advanced technologies such as 5G and artificial intelligence to establish their offices there. Advanced technologies have been used throughout the construction process.
Yang Zhong, Assistant General Manager of Xiongan Group, overseeing construction in Xiongan, has enjoyed the conveniences 5G has brought him. With the 5G network, he is able to monitor the construction of 227 sites on his tablet in real time.
Enhanced by China's BeiDou Navigation Satellite System, the 5G network provides an accurate positioning service.
With the help of the positioning service, accurate up to the centimeter, the drones can monitor daily power line operations in Xiongan.
"What we do is just inputting the coordinates," said Hou Chao from the smart operation and monitoring team of the local State Grid branch, "The drones can then take off and land at their destinations automatically."
"The hi-tech industry will play a major role in Xiongan in the future," said Wu Hequan, an academician from Chinese Academy of Engineering. "Xiongan will also be a model smart city in China," he added.
(Print Edition Title: Faster, Closer and Smarter)
Copyedited by Elsbeth van Paridon
Comments to yuanyuan@bjreview.com