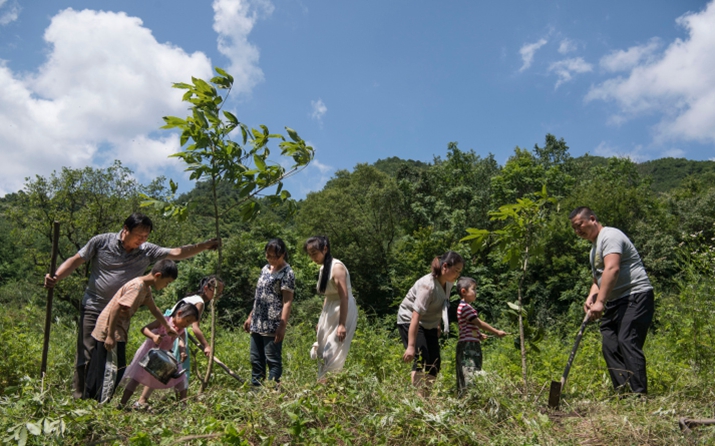 Yao Zuyuan (right) plants trees with other family members in Liuba County, Shaanxi Province in northwest China, on March 12, 2019
(XINHUA)
Using a laptop for an hour—13 grams. Watching television for an hour—96 grams. Taking a bus for a km—8 grams. This is the list Hu Jing makes each day when calculating the carbon dioxide emissions of her daily activities.
"My home activities alone can release over 1,000 kg of carbon dioxide each year," Hu, a resident of Shenzhen, Guangdong Province in south China, told Shenzhen Evening News. "Planting trees is a good method to deal with this. In my case, at least 70 trees need to be planted to offset the carbon dioxide released by my activities."
Every March, Hu travels with friends to plant trees in Dapeng, a seaside district of Shenzhen. In 1979, March 12 was set as China's Arbor Day, or National Tree-Planting Day and, in 1981, the country launched a nationwide tree-planting campaign, suggesting that every able-bodied citizen between the ages of 11 and 60 should plant three to five trees per year.
In recent years, tree-planting has become a popular spring outing for Shenzhen residents. Areas designated for tree planting are usually located in picturesque suburbs with beautiful sceneries. The saplings and tools are already prepared for visiting volunteers, who can also go sightseeing after planting trees.
However, planting three to five trees per year is not enough to reach Hu's green goal. She also uses Ant Forest, a mobile app launched by China's e-commerce giant Alibaba that rewards users with virtual energy credits when the users take low-carbon actions, such as walking or using public transport instead of driving. After users receive a certain number of credits, a real tree is planted on their behalf in the desert of China. Users can check the location of their trees using a map included in the app.
Use of the app has grown rapidly since its launch in 2016, and by October 2020, it had attracted 550 million users, many of whom are members of China's younger generations.
A four-decade campaign
It has been 40 years since China adopted its national tree-planting initiative. Liu Dongsheng, Deputy Director of the National Forestry and Grassland Administration, recently told Xinhua News Agency that the forest coverage in China has increased from 12 percent in the early 1980s to 23.04 percent at present. By 2025, China aims to further increase its forest coverage to 24.1 percent. Currently, China's artificial forests are ranked first in the world by area.
This is no easy achievement, as many of the greened areas were formerly barren mountains and deserts. When Yao Wuchen moved with his family to Liuba County, a mountainous area of Shaanxi Province in northwest China in the 1930s, he could hardly see any greenery around. In late 1949, when the county encouraged locals to plant trees in mountainous areas as part of national greening efforts, he was among the first group to take action.
Since then, tree planting has become a life-long mission for the five generations of Yao's family. It is a tradition in the family that each member joins in the tree planting from childhood. Now the forest coverage rate of Liuba County surpasses 90 percent.
Younger members of the family not only planted trees, but also developed under-forest economy. Yao's grandson, Yao Huilin guided locals to plant American ginseng as a means to increase income, and Yao's great-grandson, Yao Zuyuan, born in 1986, took the lead in planting valuable herbs.
National projects
Like the Yao family, many people across the country have contributed to China's green mission.
At 56, Zhang Hongjun has worked for 35 years planting trees on a forest farm located in Yanbian, an autonomous prefecture in Jilin Province in northeast China. Decades ago, the area was covered by forest, but more than two decades of logging by loggers including Zhang's father had greatly reduced the number of trees there.
However, after China's launch of a nationwide campaign to protect natural forests in 1998, many loggers left the farm, and Zhang decided to stay to take part in reforestation activities. Through the efforts of Zhang and his coworkers, forest coverage in the area now exceeds 98 percent.
"Many former lumberjacks have become tree planters and tree protectors, along with their children and grandchildren," Zhang said. "The pine nuts and mushrooms in the forest have become a source of extra income."
As the country develops, tree planting and forest management have also become more modernized. Planes, drones and motorcycles are now used for aerial seeding and patrolling in many forest farms in China. The country has hired over 1 million impoverished people to take part in its afforestation and conservation campaign.
But the government-run green initiatives have not always been smooth. One program initiated to curb desert expansion and control sandstorms in China's northern, northeastern and northwestern regions is known as the Three-North Shelter Forest Program. Initiated in 1978, the program has experienced multiple setbacks and ignited debates during its 40 years of operation.
The program has created the largest man-made forest on Earth and has engaged millions of people in tree planting. The whole project is planned to continue until 2050, with the fifth of the program's eight stages ending just last year. In the first few years, poplars were the only type of tree planted in the area. Poplar trees grow fast and can rapidly increase the forest stock, but the mass planting of poplars also brought problems, including large groundwater consumption, the spread of pests and worsening erosion.
These problems caused concerns among scientists and also raised questions on whether the project was effective in its goal of mitigating desertification. Later, as the tree species planted were diversified, the situation began to improve. "In the early stages of China's afforestation, more efforts have been made to produce quantity rather than quality and this has caused many problems," Liu said.
This lesson has been learned in afforestation work carried out in other desert areas and has created many miracles. One example is Saihanba, a desert area in northern Hebei Province, which has been turned into a 1,000 square km national forest park.
A drone patrols over woods in Fenghuangling, a suburban area in northwest Beijing, on May 1, 2020 (XINHUA)
New goals
On September 22, 2020, President Xi Jinping made the commitment at the General Debate of the 75th Session of the UN General Assembly that China would peak its carbon dioxide emissions before 2030 and achieve carbon neutrality before 2060.
On December 12 last year, in a video speech at the Climate Ambition Summit, Xi detailed that by 2030, China will lower its carbon dioxide emissions per unit of GDP by over 65 percent from the 2005 level, increase the share of non-fossil fuels in primary energy consumption to around 25 percent, increase China's forest stock volume by 6 billion cubic meters from the 2005 level, and bring its total installed capacity of wind and solar power to over 1.2 billion kilowatts.
The phrases "peak carbon emission" and "carbon neutrality" were both included in the government work report delivered by Premier Li Keqiang at the Fourth Session of the 13th National People's Congress on March 5. This was the first time the two phrases have appeared in a government work report, and they soon became hot phrases at the annual legislative session.
China's efforts in afforestation have been noted worldwide. A World Bank report issued in July 2020 said that in the past three decades, the global forest area has shrunk remarkably, with the only exception being in East Asia, which saw an increase in forest cover due to China's successful afforestation and greening program.
In October 2020, a study released in Nature, the British science journal, pointed out that the role of China's tree-planting programs, especially in its southwestern and northeastern regions, in enlarging the country's carbon dioxide absorbing capacity and mitigating global warming might have been underestimated.
Liu revealed at a press conference in December 2020 that forests in China now store 9.2 billion tons of carbon. "Carbon storage by our forests now rises by over 200 million tons annually, which translates into roughly 700-800 million tons of carbon sinks. In the next five, 10 or more years, the carbon sinks in our environment will increase," Liu said, also noting that forest coverage and stock have both been on the rise for 30 consecutive years.
China's revised Forest Law, concerning sustainable forestry development, took effect on July 1, 2020. The law enhances protection for natural forests, public benefit forests, and ancient and rare trees. It also improves systems for preventing and fighting forest fires, and controlling pests.
The National-Tree Planting Day has been enshrined in the revised law to raise people's awareness of forest protection. People's obligation is not limited to planting trees, but has been expanded to include other related aspects such as tree care and management, and forest protection.
Despite all of these achievements, China still has a shortage of green land, its ecological environment is still fragile, and imbalances and insufficiencies in land greening are still a major problem, Liu said.
In the 14th Five-Year Plan (2021-25) period, China will work hard to solve key issues to improve high-quality development of afforestation, including making scientific plans for tree plantation areas, setting reasonable goals for afforestation in different areas, balancing water resources and tree plantation, and making more efforts to protect forests for sustainable development, Liu said.
(Print Edition Title: Sowing the Seeds of Success)
Copyedited by Garth Wilson
Comments to yuanyuan@bjreview.com