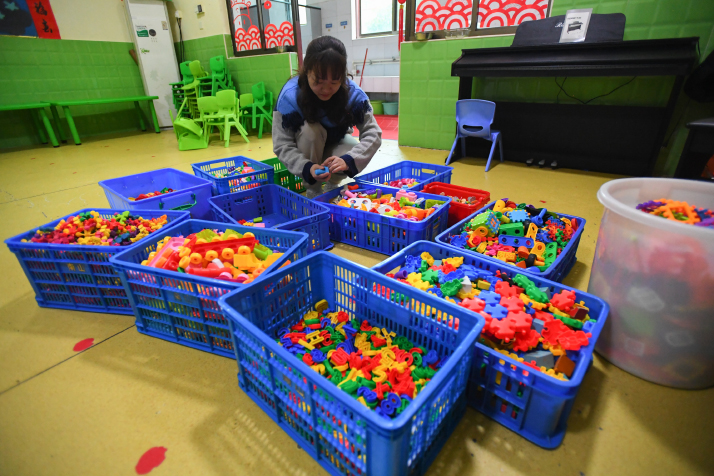 Toys are disinfected at a kindergarten in Changsha, Hunan Province in central China, on February 26 (XINHUA)
After inspecting the three classes in his kindergarten, Li Ming, head of the preschool institution in Anding, a village in Yunnan Province, southwest China, feels satisfied.
The tots wanting to use the toilet were waiting patiently in a line, instead of rushing toward it. Then they washed their hands thoroughly before eating. They have also learned to sing in unison before the classes start, and be quiet in class and pay attention to the teacher. Seeing the progress, Li feels they have acquired the basic etiquette for primary school and life beyond that.
Only four years ago, there was no kindergarten in the village. Children aged between 3 and 5 years were sent to the nearby township for early education if their families could afford it but most stayed at home. So if their parents or grandparents were not at home or were too busy to teach them the basics, their early education years were wasted.
In 2017, the local government spent more than 3 million yuan ($460,000) to convert a primary school no longer in use into a kindergarten. Besides adding rooms and furniture, slides and swings were installed in the playground. Preschoolers started coming in. They are taught the basics through games, drawing and singing and dancing.
Today, there are 83 kindergartens for the 79 villages in the county, meaning each village has at least one.
Five-year boost
The 13th Five-Year Plan (2016-20) gave a boost to preschool education. According to Ministry of Education (MOE) statistics, there were 291,700 kindergartens in China as of 2020, enrolling 48 million students. It was an increase of 30 percent and 13 percent respectively compared with 2015, when the previous five-year-plan period ended.
Since 2015, the family planning policy has been adjusted so that all parents can have a second child, which has increased the demand for kindergartens. In 2018, the State Council issued a guideline to regulate the development of preschool education, following which a special fund was allotted. The Central Government has invested over 80 billion yuan ($12 billion) to encourage local governments to establish and improve public kindergartens and support the development of affordable private ones. An affordable private kindergarten is one whose fee structure follows government guidelines and though costlier than a public one, is still low cost compared with other private ones.
In China, many kindergartens are supported by the communities they are in and they are regarded as important public service resources. However, in reality, many such kindergartens have become for-profit, charging high fees. To rein them in, in 2019, the MOE and five other government agencies
carried out a campaign to ensure they are run as either public kindergartens or affordable private ones.
For example, the Mingfa Dongfang Kindergarten in Nanjing, capital of Jiangsu Province in east China, used to charge a monthly tuition of 2,500 yuan ($384). But under government subsidy, it pared back the fee to 1,170 yuan ($179).
To standardize the fees, Nanjing implemented a new policy last year. Its public kindergartens charge 800 yuan ($123) per month. An affordable private one can set its fee at 50 percent more. To recompense any losses they might suffer, they are given a subsidy of 2,200 yuan ($337) a year for each student.
Parents with a second child are particularly thankful for the policy. A parent told People's Daily that with a second child and increased financial pressure, the policy means they can get the child admitted to a reasonably good place.
Kindergartens are an important channel for teaching culture and history, not only to the children but their parents as well. At the Fengdong New Town Kindergarten in Xi'an, Shaanxi Province in northwest China, the focus is on traditional Chinese culture, according to its head Liu Fengmei.
On any day, visitors may find children exercising in the yard under the watchful eye of a teacher, or learning Chinese ink painting, paper cutting and making clay figures on the second floor.
Located in a town with rich culture and a history of more than 2,000 years, the kindergarten, opened in 2015, holds sessions for parents regularly. "They enable us to learn about the culture of the town and pass it on to our kids," Zheng Xin, a mother whose child attends the kindergarten, said.
In addition to supporting affordable kindergartens with subsidies, the government also offers training to teachers in these institutions.
Pang Xuyang is a teacher with a kindergarten affiliated with the Beijing Normal University in the capital. She has been in the profession for 11 years and receives training provided by the government three to five times a year.
Pang told People's Daily that the training is customized, ranging from preschool education theories to kindergarten management.
What she is most interested in is training on teaching method research. She has done research on her own after the training, studying the characteristics of preschool children to improve her teaching.
She has also used what she has learned from the training to help parents improve their teaching methods. Researching children aged between 3 and 6 who read together with their parents, she found the mothers spend more time reading with their children than the fathers. Since the father's involvement in child education is also important, she encourages children to tell stories to their fathers so that the latter will be motivated to take part in parent-child activities more often.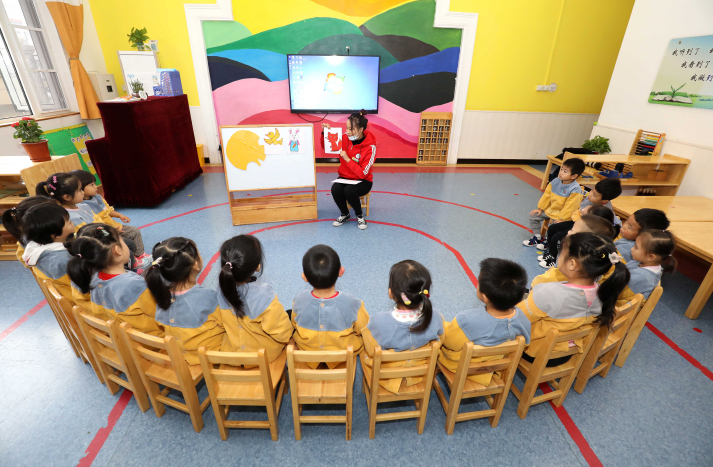 (Up) A kindergarten class in Shijiazhuang, Hebei Province in north China, on March 19 Toys are disinfected at a kindergarten in Changsha, Hunan Province in central China, on February 26 (XINHUA)
Lack of teachers
In spite of the increased accessibility to affordable institutions, preschool education remains the weakest link in China's education system, with its development still unbalanced and hampered by a lack of resources.
Ensuring enough teachers for kindergartens remains a priority of preschool education. It is estimated that as more rural children migrate to cities with their parents and some teachers leave the profession, there will be a demand for 1 million more kindergarten teachers in the next five years.
To retain teachers, experts suggest ensuring their salary and benefits and for schools higher than the county level, the local governments should pay teachers' salaries.
The government work report presented by Premier Li Keqiang on March 5 at the annual legislative session emphasized that the government will promote more equitable and higher-quality education. There will be integrated development of compulsory education in both urban and rural areas and the basic conditions of rural schools will be improved. A long-term mechanism to ensure teachers' salary payments and improve the pay packages of teachers in rural schools will be refined.
"We will raise the preschool enrolment ratio, improve the mechanism to support public-interest pre-school education, and support private actors in running kindergartens," the premier said.
(Print Edition Title: Lessons for Life)
Copyedited by Sudeshna Sarkar
Comments to jijing@bjreview.com