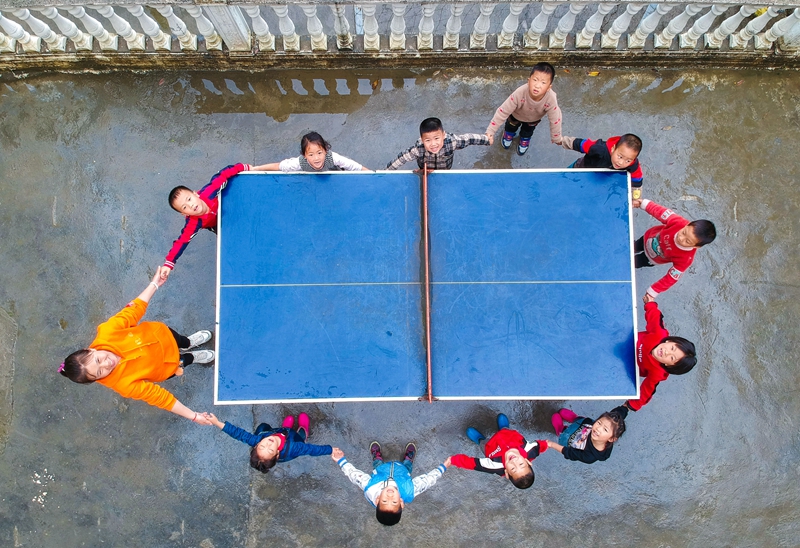 Ou Shuiqiong takes a photo with her preschool students in a village kindergarten in Youyang Tujia and Miao Autonomous County, Chongqing Municipality, on May 13 (WEI YAO)
After breakfast, Li Tianchao, a 6-year-old boy, and his older sister will walk a few hundred meters to Xiaoxian Primary School, where he attends the affiliated kindergarten. Along the way, he will meet his classmates popping out from the old wooden houses scattered along the mountain road.
Located in the southeast of Chongqing Municipality and bordering the provinces of Hubei, Hunan and Guizhou, Li's hometown of Dabanying Village in Youyang Tujia and Miao Autonomous County, has long been poor due to its remote location.
The kindergarten that Li goes to has only one class of 12 children, aged 3 to 6. Most of them are village residents and walk to school by themselves every day. Some who live several hours away in the mountains choose to board at the school.
Li's parents, like many other villagers, used to be migrant workers in Guiyang, Guizhou Province. They returned to the village two years ago to look after their children.
Rooted in mountains
Initiated in 2012 by the China Development Research Foundation (CDRF), the mountain-village kindergarten project has established 3,000 new facilities across the isolated areas of 11 provinces, municipalities and autonomous regions. Cooperating with local governments, enterprises and nonprofit organizations, the project has benefited more than 200,000 children.
In 2019, the kindergarten was established in Li's hometown. Ou Shuiqiong, Li's 24-year-old teacher, is also the only one who works in this kindergarten. She was born in Youyang and became a village teacher six years ago after graduating from a secondary vocational school. When the kindergarten was established, she volunteered to teach there.
The road from school to town is a winding, bumpy mountain road, which, thanks to a minibus service, would otherwise take two or three hours to traverse on foot. Teachers sometimes take the minibus to shop, get deliveries or take training courses. Otherwise, Ou and eight primary school teachers will live on campus almost year-round, except for holidays.
Xiang Jie may be the child that Ou has the most contact with in daily life. His parents are migrant workers and his home lies far away from the kindergarten. Consequently, he and his older sister now board at the school and only go home on weekends.
Ou looks after him after school. She told Beijing Review that Xiang, who is a little introverted, is much more outgoing compared with the time when he first entered the kindergarten some two years ago. He has learned to get along with others and will help his friends with a warm smile on his face.
Similar to kindergartens in urban areas, Ou teaches in Mandarin, and there are plenty of teaching aids, toys and books available. Each student also has a wooden bed to take a nap.
However, China's preschool teachers are few in number and uneven in development. Across China's rural areas, especially those remote mountainous areas, there is a lingering need for more teachers like Ou, willing to settle down and take root in the mountain villages.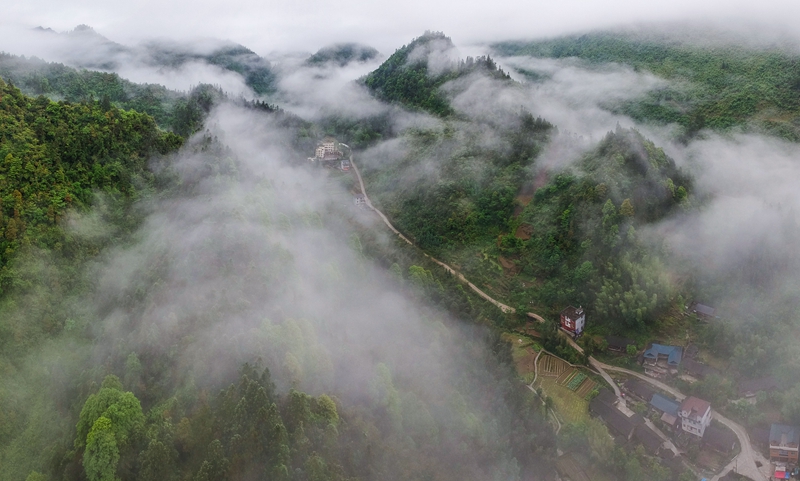 Dabanying Village in Youyang Tujia and Miao Autonomous County in Chongqing Municipality, on May 14 (WEI YAO)
Preschool priorities
In 2018, opinions on the implementation of a rural vitalization strategy released by the Communist Party of China (CPC) Central Committee and the State Council prioritized preschool education as an important part of developing rural education. In 2019, the Ministry of Education proposed to increase the support for the private sector to run kindergartens. A growing number of organizations such as the CDRF are involved in rural preschool education. They are working with local governments and enterprises to promote the establishment of more village-level kindergartens.
According to the foundation, preschool education is key to a student's learning and skill-adaptation abilities, given some 50 percent of human intelligence development is completed before the age of four.
In Ledu District of Haidong City, Qinghai Province, where the CDRF piloted rural kindergartens, the foundation tracked the academic performance of more than 8,000 children who had benefited from the preschool project after entering into compulsory education.
The study showed that among the top 40 percent students, more than 70 percent had been enrolled in kindergartens in villages established by the foundation. These children had faced unfavorable circumstances such as being left behind in overall poverty, and a considerable number of them may not have had any chance to attend kindergarten had it not been for the project.
This September, Li and Xiang will become primary school students, but the bricks for their future were laid in this small village kindergarten.
(Print Edition Title:

Laying Bricks For the Future

)
Copyedited by Elsbeth van Paridon
Comments to weiyao@bjreview.com