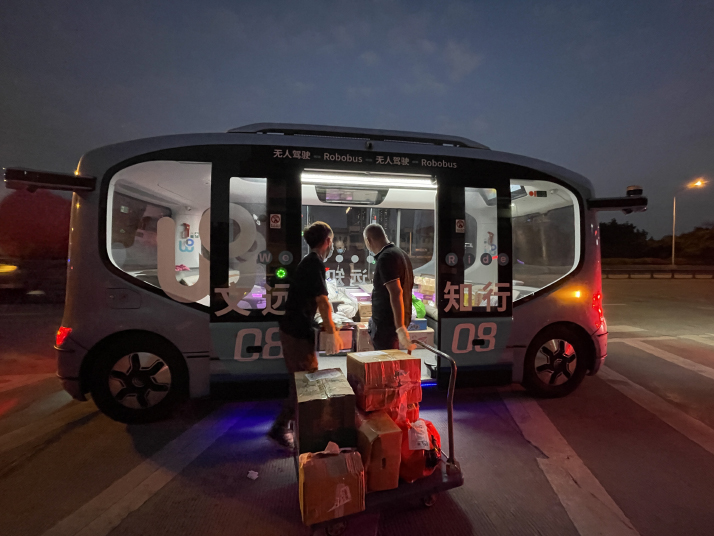 A robobus of autonomous driving company WeRide delivers daily necessities to an area under lockdown in Guangzhou, Guangdong Province, on June 6, as part of COVID-19 relief efforts in the city (COURTESY PHOTO)
Following the latest detection of locally transmitted cases of the new Delta variant of the coronavirus in Guangdong Province, Guangzhou, the provincial capital with over 18 million people, has reported more than 130 confirmed infections since May 21. The city's worst-hit Liwan District has imposed strict lockdowns on certain streets. Several other areas are not letting people in or out of certain zones and residents are not allowed to leave their buildings. A number of 24/7 checkpoints have been set up to monitor movement in and out of these areas.
With the new lockdowns, comes the necessity for the swift supply of daily basics, offering artificial intelligence (AI) the opportunity to take on some social responsibility. Guangzhou-based autonomous driving company WeRide dispatched its driverless fleet, composed of both sedans and minibuses, volunteering to provide many of those in lockdown with their daily necessities, eliminating the risk of jeopardizing delivery staff's health, Jackson Lam, Director of WeRide's International Development, told Beijing Review.
On June 4, the fleet kicked off its driverless mission by delivering food, daily necessities, baby formula, and medicine to those in lockdown. A total of 279 consignments were completed on June 6.
Competitive edge
Founded in 2017, WeRide was officially granted the permit for ride-hailing operation on February 9, becoming China's first autonomous driving company with this qualification. Its rapid development is largely attributable to the favorable climate for entrepreneurship in the greater bay area (GBA) in the Pearl River Delta, where huge investment is directed to development, infrastructure, and facilities that can support considerable growth in technology capabilities.
The GBA spreads across nine cities in the mainland province of Guangdong and Hong Kong and Macao special administrative regions. It has a population of 70 million people and is expected to be home to 100 million by 2035. In the last few years, it has become an economically successful region that is attracting talented engineers as well as significant amounts of investment. According to China's 14th Five-Year Plan (2021-25), the area is an important part of the national economic development strategy.
The potential of this mega-region is unparalleled. Not only does the GBA account for 13 percent of China's economy with just 5 percent of the country's total population and less than 1 percent of its total land area, but it's also the bay area with the fastest growing economy in the world, according to CTB Research.
The strategy to develop the GBA into an international innovation and technology hub with global influence, as the 14th Five-Year Plan puts it, is to attract talent at the forefront of science and technology, and to nurture science and technology enterprises that are in line with the national economic development goals and have strong market recognition.
Progress toward achieving these pillars will depend on properly blending three ingredients: technology output, financing capabilities and AI-driven industrialization. In turn, these ingredients are the specialties of the GBA cities.
Pedal to the metal
In the 1980s classic movie Back to the Future, the car aka the DeLorean is a time machine. Fast forward roughly three decades and the "actual" future of 2021 brings us not time travel, but smart travel.
Smart mobility is the connection of various elements of technology and mobility, a rethinking of the transportation infrastructure used in daily life and business. Not only does this include the use of gas-powered and electric vehicles, and public transportation systems, but also completely new modes of transportation like on-demand ride sharing services and car sharing programs.
Changes in consumer behavior, like the decline in private car ownership coupled with the rise of completely new mobility options, are rapidly changing the way people are getting around. Concerns around pollution, traffic congestion, loss of productivity and of course money have made this idea gain traction in recent years.
WeRide opened its Robotaxi service to the public in November 2019 in Guangzhou's Huangpu District and the Guangzhou Development District, covering some 144.65 square km. Incorporating the company's self-driving algorithm WeRide ONE in the Robotaxi, which supports self-driving under different scenarios and weather conditions on open urban roads, the fleet increased to more than 100 driverless vehicles in April 2020, and reached a milestone of over 5 million km of open road tests as of May.
In January, WeRide won approval to expand its test-driving area onto the roads of Guangzhou's Haizhu District, marking the first time autonomous driving road tests were allowed into urban centers in China with busy roads, Lam said.
Nevertheless, the mere concept of stepping into a car without an actual human behind the wheel does tend to raise a question mark or two, even in this digitally empowered age. Road-testing safety always comes first, especially when it comes to densely populated urban centers, Lam stressed. But statistics indicate that the vast majority, up to 94 percent, of traffic accidents are caused by human error, he added.
People's modes of mobility are changing. Everything from daily life to work is increasingly "on the go," with residents wanting to move seamlessly from one mode to the next, without interruption. Their priorities are shifting. No one wants to deal with the lack of parking space, or hours spent sitting behind the wheel waiting for traffic to move two inches, Lam added. Being able to just sit down and continue doing what you were doing, with AI dropping you off at your next stop, for example, eliminates these daily nuisances.
Robots and relaxation
Founded in 2007 and headquartered in Dongguan in the GBA, Guangdong Topstar Technology Co. Ltd. is the first-listed core robot enterprise in Guangdong.
Topstar's corporate mission is to "make industrial manufacturing better" and commits to the innovation and application of industrial manufacturing automation. Through intelligent equipment with industrial robots, it provides turnkey solutions for smart factories.
As of late 2020, the company had set up more than 40 offices across the country, reaching more than 150,000 customers and serving more than 10,000 businesses, according to Topstar's official data.
Leading AI firm iFLYTEK set up its south China headquarters in Guangzhou in 2015, another prime example of the city's efforts to propel its AI development to the forefront of the global stage. The company veers on the cutting edge of technological development and continues its pursuit of upping the AI game in terms of voice technology, natural language processing, machine reasoning and adaptive learning. In 2019, iFLYTEK became the exclusive supplier for the Official Automated Translation Software of the Beijing 2022 Olympic and Paralympic Winter Games. No need to worry about bringing that online dictionary anymore.
In times of COVID-19, too, the intelligent voice industry can prove highly useful, according to Yan Qingxi, iFLYTEK GBA Office Business Representative. As many around the globe still need to maintain their social distance, iFLYTEK introduced the dual-screen translator in May, "enabling users to achieve two-way display and simultaneous audio-visual on the host and guest screens without any other operations during the communication process, thereby achieving simultaneous interpretation/translation effect," the official announcement read.
Relax, and let your AI do the talking.
(Reporting from Guangdong Province)
(Print Edition Title: Tech Drivers in the Greater Bay Area)
Copyedited by Ryan Perkins
Comments to yanwei@bjreview.com