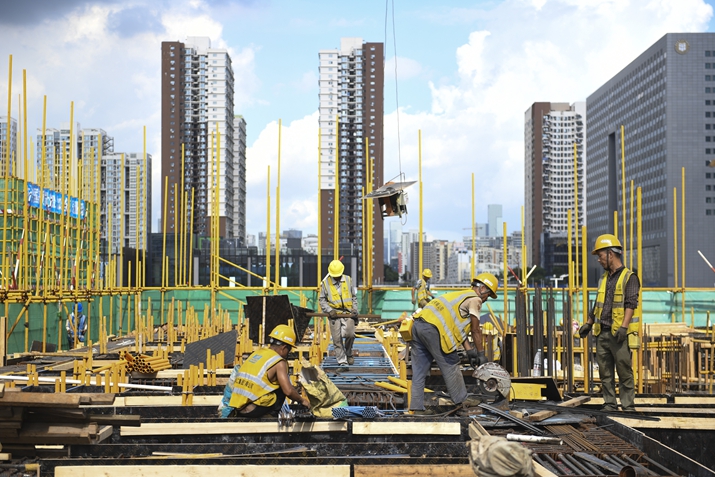 Workers at the construction site of a transaction center in Qianhai, Shenzhen, Guangdong Province, on September 8
(XINHUA)
During his days working for the local government and an accounting firm in his hometown of Hong Kong, Lo Yuenlai cherished an entirely different professional dream—to work in the field of technology and innovation. After learning about the opportunities opening up in Shenzhen, Guangdong Province, the young man decided to give it a go.
"Compared with Hong Kong, the mainland features a larger space with more diversified industries that can broaden my horizon. That's what attracted me most," the 25-year-old told Beijing Review. He has been working in Shenzhen for almost two years now, at a hi-tech company focusing on machine vision in the Qianhai Shenzhen-Hong Kong Youth Innovation and Entrepreneur Hub (E Hub) located in Qianhai, a special economic zone in Shenzhen just across the water from Hong Kong Special Administrative Region (SAR).
Established in December 2014 and jointly operated by the zone's administrative authorities, the Shenzhen Youth Federation and the Hong Kong Federation of Youth Groups, E Hub is a successful case of Guangdong-Hong Kong cooperation. It is also an important part of the plan for comprehensively deepening the reform and opening up of the Qianhai Shenzhen-Hong Kong Modern Service Industry Cooperation Zone (the Qianhai plan) issued by China's central authorities in early September. The plan expands the area of the Qianhai zone by eight times, from 14.92 square km to 120 square km.
Similarly, a plan for the creation of a Guangdong-Macao in-depth cooperation zone in Hengqin (Hengqin plan) was also issued in the same month. Together, the two plans provide a broader, more convenient and higher-quality environment for residents of the mainland and both SARs to live, invest and work in, said Leung Chun-ying, Vice Chairman of the National Committee of the Chinese People's Political Consultative Conference, at an online seminar on September 13.
They also offer more diversified development prospects for enterprises in Hong Kong and Macao, and allow for multinational companies and the international community to seek business opportunities across the vast mainland market, Leung added.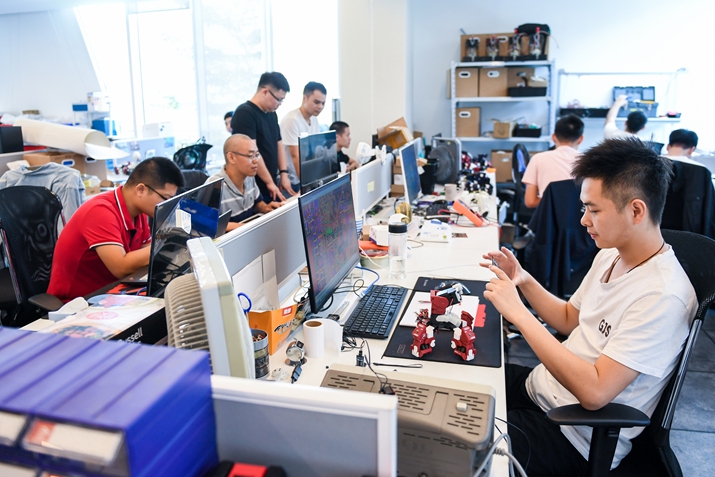 A technology company in Qianhai on October 25, 2018 (XINHUA)
Four years after settling in E Hub, BMTek, where Lo works, has gone through an unprecedented growth spurt. Its staff has grown from a mere seven members at the very beginning to the current number of more than 100. At this time, the innovation and entrepreneurship-friendly E Hub has attracted over 500 companies like BMTek and drawn in more than 3,600 professionals from the two SARs to come chase their dreams in the area. Nearly half of these companies are from Hong Kong.
E Hub-based businesses can enjoy rent discount and other subsidies from both the municipal government and the hub's authority, Lo explained, adding that the zone's regular industrial exchange activities can be a good way for companies and employees alike to reach new levels.
The Qianhai zone was approved in 2010, with the intention of developing it into a demonstration area epitomizing Guangdong-Hong Kong innovation cooperation in modern industry.
Chief Executive of Hong Kong SAR Carrie Lam believed that the enactment of the national security law in Hong Kong, improvements to Hong Kong's electoral system, the 14th Five-Year Plan (2021-25) and the newly released plan for further developing the Shenzhen-Hong Kong cooperation zone in Qianhai all combined will spur the region's economic growth.
The 14th Five-Year Plan has dedicated an entire chapter to outlining the various strategies to support Hong Kong in improving its status as a global financial, shipping and trade hub; bolstering its offshore renminbi business, wealth management and risk management; and developing the region into a legal and dispute resolution center, as well as a provider of high-end and high value-added services.
Qianhai will take on a leading role in the development of the Guangdong-Hong Kong-Macao Greater Bay Area, according to the Qianhai plan. The Greater Bay Area, covering nine Guangdong cities and two SARs, is an economically open region aimed at facilitating China's comprehensive reform and opening up, economic restructuring, and technological progress.
A total of 11,500 Hong Kong-invested companies have been registered in the zone, with registered capital reaching 1.28 trillion yuan ($198 billion), according to official data released in late August.
Qianhai and Hong Kong come with complementary functions, Paul Chan, Financial Secretary of the Hong Kong SAR Government, said, adding that the Hong Kong SAR Government will work together with the relevant financial authorities and regulators to formulate strategic plans and specific policy arrangements for Hong Kong's future development as a primary international financial center.
The plan not only gives full rein to Hong Kong's long-held advantages in terms of high-end professional services, and elevate the function of the Qianhai zone, but also promotes the long-term expansion of Hong Kong's professional services, Lam said.
Hong Kong will capitalize on its own advantages to help stimulate the full liberalization of trade in services in Qianhai, create greater mutual access to the financial markets and reach a higher level of opening up in legal matters. These actions will generate more space for the development of professionals in different sectors and enterprises in Hong Kong, Lam said.
However, there are still many Hong Kong professionals reluctant to work on the mainland due to the relatively low income. And many of these experts are working in high-paying fields like hi-tech or healthcare, according to Lo.
"I chose to come here because I believe in the potential of my company and industry. Also, my different business trips allow me to explore more regions across the vast mainland and gain more experience," Lo said, adding that right now many of the companies in the hub are startups or small enterprises. If more large companies enter the zone, it will boost the willingness of more professionals to settle down here.
Like Qianhai, Hengqin, too, banks on its geographical advantage to enhance regional cooperation. Hengqin is the largest island of Zhuhai in Guangdong. The island is adjacent to Macao, separated from it by a river with the closest points between the two no more than 200 meters apart, and is also across the water from Hong Kong. Hengqin connects with the two SARs via bridges, as well as water and air transportation. Hengqin covers an area of 106 square km, over three times the size of Macao. Right before a new area was set up there in 2009, the island was made up of one town, three communities and 12 villages and had a population of a little over 7,000. The number of its inhabitants grew to 85,690 as of the end of 2020, according to official data.
Hengqin was selected to become a new area in order to enhance economic ties with Hong Kong and Macao. On August 14, 2009, the State Council approved a plan on the overall development of Hengqin, and later decided that it can enjoy more preferential policies than special economic zones in terms of legislation, customs clearance, tax and finance.
Given the limitation of Hengqin's physical space, it has carefully selected the industries it will nourish. Hengqin chooses the key industries to encourage based on multiple factors, including its own development base as well as neighboring Macao's industrial advantages and social expectations, said Cong Liang, Vice Chairman of the National Development and Reform Commission, the nation's top economic regulator. The Hengqin plan helps Macao to cultivate a more diversified economy and leverage its advantages in such industries as health, modern finance, hi-tech, exhibitions and trade, culture and sports.
"The plan gives us room to explore," said Hazel Wong, a young woman from Macao who founded an online medical care company three years ago in Hengqin. She made the most of the area's advantages on offer to develop her own medical tourism business as well as an online base for traditional Chinese medicine in the region.
Hengqin welcomes job-generating businesses. "Industries and businesses that boost employment are what we want," Cong said.
According to the plan, young professionals from Macao who start up their own businesses in Hengqin or are employed in fields of innovation there will gradually be able to enjoy supporting policies from both Macao and Guangdong. Further measures to encourage businesses in the cooperation zone to recruit young talent from the SAR is in the pipeline.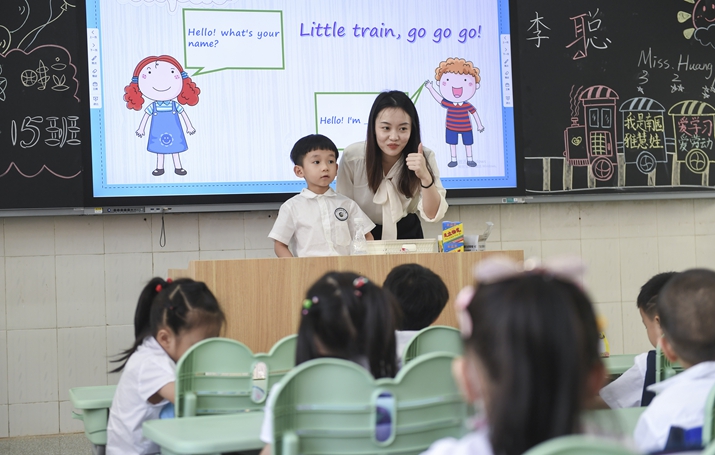 A teacher from Hong Kong gives an English class at a primary school in Shenzhen on September 1
(XINHUA)
Upping convenience
Regional cooperation has also made the daily life of residents in the Greater Bay Area more convenient. For example, a new port to ease travel between Macao and Zhuhai officially went into operation in August 2020. It has a designed daily capacity of 222,000 passengers, greatly increasing daily passenger flow capacity between the two places.
Macao had a population of more than 683,100 as of the end of last year. Now, many live in Zhuhai. According to official data, in 2020, the number of Macao residents holding Zhuhai residence permits exceeded 50,000, whereas the total number of people living in Zhuhai but working in Macao was more than 60,000. The new Hengqin Port's convenient check process is expected to increase travel volume.
Previously, the Hengqin checkpoint in Zhuhai and the Lotus checkpoint in Macao were designed as separate customs clearance channels, much to the dismay of commuters. The new Hengqin Port adopts a joint inspection and one-time release customs clearance mode.
Liu Guangqian, who works at the Hengqin Port, has witnessed the changes brought by the reform. "Tourists and laborers employed in Macao used to make up the bulk of those crossings at this port. Now, there are more businessmen, workers and students coming and going," he said.
Similar measures have been taken in Qianhai. To save time and increase efficiency, Qianhai plans to construct five intercity railways, including the Hong Kong-Shenzhen Western Express Railway that will shorten the commute into Hong Kong to a mere half hour.
People from the two SARs working in Qianhai can apply for rent and transportation subsidies. Compared with the exceedingly high real estate prices in Hong Kong, the cost of living in Qianhai is much lower, with monthly rent for an apartment only around 1,000 yuan ($155) Moreover, Lo said the relatively concentrated residential communities make it easy to socialize. "For example, due to distance, it can prove rather difficult to find 22 people to play football whenever you feel like it in Hong Kong; here, it's a piece of cake," he described.
Guangdong will continue to improve its platforms for Hong Kong and Macao entrepreneurs, said Lin Keqing, Executive Vice Governor of Guangdong. A range of entrepreneurial competitions and internship programs will be organized for that same purpose. Those who meet the requirements can apply for rent and transportation subsidies.
Easing concerns
Some people think that the future industrial development in Qianhai might bring increased competition to Hong Kong-based industries and even lead to a drainage of talents from the SAR.
Cong, also deputy head of the office of the leading group for the development of the Greater Bay Area, noted that the Qianhai zone is to serve Shenzhen-Hong Kong cooperation, and its expansion can only elevate the number of development opportunities for the SAR.
At present, a large number of Hong Kong modern service companies are entering the mainland market via Qianhai. However, due to regional restrictions, the development needs of these companies cannot be fully met.
"After the expansion, the land available for industrial development within the Qianhai Cooperation Zone will increase substantially, in turn better leveraging Hong Kong's advantages, strengthening cooperation between Shenzhen and Hong Kong, providing strong support for Hong Kong's economic development and propelling the further integration of Hong Kong into the national development," Cong told a news conference in Beijing.
Rather than forming a competitive relationship, Qianhai and Hong Kong will forge a mutually beneficial relationship, Wu Sikang, Director of the Shenzhen Municipal Government's Development Research Center, told Chengdu.cn.
Speaking about Hong Kong SAR's development prospects in the coming five years, Lam said, "We are confident that Hong Kong can better integrate into the overall development of the country in the future."
(Print Edition Title: Tapping Into New Potential)
Copyedited by Elsbeth van Paridon
Comments to luyan@bjreview.com