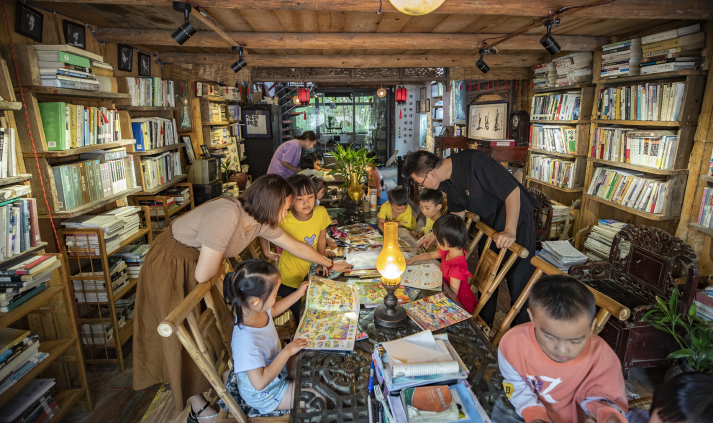 Children read at a library where the books are mostly donated in Chongqing Municipality on September 10 (XINHUA)
Community social worker Lu Jiaxin and her colleague have recently received many kindnesses from caring people.
In September, they collected donations for impoverished local households living in apartments in dire need of renovation in Zhongnan Subdistrict of Guangzhou, capital city of Guangdong Province.
They handed out flyers, called on shop owners and visited company buildings to reach out to potential donors.
Though the donations they received are mostly small in amount, they can help many households complete some indoor upgrades, according to Lu.
The activity was organized during the city's first Month of Charity, an annual event celebrated every September and initiated jointly by the municipal government and philanthropic organizations.
As of late 2020, China had 9,480 charitable organizations, with net assets totaling at nearly 200 billion ($30.92 billion); and 209 million volunteers, representing an almost tenfold growth in the past decade, according to data released in September by the Ministry of Civil Affairs (MCA) at a press conference.
"Many a little makes a mickle. Philanthropy is not just practiced by the wealthy and successful, but also by ordinary people who are willing to help out those in need," said Wu Jiadi, an official with Zhong Shan Charity Association in Guangzhou.
Steady progress
Overall, people have become more willing to help those in need and offer assistance in recent years, said Wang Zhenyao, President of the China Global Philanthropy and China Philanthropy Research Institutes with Beijing Normal University. "This has laid the groundwork for the further development of public welfare and philanthropy," said Wang.
For example, when Henan Province in central China was hit by severe rainfall and floods in July, tens of millions of yuan from local governments, nonprofit organizations, companies and individuals poured in through various charity platforms, including 1.84 million donations via online platforms as of August 10, according to the Chinese Red Cross Foundation (CRCF), a national public foundation supervised by the Red Cross Society of China.
With the advancement of technology, including wireless coverage and the popularization of mobile payments, more Chinese are doing their bit for charity through the Internet. Chinese charity groups registered a 20-percent annual growth in donations in recent years across the 20 online charity platforms approved by the MCA, said Wang Aiwen, Vice Minister of Civil Affairs, in May.
Chinese people are also extending their assistance globally. In 2020, the CRCF set up the International Humanitarian Assistance Fund Against Epidemics, which has mobilized social forces to raise funds and materials to help countries more severely hit by the COVID-19 pandemic.
"With the donations, aid has been provided to 52 countries in the forms of vaccines as well as protective and medical equipment, among others," Liu Xuanguo, the CRCF's Vice President, said at an online event organized by the China-Europe-America Global Initiative in cooperation with the Belgian-Chinese Chamber of Commerce in September.
Humanitarian assistance is particularly needed in many countries involved in the Belt and Road Initiative, proposed by China in 2013 as a global development project to build the Silk Road Economic Belt and the 21st-Century Maritime Silk Road, according to Liu. "Although much smaller in scale compared with the international assistance delivered by the Chinese Government, China Red Cross humanitarian support has played a very important role in promoting friendship between China and these countries, as well as building cultural connections between different peoples," he said.
In May, a medical team of 13 members organized by the Red Cross Society of China arrived in Kabul, capital of Afghanistan. It is expected that an additional 150 Afghan children with congenital heart disease will be sent to hospitals in China for treatment. By November last year, 100 Afghan children with congenital heart disease had received free medical treatment in China through the project, according to the foundation.
"We will intensify efforts and try our best to deliver more international humanitarian aid to more people," Liu said.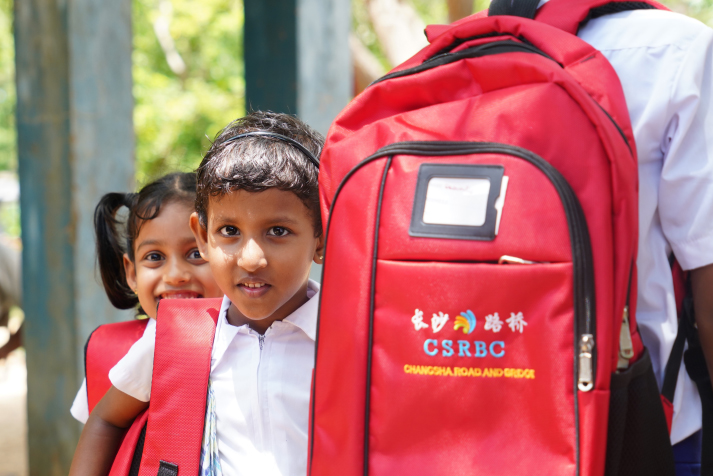 Students of a Sri Lankan school receive backpacks donated by a Chinese company in Colombo, Sri Lanka, on October 19, 2019
(XINHUA)
A virtuous cycle
Charity is conducive to narrowing the social gap and realizing a more reasonable wealth distribution, according to Liu Yuanchun, Vice President of the Beijing-based Renmin University of China.
"The idea of tertiary distribution is about high-income groups lending their assistance to low-income groups through donations and charity. But the practice cannot be realized without incentives and a security system in place," Liu Yuanchun said in an interview following the 10th Meeting of the Central Committee for Financial and Economic Affairs held in August, emphasizing the promotion of common prosperity in high-quality development and coordinating the prevention and control of major financial risks.
China's distribution system aims to expand the size of the middle-income group, increase the earnings of the low-income group, adjust excessive incomes and prohibit illicit income to stimulate social fairness and justice.
In primary distribution, which functions according to market principles, people earn their incomes based on their work as well as additional contributions such as capital investment. Redistribution means the government adjusts the distribution of wealth through fiscal and tax policies to promote equity. The level of redistribution is mainly realized and coordinated via social security, public services and several other types of subsidies.
"Tertiary distribution is a very good way to boost common prosperity," Liu Yuanchun said.
Though enthusiasm for charity and donation activities in China has been on the rise, it is not yet on par with China's economic growth. The main underlying reason is that both a basic incentive system and a system safeguarding these activities have yet to be fully implemented, Liu Yuanchun noted.
In terms of social incentives, taxation is key. A suitable tax system will more effectively inspire wealthy people to participate in charitable undertakings.
"Many companies are willing to engage in charitable work. One of the reasons is that they can obtain tax credits or returns. This way, high-income groups can not only fulfill social responsibilities, moral and ethical pursuits, but also retain control over their own property. China can upgrade similar policies to encourage more companies to donate. It's a win-win," Iris Cai, a director with Positive Speaking UK, a London-based business coaching and consulting company, told Beijing Review.
Cai, who joined the Visionary Education in 2020 to teach school principals on how to become better educators, draws on her own experiences from over 20 years of actively participating in volunteering and charity work. Vision Education is a project launched in 2008 and supervised by China Association for NGO cooperaton. Cai suggested granting more honors and rewards to philanthropists and volunteers. "I don't do good deeds to get rewards, but they can be a huge motivation that pushes me to do more. It's human nature to crave recognition," she said.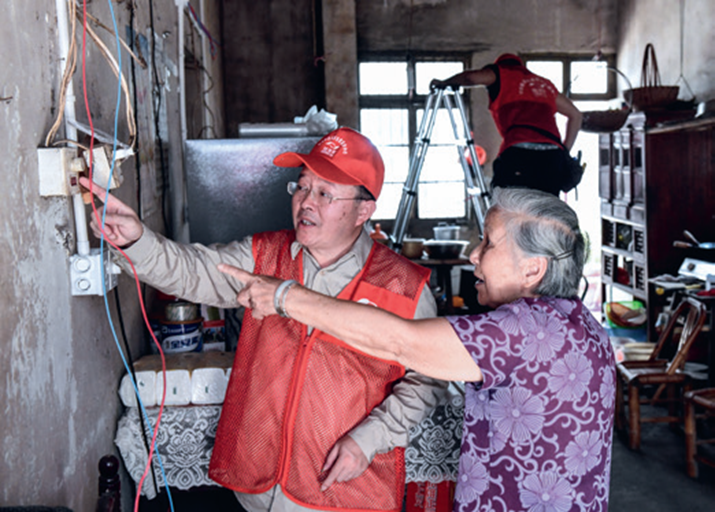 Volunteers help a senior citizen at her apartment in Cixi, Zhejiang Province, on September 5, 2018
(XINHUA)
The to-do list
In 2016, the country's first Charity Law took effect, easing restrictions on the fundraising and operational activities of charity groups offering tax benefits and improving supervision. This marked the first time that the way in which charities were registered had been defined by law, giving approved charities more freedom and credibility than ever before.
Nevertheless, despite China's steady economic growth in 2018 and 2019, the total amount of donations stagnated, read the report on the implementation of the Charity Law released in October 2020. Scandals centered on the embezzlement of donations, exposed by the media, subsequently led to a plunge in contributions.
That compelled charities to be more transparent about their use of donations. "We have a very strict and transparent system. Every penny we get, be it from a caring corporate institution or an individual, will be put under strict audit. And a list detailing where the money goes, is made public," Liu Xiaohan, managing director of Visionary Education, told Beijing Review. The project focuses on empowering rural children and schools by, among other efforts, giving lectures on a wide range of relevant topics to students and school principals.
The report also pointed out that charitable organizations tend to focus on similar fields, such as helping out those financially deprived or those students in need. Philanthropy in terms of support for other underprivileged groups, environmental protection, public health and other social areas of general concern still needs to be strengthened.
Shen Qing, Chairman of Enlai Foundation based in Beijing, holds that promoting international cultural exchanges can also be a charitable channel. "The charities don't need to limit themselves to helping the poor, the weak, the ill and victims of natural disasters," he told Beijing Review. In 2019, the foundation donated stationery and medical devices to hearing-impaired children in Mongolia. The kids drew several pictures with the crayons they received as a thank you. Shen was impressed by their talent. "Improving people's understanding of love and mutual help, their appreciation for other cultures and the arts, as well as their ways of exploring knowledge, can also be a part of charity."
(Print Edition Title: LENDING A HAND)
Copyedited by Elsbeth van Paridon
Comments to luyan@bjreview.com