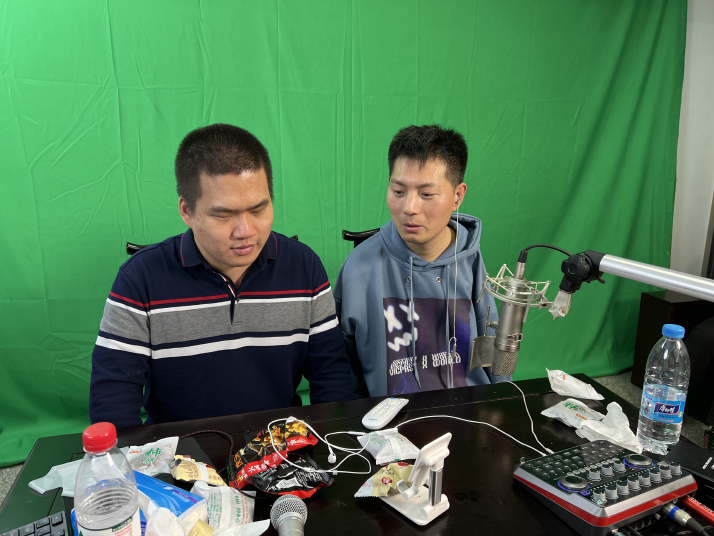 Ren Jianwei (right) sells snacks via live-stream with another person with disabilities in January (COURTESY PHOTO)
Ren Jianwei is a vlogger with nearly 1.8 million followers on short video platform Kuaishou. However, unlike most other Internet influencers, Ren has no arms, and his content mainly consists of him demonstrating how he carries out everyday activities such as getting dressed, cooking or playing his keyboard with his feet.
In March, he was featured in a short video shown at the opening ceremony of the Paralympic Winter Games Beijing 2022.
"I am from a rural area and never expected to be part of the Winter Paralympics. It's both an honor and an encouragement for me," Ren told Beijing Review.
Self-reliance
Ren grew up in a village in Xunxian County of Henan Province and was naughty as a child. One day, at the age of 5, he accidentally made contact with an electrical transformer and lost his arms from the electric shock. To enable him to take care of himself, his grandfather taught him to use his feet to pick up steel balls thrown onto the ground. Through many years of daily practice, his feet became increasingly more dexterous.
At the age of 17, his mother sent him to a neighboring village to learn to sing and play the electric organ from a music teacher. Through hard practice, he was able to sing and play at the same time. He then traveled with several friends to over 10 provinces around the country to perform at squares and parks to make money to support himself.
In October 2019, with the encouragement of his friends, Ren posted his first short video online, which was of him holding chopsticks with his feet to pick up peanuts. To his surprise, the video received many likes.
He found that netizens were interested in his daily life, often asking how he eats and gets dressed. In response to their interest, he began recording his life and sharing the footage of it online. Every night he would talk with his fans through live-streams, and many of his fans have become his friends on WeChat, a popular social media app.
As his fan base expanded, he began to sell products through live-streaming. The first time, he sold soap powder and made several hundred yuan (approximately $100).
Now his income from live-streaming can support him, his wife and their two children.
"My feet are my hands and although I look different from other people, I am no different from them in other aspects. And I believe I can succeed as long as I try," he said.
Having received so much care and support from netizens, Ren also wants to help others. One day he saw a farmer selling peaches in the rain by the road in his hometown. There were many cars passing by but nobody stopped to buy the peaches.
It was then that he decided to collect fruits from farmers and sell them through live-streaming. In spite of his disabilities, he has traveled to Meixian in Shaanxi Province to help farmers sell kiwifruit, Huili in Sichuan Province to sell pomegranates and Boai in Henan Province to sell ginger.
At the beginning of this year, Ren became a vlogger on the Firefly Live-Streaming Platform, a program launched by Dongcheng Disabled Persons' Federation in Beijing to support people with disabilities to make a living by selling products online.
Ren said he also wants to share his experiences of making short videos on the platform to help more people with disabilities benefit from live-streaming.
There are about 35 vloggers on the Firefly Live-Streaming Platform, over 80 percent of whom are young people like Ren.
In addition to daily necessities, handicraft made by people with disabilities such as lanterns, oiled paper umbrellas and fans are also sold on the platform.
Pan Jidong, Vice Chairman of Dongcheng Disabled Persons' Federation, said live-streaming is a new form of employment that enables people with disabilities to work from home and provides them with an opportunity to make a decent income.
Government efforts
The country has made progress in promoting employment for people with disabilities in the past few years. From 2016 to 2020, over 1.8 million people with disabilities successfully found jobs. However, according to the China Disabled Persons' Federation (CDPF), there were still over 8 million
working-age people with disabilities who remained jobless as of the end of last year. Most of them had severe physical disabilities, intellectual or mental disabilities or had poor educational backgrounds.
In late March, the State Council released an action plan setting the target of creating 1 million new jobs for people with disabilities between 2022 and 2024.
Skill training for people with disabilities will be improved and the quality and efficiency of employment services for people with disabilities will be enhanced. Rights protection will be improved and a social environment characterized by understanding, care and support for people with disabilities will be fostered.
The plan said government departments, state-owned enterprises and private enterprises should create more vacancies for people with disabilities. People with disabilities from rural areas and college students with disabilities are key groups targeted in the action plan.
According to the CDPF, there are nearly 18 million working-age people with disabilities in China, about 14 million of whom live in rural areas. As all people in rural areas, including those with disabilities, were lifted out of poverty by 2020, increasing the incomes of disabled residents of rural areas has become the primary objective during the 14th Five-Year Plan (2021-25) period.
Almost 30,000 college students with disabilities will graduate this year. Colleges are required to provide additional guidance to disabled students and to provide them with additional skill training to help them find jobs.
The plan emphasized the training of visually impaired people to be massage therapists, saying more resources will be provided to hospitals hiring them.
Vocational schools are encouraged to develop training courses for people with disabilities to help improve their abilities and competitiveness in seeking jobs. Those with disabilities who want to receive vocational education will benefit from preferential policies in applying for schools, according to the action plan.
(Print Edition Title: Spreading Wings)
Copyedited by G.P. Wilson
Comments to jijing@cicgamericas.com