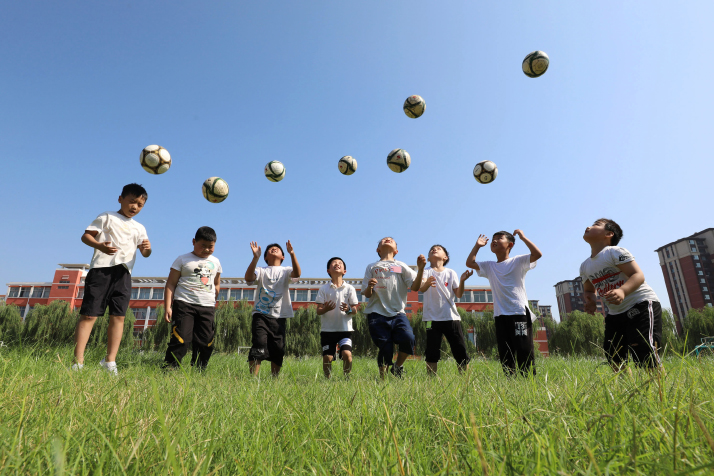 Students train at a primary school in Jiaozuo, Henan Province, on July 21 (XINHUA)
Lin Enxiang, a school football coach, was especially proud this year to see his team participate in the China Youth Football League (CYFL).
"This new league is a perfect platform for our students to interact with counterparts from other regions and learn from more professional players," Lin told Beijing Review.
On August 1, Lin's team of 13-year-olds from Fujian Xishan School in Fuzhou, Fujian Province, was defeated in the first round of the competition by a team from a football club in Shanghai. However, Lin saw this defeat as a new starting point and was optimistic that competing against teams from around the country would see his players develop more quickly. "Sure, losing the game might hurt their morale for a bit, but they should also learn to grow from failure," Lin said.
The CYFL, co-organized by the Ministry of Education, the General Administration of Sport of China and the Chinese Football Association (CFA), is the first football competition open to all youth teams nationwide.
"Whoever the team represents, whether a public school, a training academy or a professional club, all can take part," said Qiao Daihu, a CFA official who is in charge of the organization of the league, adding the league aims to be the nation's premier youth football event, with the most players and most extensive coverage.
"The CYFL allows all youngsters to participate in football competitions, to enjoy the beauty of the sport and to foster young talent. I hope it can open a new chapter in Chinese youth football development," Chen Xuyuan, CFA President and CYFL Office Director, said at the opening ceremony of the league in Hangzhou, Zhejiang Province, on July 10.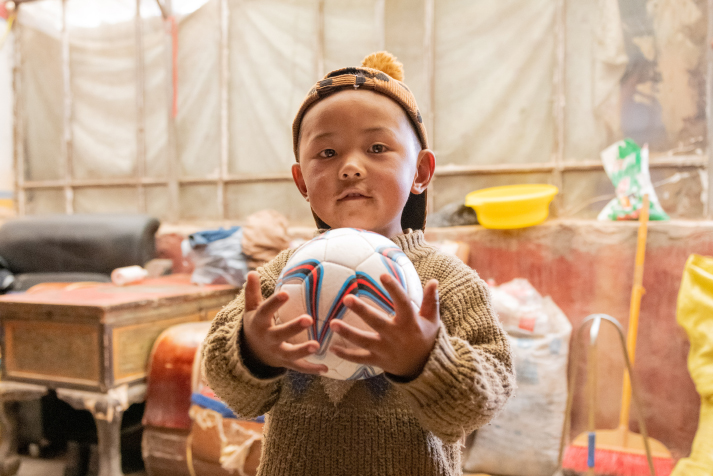 A child holds a football in Shuanghu County, Tibet Autonomous Region, on July 12
(XINHUA)
The youthful game
According to the CYFL schedule, the league matches are categorized into 18 groups, nine for boys and men and nine for girls and women. Players come from elementary, junior high and high schools, as well as universities. Teams of each group will first play regional qualifying matches, with the qualifying teams proceeding to the national championship tournament. The Under 13 Boys competitions are held first, running from July 31 to August 22.
"I believe this league will be conducive to the expansion of China's football-playing population and the search for and development of talented players for as long as we continue running it," said Wang Liwei, Director of the Youth Sports Department of the General Administration of Sport.
Prior to the CYFL, China already had football competitions at school, city and provincial levels. However, these competitions were usually administered independently from one another.
Additionally, campus football league regulations often restricted players who had participated in professional or international competitions on behalf of national youth teams from playing.
The new league, together with the existing ones, provides a broader platform for more players to join, according to Wang Dengfeng, Deputy Director of the CYFL Office, who also heads the department of physical, health and arts education at the Ministry of Education.
The CYFL has also made some innovations. For example, after the matches, some age groups will also have 25-minute performance games that offer more opportunities for players to showcase their skills; the results of these extra games are not included in the total score.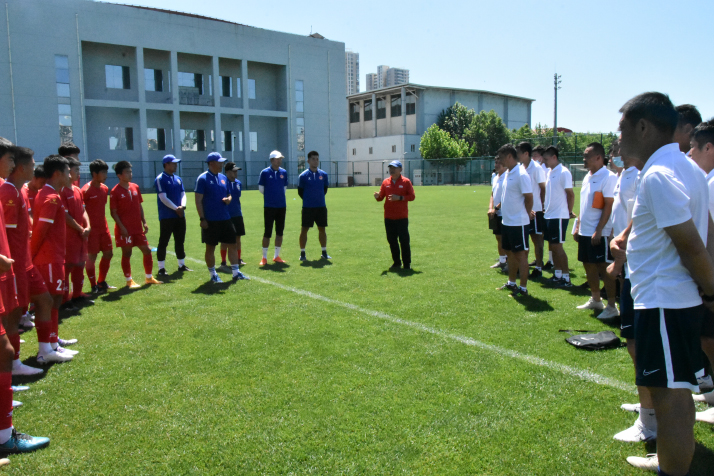 Li Chunman (center) trains football coaches in Qingdao, Shandong Province, in July
(COURTESY PHOTO)
The pain point
China's National Men's Team has long been criticized by the public for its disappointing performance. According to the FIFA rankings announced on June 23, the men's team ranked 78th in the world and 11th in Asia, its lowest point in the last four years; while the female team ranked 16th globally and fourth in Asia.
The men's team's greatest accomplishment was widely considered to be its first debut at the 2002 FIFA World Cup. However, it subsequently lost all of its matches in that tournament and has never made it to the World Cup again. Its performance in recent years has been less than satisfactory. Even with an unprecedented number of naturalized players, Team China still lost its chance to qualify directly for the Qatar 2022 World Cup after a 2-0 loss to Japan in the final round of the World Cup Asian qualifiers this January.
The country's women's team has achieved more satisfying results. In the 2022 Asian Football Confederation Women's Asian Cup final in Navi Mumbai, India, the team won their first title in 16 years as well as China's ninth Asian Cup trophy.
China has vowed to raise its football team to world-class level. To this end, authorities have released a number of guiding policy documents since 2015, including reforming the CFA and the professional leagues, improving campus and community football and increasing the number of facilities available to players, teams and clubs at all levels of the sport. One of the goals of the CYFL is to spot outstanding players and enlarge the pool of young talent.
"A key issue facing Chinese football now is whether more children will join the sport," Wang Dengfeng said.
Echoing Wang Dengfeng, Li Chunman, a professor at Beijing Sport University and deputy head of the CFA's technical committee, said training the young is a priority, and more qualified coaches and scouts are needed.
Additionally, funding can be a challenge for schools. Take Fujian Xishan, a private school, as an example. Coach Lin said the school has invested more than 3 million yuan ($444,600) in football training and matches, including facilities, travel and accommodation for away matches. "Government subsidies cover a little, but are far from enough," Lin said.
The same goes for training agencies. Some are for profit, while many others operate out of the owner's love for football, and they struggle to make ends meet, according to Li.
"We should cultivate football culture across society and increase the public value and influence of the sport. This has the potential to attract more companies to invest and donate," Li added.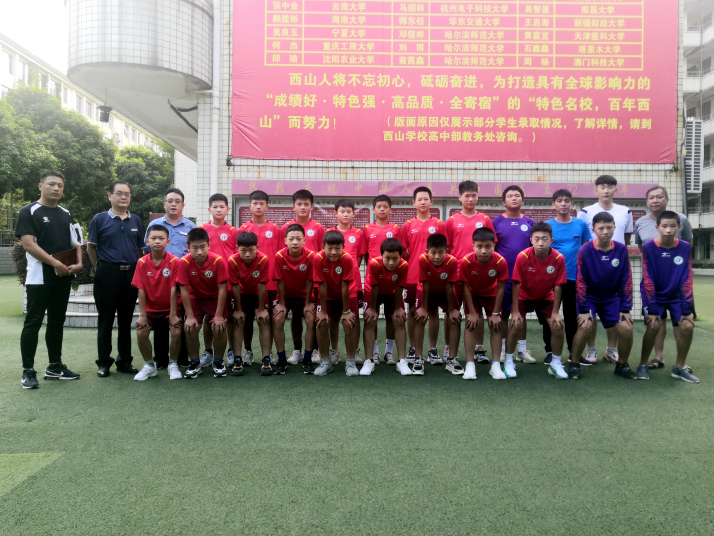 Lin Enxiang (first right back), a school football coach at Fujian Xishan School, takes a group photo with his team before a China Youth Football League match in Fuzhou, Fujian Province, on July 30 (COURTESY PHOTO)
More than competition
Zhang Lu, a renowned football commentator, believes while youth training to date has focused on developing talented players for careers in football, making football universal means doing more than that.
"Why should we encourage thousands of kids to play football? How many of them can get into the professional team? Not many. Now we should popularize football so that children can improve their health and happiness by playing football," Zhang told China Central Television.
Schools putting the football course in their curriculums and seeing it as equal to other courses is a head start, Zhang said. So far, China had named more than 30,000 primary and middle schools across the country as specialist football schools to spearhead youth football development, according to the Ministry of Education. These schools are required to offer at least one football class each week and encourage their students to participate in training and competition. The ministry also said China aims to have 50,000 schools specializing in youth football by the end of 2025.
"In the past, many sporty students who were trained professionally didn't pay much attention to their academic studies. This hindered their careers in the long term and their work after they retired as professionals," Li said, adding he believes that general knowledge courses should not be ignored. "Now, a number of parties, including the government departments, football organizations and schools, are aware of the situation and are making changes," he added.
Some regular schools like Fujian Xishan have classes specifically for football players, with curriculums slightly different from those offered to other students. Students in these classes participate in football training for nearly two hours every day after school.
"Many children face excessive school workloads and suffer from weight problems, nearsightedness and mental health issues. Encouraging them to play football and other sports can help them be healthier," Li told Beijing Review, adding that the sport can also cultivate children and teenagers' sense of responsibility, teamwork spirit and tenacity.
Li Zhao, founder of Beijing's HiKicker Youth Football Club, said many parents who send their children to the club are not football fans nor are they even familiar with the sport. "They support their children's interest in football because they realize it brings them joy," Li told China Youth Daily. "We are more than happy to welcome them."
Liu Yu is one such parent, the father of a fourth grader at a primary school in Beijing. His son was a bit "unsocial and odd" in his words, which became apparent when the child was sent to kindergarten at 4. "It didn't take long for the teacher to talk to my wife and me, saying our child was always alone in class and never talked to other children, so we tried every means to encourage him and get him to play with others, but the effect was mediocre," Liu said.
The situation improved after they introduced the boy to football. "At first, he didn't dare to play or follow the coach. But after becoming acquainted with the sport, he became more and more interested and now sticks to a tight schedule balancing it with his schoolwork. Today, he's more outgoing. Football changed him," Liu said.
(Print Edition Title: Kicking off the Game)
Copyedited by G.P. Wilson
Comments to luyan@cicgamericas.com